Devastating Audio Rip-Offs in California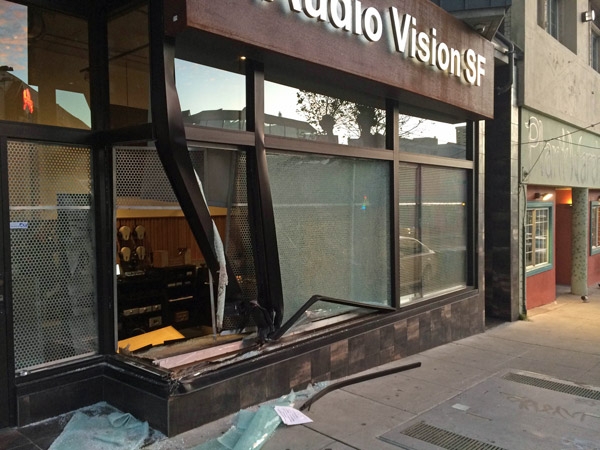 Within a 24-hour time span this past weekend, two important audiophile establishments in CA suffered major burglaries. On the morning of February 28, headphone manufacturer
Audeze
in Costa Mesa lost perhaps $250,000 in headphones, plus an undetermined amount of raw material from its operating and manufacture headquarters. At around 4am on February 27, and approximately 425 miles north, retailer
AudioVision San Francisco
experienced $100,000 worth of damage to their new headquarters plus the loss of much expensive gear when a truck rammed through their storefront (above).
Audeze
Stereophile reached Audeze's COO, Sankar Thiagasamudram, shortly after he returned home from a day that included fingerprint and DNA gathering by the Costa Mesa Police Department. Because the police spent much time in the building, an accurate assessment of loss and damage will not be possible until after this story is posted. Look for updates in the comments section.
Thiagasamudram explains that the break-in took place over a several hour period in the early morning hours. Although Audeze's headquarters are in a low-crime area, and the building is equipped with a good security system and surveillance cameras, the ski-masked and gloved thieves managed to avoid detection. Clearly professionals, they cut a hole low in Audeze's steel security door, and crawled in and around the building without raising themselves high enough to trigger motion sensors that would have set off the alarm. (Most motion detectors do not begin to operate until 2' above the floor, so as to avoid triggering by roaming pets.). The thieves also used boxes to hide their movement and avoid detection.
"We make all our headphones in Costa Mesa, and then ship them to 120 countries," Thiagasamudram told Stereophile. "We store all the raw materials here, and the thieves damaged some of them in the process of getting to the headphones. The biggest problem is for us to get back on our feet, because it will take a while to get parts before we can begin assembling them."
Audeze has released the following "buyer beware" statement, and posted a $10,000 award for leads in the case.
Last night, February 28th, there was a break-in and robbery at Audeze. About $250,000 of headphones were stolen. We're a relatively small company and this is a real blow. Audeze asks everyone to let us know if offered LCD headphones at a deal that's too good to be true. You should be highly suspicious if anyone other than an Authorized Audeze dealer offers you our headphones for sale at a reduced price. We don't allow our dealers to sell via Amazon, eBay, Craigslist etc., so deals on these sites should be carefully researched before purchase. You should also be very concerned if their headphones do not have a serial number, or the seller refuses to give you the serial number before purchase. All Audeze headphones have a serial number on the inside of the adjusting block. We'll soon publish a list of all stolen products' serial numbers.
In addition, Audeze is offering a $10,000 reward for information leading to the arrest and conviction of the thieves. If you have any information or questions, please write to: support@audeze.com. While it does not appear any EL-8s were stolen (they were in a different area of our warehouse), due to the police investigation and general disruption, you should expect a few days' delay in EL-8 shipments.
Thanks,
The Audeze Team
An unexpected outpouring of support following the break-in has brought tears to Thiagasamudram's eyes. "Many of our 24 employees heard about the break-in and showed up spontaneously. Even though it was a holiday, they began assembling headphones from whatever materials they could find, and tried to get us back on track for next week. It had me looking at this from a very different perspective, and gave me a bit more hope."
AudioVision SF
AudioVision's robbery, which took place in the early morning on February 27, follows a string of robberies in San Francisco that has so far impacted three other audio stores, including Harmony Audio & Video earlier in the week, and a jewelry store.
"At about 4am, a silver Toyota pick-up drove onto the sidewalk, backed down, and crashed into the front of the store," AudioVision co-owner Antonio Long tells Stereophile. "It hit it so hard that it broke most of the window and the security gates. Then they pulled forward, backed in a second time, and managed to get all the way through. They tore the whole front facade off the store, including the ½"-thick aluminum gate. It looked like a bomb hit the front of the store. The front counter where we store our cartridges and cables was just shattered. I couldn't believe it when I saw it."
Long was asleep in his apartment two blocks away when, at 4:15am, ADT alarm services called. He was putting on his shoes when police officers showed up and said, "Sir, we have a major problem."
While at least $50,000–$100,000 of damage was done to the store itself, Long estimates merchandise loss at perhaps $25,000.
"What's amazing that they didn't get very much," he reports. "You can steal hi-fi, but you'll have to liquidate it, and it's only desirable to people like audiophiles. [Note: This is not the case with Audeze headphones, which are hot item all over the world.] It was very much a smash and grab operation. They took a Rega turntable that was missing most of its parts because we were fixing it. They took headphone amplifiers without their power supplies, etc. Even at Harmony, where the theft was really devastating, they did things like take only one Bowers & Wilkins 802 loudspeaker."
Long says that what's most devastating is that AudioVision, which remains open for business, will have to rebuild the whole front of the store. "We just had our second Grand Opening after being in this new location for five months. We were just talking about how we were finally getting everything dialed in, and then this happened."
Just as with Audeze, Long and his partner, Randy Johnson, have found solace in a huge outpouring of support. At least 80–85 people have reached out to Long alone, asking what they can do to help.
"The reality of experiencing such an outpouring in the middle of this beat down on our morale is so refreshing and good, " he says. "The great amount of love and respect for what we do makes a big difference. It makes us feel that we can get back on our feet, and that something good will come out of this."