Definitive Audio's Definitive Music Matters 13
Hailed as the finest public audio retailer event in the United States, Definitive Audio's 13th annual Music Matters event on March 8 drew a huge crowd to the store's Seattle location. Having now covered four Music Matters, I can state with certainty that the sound at MM13 surpassed that heard on previous occasions, and showcased equipment in the best possible light.
Everything looked ready as music lovers entered the 4-hour event as the clock struck 5. By the time the picture below was taken in front of the room where Magnepan's three-panel 30.7 Reference loudspeaker ($30,000/pair) was having its one-day-after world premiere, lines to get into the store's six fully outfitted and tuned listening rooms were immense.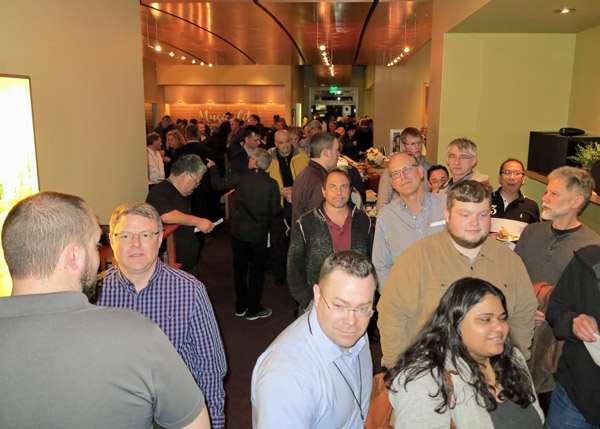 With six 25-minute in-room demonstrations staggered to begin on half and quarter hours, and other listens possible at the store's well-stocked headphone bar, it was possible to take everything in, eat and imbibe, and still have time left over to share experiences with fellow audio lovers. The seriousness of attendees was reflected in the fact that not once during the demos was my concentration disrupted by people chatting away beside me.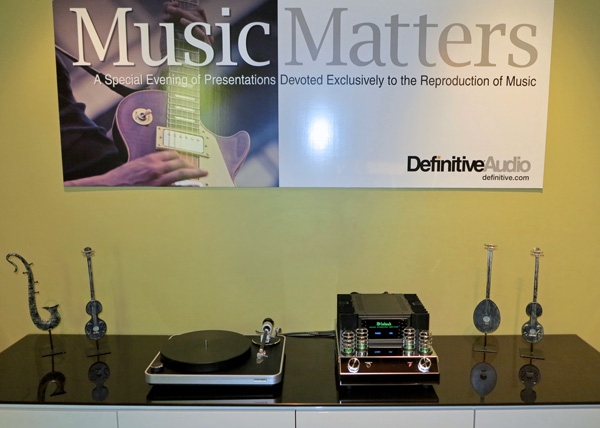 There were multiple regional and worldwide premieres. Besides the mammoth Magnepan set-up, which company founder Wendell Diller had snuck out the gate at a Portland dealership the night before, Linn Managing Director Gilad Tiefenbrun unveiled the Linn Akurate DSM with Katalyst architecture ($10,500) and Linn PP12 with Urika II ($26,000). Naim Audio Electronic Design Director Steve Sells was on hand for the Pacific North West premiere of the attention-deserving Naim Statement amp/preamp combo ($270,000), dCS General Manager John Quick unveiled a prototype of the Rossini transport (approx. $22,000, coming to the Munich show in May), Josh Clark introduced the West Coast Premiere of Transparent Audio's XL PowerIsolator ($7995), and Bill McKiegan, Dan D'Agostino Master Systems Director of Sales, displayed the mammoth meter that will grace the front of the company's Relentless megawatt amplifier ($TBD), to be unveiled in Munich. In addition, many attendees got their first listen to two Sonus Faber loudspeakers that were recently added to Definitive's impressive list of audio brands), and to the DS Audio Master One optical phono cartridge/phono stage ($22,000).
One of the coolest things at the headphone bar was Chord's relatively new Hugo2 ($2395), which can be used as either a headphone amp/preamp or a fixed output DAC. This little baby, complete with four filter settings, offers its own portable light show. As volume changes, the revolving volume button's color changes from red to white, with any number of colors in between. Filter settings also change colors. I tried to video Bluebird Music's Richard Colburn operating the unit as colors changed, but reflections from the overheard lights got in the way.
I also took my first listen to Audeze's LCD-MX4 headphones ($2995), the lovechild of the LCD-X headphones ($1200) I use. The extra bass and weight I heard in a demo by the company's Tony Hamilton left me wishing that I could have used these babies, rather than the LCD-X, in my forthcoming review of the LG-V30 smartphone.
Wilson Audio's Alexx loudspeaker ($109,000/pair) and Naim Statement combo (which outputs 746Wpc into 8 ohms) were paired with a full dCS Vivaldi digital system ($115,000), Clear Audio Master Innovation turntable with Goldfinger cartridge and Absolute phono stage, HRS RXR stand ($6000) and Transparent Opus cabling ($150,000 total). This system absolutely blew me away. Assembled by a team that included, from left to right in the photo, Quick, Sells, Clearaudio's Robert Suchy, and Wilson Audio's Peter McGrath and Bill Peugh, this system revealed subtle shifts in timbre, dynamics, and expressive nuance on some of my prized SACDs that I had never heard on any other system, regardless of price.
Thanks to multiple breathtaking revelations of detail—I do not invoke that adjective lightly—the extremely neutral of Jaime Laredo's violin in McGrath's recent live recording of the KLR Trio performing Dvorak's Dumky Trio was startlingly real. Instrumental weights were believable, the playing perfectly in tune and exquisite, and the emotions communicated by the musicians a joy to experience. Devoid of artificial sweetness and glare—I heard absolutely no distortion—but just a mite dry, the system revealed every intention of artist and composer. The bass foundation in Vadim Gluzman's performance of the Brahms Violin Concerto was perfectly conveyed, and the force of attack at the concerto's start was stunning.
That was in a pre-show audition. By the time of the event, where I saved this room for last, highs sounded more real, open and alive than in any other room. The soundstage was sensationally albeit not ostentatiously large, and balance between lows, mids, and highs seemed true-to-life. (No seductive albeit artificial midrange emphasis here.) On digital, everything from Marilyn Crispell/Gary Peacock jazz to Dire Straits to Jordi Savall sounded tuneful and compelling. Equally laudable was Peter McGrath's statement about the importance of honoring local dealers who can provide personal support. A star showing all the way.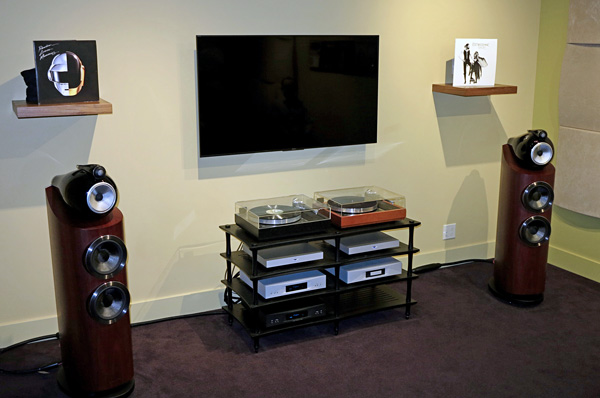 From everywhere in the room—I visited twice—Linn's Akurate DSM digital system with 4th generation Katalyst architecture, Klimax LP12 with Ulrika II, Akurate 4200 amp ($7600), Bowers & Wilkins 803D3 speakers ($17,000/pair), Quadraspire stand and Transparent cabling delivered the best sound (albeit far too loud) I've ever heard from a Linn set-up at Music Matters. In direct comparison with its predecessor, the new Akurate digital delivered more bass foundation. The Klimax LP12 Ulrika II's digitally-enhanced processing of the RIAA curve lowered noise, and also delivered better tonality and significantly tighter and stronger bass than its predecessor on Fleetwood Mac's "The Chain." Whether bass was too strong is something I'm unsure of. Owners of Klimax turntables made in 2007 or later will be able to upgrade to Ulrika II.
Thanks to Definitive's exacting speaker positioning expert, Gary Breustle, who also helped set up the Wilson Alexia loudspeakers in my own system, the Magnepan/D'Agostino Progression stereo amp/preamp combo ($22,000 each), dCS Rossini system ($32,000 with clock) and forthcoming Rossini transport, Clear Audio Innovation Wood turntable ($11,000) with AMG 12JT Turbo tonearm ($8500) and DS Audio Master1 optical cartridge/pre combo—as in all but two rooms, paired with HRS stand and Transparent cabling—sounded excellent. K.D. Lang's voice, as well as Adele's in MQA, sounded magical, and percussion was very fast.
After Quick explained how dCS distilled down its multi-box Vivaldi technology into the far less expensive single-box Rossini, he unveiled the forthcoming Rossini CD/SACD transport which uses a Denon mechanism (above). On a Deep Purple SACD, guitar and bass sounded great. Superlatives are also due the Clearaudio set-up, which conveyed the sound of steel-string guitar on a LP chosen by Musical Surroundings' Garth Leerer with ear-opening veracity. Highs were extremely clear and beautifully presented.
Equipped with a Sony VPLVW885ES projector ($25,000) & UBPX100ES Blu-ray player ($700), Trinnov Altitude 16 preamp ($16,000) & two Amplitude 8 amps ($13,500 each), five Bowers & Wilkins 802D3 speakers ($22,000/pair), two JL Audio F113v2 subs ($4500/each), and Transparent cabling, the Jon Herron-tuned 5.2.4 system in the home theater room was a mini-version of set-ups found in mixing rooms at Skywalker Studios and Capitol Records. It made a good case for multi-channel audio reproduction.
Sonus Faber loudspeakers may be new to Definitive Audio, but they sounded right at home. In the smaller of two set-ups, Sonus Faber Guarneri Tradition standmounts ($16,000/pair with stands) mated with a Clear Audio Ovation turntable ($10,000) and Benz LP S cartridge ($6000), Transparent Ultra cabling (approx. $10,000 total), and Audio Research's PH9 phono preamp ($7500), DAC9 DAC ($7500) LS28 linestage preamp ($7,500), and VT80SE amp ($8900) to produce really nice, open sound with beautiful highs. For some reason, the speaker/room interaction sent high treble so high toward the ceiling that, on a Rickie Lee Jones track that included some bright tinkly instrumental effects, both the man next to me and I looked up on multiple occasions to try to figure out what was going on.
Although I didn't have time to take a photo of Roon's new Nucleus ($1398) and Nucleus Plus ($2498) music servers, their differences include the processor and size of RAM and SSD. As explained by the company's Steve Silberman, Roon allows for bit-perfect streaming, up-sampling or sample-rate conversions, and can even load a convolution filter (for room equalization) from sources such as Room EQ Wizard. Music streamed over Definitive's internal network, which was getting an intense workout all evening, sounded super.
Sonic dislocation aside, sound was drop dead gorgeous on a track by Sam Smith sourced through Roon, and notably spacious as well. Frankly, it was the best sound I've ever heard in this room. On my way out, I asked Audio Research's Dave Gordon to keep me in mind for a possible review of the new amplifier (above).
<
Next door, after Brad O'Toole touted HRS's isolation systems as " the only stand in the world specifically designed for audio," Sonus Faber brand manager Will Kline showcased their Lilium speakers ($70,000/pair) allied with the West Coast premiere of Transparent Audio's XL Power Isolator, and McIntosh's D1100 ($13,000) with MCT450 for digital playback ($4500), MT10 turntable ($10,500), C1100 preamp ($13,000)—"the quietest tube preamplifier known to mankind," we were told—and MC1.25kW amps ($25,000/pair). Did you know that that the Power Isolator addresses electrical phase shifts that affect tonality, and that McIntosh powered the Grateful Dead's Wall of Sound?
Sound was again three-dimensional. even more distinctive than next door in the midrange, and very strong in the bass department, with excellent slam. There was also less of that unfathomable high trebele upward throw. The system was ear-openingly fast with an excellent top and superb bottom, and easy on the ears at high volume.
Hats off to Definitive's owners, Mark Ormiston and Craig Abplanalp (left and right above), store manager Hans Brackmann, event master-woman Michelle Troupe, and the entire Definitive Audio staff for another great-sounding, smoothly run event. Here's to many, many more.