A Capital Wrap-Up
"I've got six hours to get ready for 30 hours of show time so an attendee can listen for 10 minutes." Thus did Doug White, proprietor of the Philadelphia-area dealer The Voice That Is, describe the challenge of setting up a system for a show such as Capital Audiofest. (When I asked,
Do you use a spectrum analyzer?
, White said
Yes
, and smiled and pointed to his brow.) The results of his expertise—no other word for it—were in full flower in a system that, though far from humble, featured the least expensive loudspeakers I've heard in a TVTI system: Tidal's Vimberg-series Mino ($29,000/pair). Other components were the Tidal Preos preamplifier-DAC ($32,900) and Impulse dual-mono amplifier ($33,000); TW-Acustic's Raven AC-1 turntable ($15,500) and Raven 10.5 tonearm ($5500); and a Transfiguration Proteus phono cartridge ($6000), all on HRS VXR stands, and all connected with cabling by Skogrand.
The TVTI system also featured an Antipodes DX Gen 3 server ($7800 with 1TB of storage), but I spent most of my time there listening to vinyl—a recording on EMI of the Zelenka Lamentations, which I'd never before heard. That LP sounded so transcendent on Doug White' system that, after Side One was over, I begged to hear Side Two—forget that I was running low on time. The system sounded huge but not at all machine-like, and succeeded in putting across sonic colors and human emotions alike. Stunning.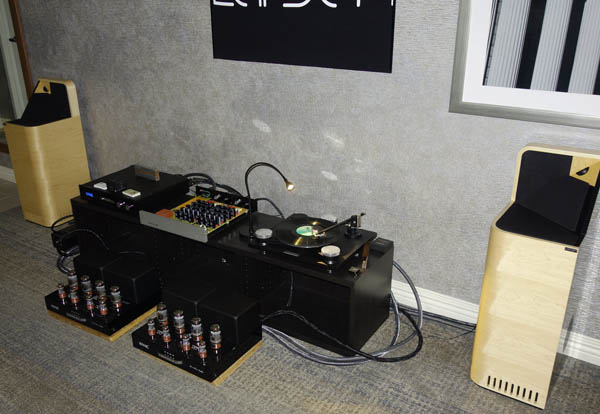 A few weeks before Capital Audiofest 2018, I had to decline an invitation to hear, in New York City, the world premiere of the new Larsen 9 loudspeaker ($14,995/pair), successor to the Larsen 8 I wrote about in the March 2017 Stereophile. (In my defense, the invitation arrived on the Tuesday evening prior to the Friday-morning event—not enough time for me to book a kennel and a train, or to reschedule other commitments.) Luckily, the new 9s were featured in the room sponsored by retailer Dr Vinyl, in a system that also included a pair of VAC Phi 170 amps configured for mono($19,990/pair), a VAC Renaissance Mark V preamp ($9995), a Thrax turntable ($10,600), a Schroeder CB 9 tonearm ($4000), and a Hana ML cartridge ($1200). Bass quantity seemed to depend on the location of the listening seat—the sound was more satisfying when I sat dead-center, leading me to think the room imposed some bass-cancellation effects on the system—but the system had good flow and eat deal of dynamic nuance, especially when listening to Ana Caram's Rio After Dark, another LP that was new to me.
At the heart of this system was a new phono preamp from Sutherland Engineering: a transimpedance preamplifier called the Phono Loco ($8200), which disregards the cartridge's output voltage and instead derives the music signal from the cartridge's output current. Thus, the Phono Loco, which designer Ron Sutherland gleefully describes as "a marketing disaster," offers no loading options—and because Sutherland's unique circuitry was simpler and easier to execute by floating the signal above ground, it requires a true-balanced XLR connection from the tonearm. With typical candor, Sutherland admits that the Phono Loco "is not for everyone," but suggests that the select dealers carrying it will be able to guide the prospective buyer to a singular experience. The Phono Loco, which has its own website—www.phonoloco.com—was surely one of the most compelling new technologies I encountered at CAF 2018.
That said, one of my favorite old technologies was put to very good use in the room sponsored by Wolf Audio Systems: a nice new pair of Klipsch La Scala horn-loaded loudspeakers ($7998/pair). These were driven at various times during the show by two different tube amplifiers: a Viva Solista integrated amp ($16,000) and a Rogers 34s integrated amp ($19,999). (I got to hear both, since I wound up visiting the Wolf room twice.) Also in the system was a T+A MP 3100 HV D/A processor ($21,000)—and, of course, a Wolf Alpha 3 server ($5999). I was especially impressed during my second visit—discomfort with the unusual lighting fixtures compelled me to cut short my first visit (believe it or not, this was the best photo I came away with)—when the Rogers-powered system played the title song from Greg Brown's The Poet Game.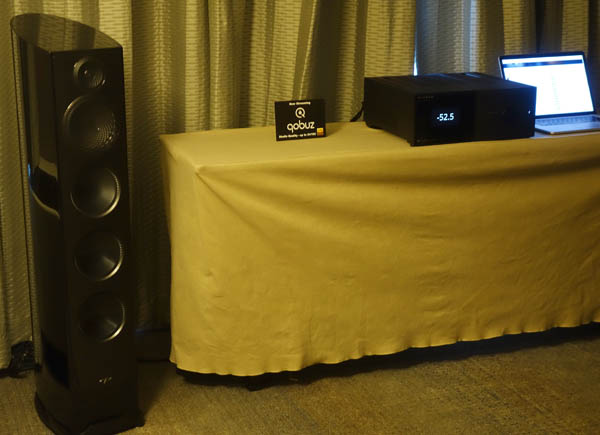 Paradigm Persona 5F loudspeakers ($17,000/pair) and an Anthem STR integrated amplifier-DAC ($4499) comprised the system of choice for industry veteran David Solomon, who demonstrated the music-streaming service Quobuz with a variety of tracks. The standout was arguably Vienna Teng's "One Bedroom, One Bath," the clever violin fills and deft piano playing in which came across with clarity and impact.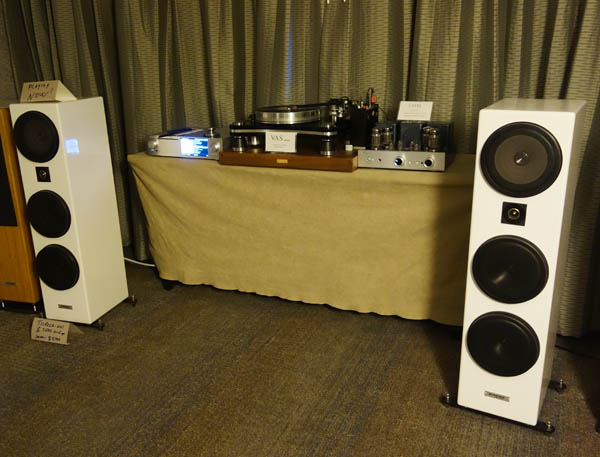 Writers of show reports, myself included, love to grouse about the preponderance of audiophile-approved recordings at shows such as CAF 2018—and with good reason: My favorite designers and builders of playback gear demonstrate their products with the music they use and enjoy at home, often inspiring me to seek out those recordings for myself. When I hear exhibitors playing the same old same old, I can't help wondering how much music they actually listen to when they're not being forced to.
That's what goes through my mind when I hear Stevie Ray Vaughan's "Tin Pan Alley" or Nils Lofgren's "Keith Don't Go" (the live version, in which the acoustic guitar sounds like a plastic ukulele with slack, barbed-wire strings)—or, in this case, Diana Krall's "Let's Fall in Love." It's a shame, because the combinations of Cayin CS 55A integrated amp with phono section and DAC ($2699) and Bache Tribecca 001 loudspeakers ($5600/pair) seemed to offer really good value: the sound was a little laid back and pleasantly airy: not the last word in flesh and blood, but clear and smooth and decidedly natural.
Brooklyn-based Symbol Audio, a new-to-me company that specializes in shelving solutions for record collectors and audio hobbyists, displayed a number of attractive furnishings, including this gorgeous walnut audio rack from their Dovetail series ($3145 as shown; audio rack prices start at $2145). Features include a vibration-isolated support for the turntable. Also on display from Symbol but unsuccessfully photographed by me (sorry—that one just didn't come out very well) was a furnishing from the company's Unison series, which combined record rack and minimalist audio rack in one beautiful unit. The Symbol products all appeared superbly well-made and attractively finished: real furniture, not just twiddly audiophile stuff.
Surely, Symbol must have done a brisk business at Capital Audiofest 2018, because—
—look at all those records! Only at the High End show, in Munich, have I seen a greater number of LPs for sale.
Unfortunately, workload and time constraints prevented me from record-shopping at CAF 2018, making this the first time I've returned home from the Rockville Hilton without at least one new LP. But as I mentioned at the beginning of my coverage, other commitments kept me away from the show until late in the day on Friday—and for that reason, as the sole Stereophile.com reporter at this year's show, I wasn't able to visit every room and hear every system: my apologies to those exhibitors whom I missed. And my sincere thanks to Capital Audiofest's head honcho, Gary Gill, for inviting me, and for once again putting on a great show—with the help of Christina Yuin, Eden Cayen, and many others. I'll see you at next year's show; hopefully, Herb Reichert will once again join me!