California Audio Show 2015: Second Day Rounds
Mexico's most distinguished audio manufacturer, Margules Audio, demmed a system at CAS6 headlined by the Margules U280-SC 25th-Anniversary, stereo tube amplifier ($5399). The midrange was warm and wonderful—just what the doctor ordered, in fact. Despite a little brightness on top, and a bit of shallowness on bottom, the set-up was supremely musical and capable of conveying joyful, delicate beauty with panache. That, my friends, means a whole lot in my book.
Also doing the honors, besides a Densen CD-410 CD player ($2200) and full complement of Atlas cables ($7000 total), were Margules' prototype DAC, ADE-241 Analog Enhancer ($329), FZ47DB RIAA phono stage ($749), TT-10 turntable ($2999) with prototype arm and Rega Exact 2 cartridge ($595). Completing the chain, again from Margules, were the Orpheus loudspeakers ($9000/pair) and Orpheus subwoofer ($2700). Lots of Margules, and lots of beauty.
Audio Note UK's David Cope greeted me with beautiful sound and a lament for the long rack of furniture that he was not allowed to move in the room. "This is like being on an aircraft carrier battleship," he said. "I had no choice but to use the wall I'm on, and to make a trip to Ikea for $24 tables to hold everything up."
That may sound very bargain basement, but Frank Sinatra sounded like a million dollars on his Only the Lonely LP. Highs were a little wiry on Fruhbeck de Burgos' LP of Albeniz's Suite Española, but the midrange was just gorgeous. Heard were the Audio Note (UK) CDT One transport ($4100), DAC2.1x Signature ($5500), Rea P3-24, IQ3 MM cartridge ($1000), OTO SE Phono Signature EL84 power amp with tube phono stage ($6350), and K/SPe loudspeakers ($3950/pair) with stands ($640/pair).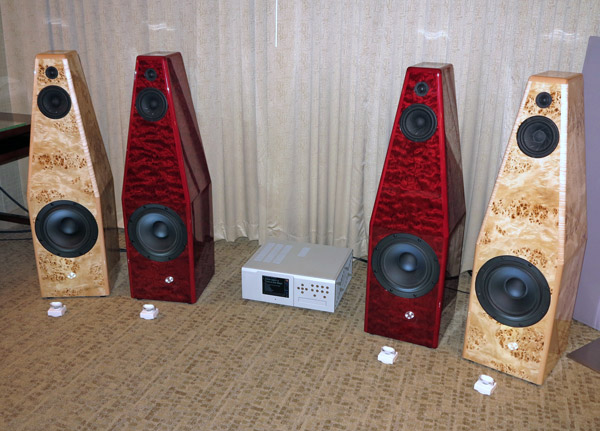 Piraeus Audio has made several changes to its Athena self-powered loudspeaker ($24,000/pair). All circuit boards are now unified, roll-off has been corrected, and DSP has been extended to both tweeter and woofer.
After listening to some music streamed wirelessly in Apple Lossless, I listened to a few of my own tracks on the Boulder 1021 transport. The system did quite well with baroque organ, but the color palette was rather monochromatic, and undertones of instruments were shortchanged. I wonder how these speakers would sound if they weren't stacked so closely together and had more room to breathe.
Peigen Jiang's oft-encountered Eficion F250 loudspeakers ($9950/pair), complete with modified air-motion-transformer (AMT) tweeters sourced from Aurum Cantus in China, were keeping company with a Plinius S103 amplifier ($10,250), Exemplar Audio preamp ($4750), Exemplar-modded Oppo BDP-105, and a mixture of stock cables and Furutech OCC cabling. Playing the excellent FIM CD reissues, the midrange on An Evening with Dave Grusin was very beautiful. Some of the most beautiful timbres I heard on the second day came from this system. Musicality was paramount, despite a somewhat gray and muted presentation that I chalk up to stock cabling and the lack of power treatment.
It's always wonderful to welcome a new dealership to the fold. Hats off, then, to Jeremy Bicknell of Basil & Co. Audio in Los Gatos, CA, whose desire to provide music lovers with complete system solutions led him to become the Bay Area's Naim and Rega dealer.
Basil Audio offered the first US consumer show audition of Naim's Super Lumina "full loom" cables and decoupled plugs installed in a full Naim 500 series reference system. The room also showcased Naim's new streamer firmware and app that allow multi-room and multi-system mode.
There were many systems in the room, but I believe I heard the Naim Ovator S-400 speakers, Naim NAP 500 reference two-channel power amplifier with dedicated power supply, Naim NAC 552 reference analog pre-amplifier with reference power supply, Naim NDS reference network player, Naim CD555 reference CD player, Naim NAPS555 reference power supply for digital devices, Naim Powerline power cables, Naim Fraim equipment supports, the aforementioned Naim Super Lumina "full loom" cabling, Furutech GTX-D (R) receptacle and FI-50 (R) power connector, Naim Unitiserve music server, and QNAP HS210 SilentNAS. (Prices not supplied.) Thank God for copy and paste.
Shortly after I began listening, I asked Jeremy if perhaps his speakers were out of phase. However, he confirmed that the speakers were wired in-phase.
Once that email was received, I suggested that perhaps the bass traps, one custom-made and three on loan from the excellent ASC company, plus the slew of pillows between the speakers that had been placed there for guests that wanted to grab one and sit on the floor, were inadvertently sucking out the midrange I had expected to hear from his rich assortment of [Naim] gear. Hence, on Sunday Jeremy removed the traps, and his upper bass and midrange reportedly returned.
I know that providing such feedback is not my job as a Contributing Editor to Stereophile. But, hey, I've got a heart, and I want new dealerships to succeed. While I couldn't return to the room to hear what these changes had wrought, I expect they enabled some really fine sound to flow forth.