CAF Sunday Morning
I began my Sunday morning at Capital Audiofest with a portion of one of Malcolm Arnold's jaunty overtures: not quite sacred music, but it was nonetheless magnificent in the room sponsored by Gryphon Audio and retailer 20/20 Evolution Systems. In addition to having appropriate weight and realistic die-away, the sound of mallet on bass drum had the most tonally realistic
thud
I recall hearing through a hi-fi. And on a CD vinyl drop of the mono version of Mal Waldron's "Warm Canto," the unison piano, cello, and double-bass notes in the opening measures had realistically tactile note attacks—likewise Ron Carter's pizzicato cello solo, which was very moving, appropriately so.
The source for the Arnold overture was an open-reel tape, played on a Revox/Sonorus deck (price on request), while the Waldron track was played on the Gryphon Scorpio S CD player ($9400). Also in use were Gryphon's Diablo 300 Reference class-A integrated amp with DAC module ($22,000) and Mojo S stand-mounted loudspeakers ($33,000); cables were Kimber Kable Select, and AC conditioning came courtesy of a Torus Power RM 20.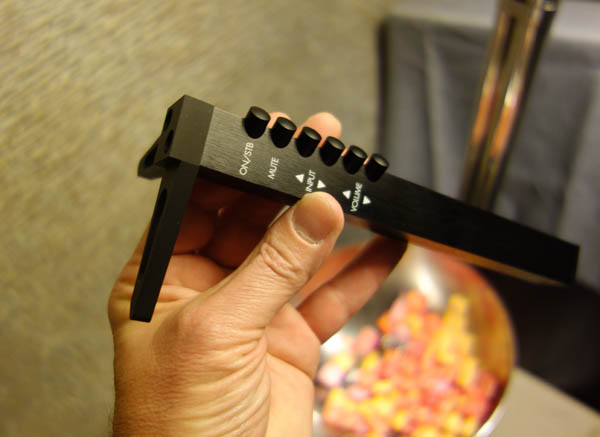 While listening to the system described above, this Gryphon handset caught my eye: Have I finally found a remote control that seems worthy of inclusion in a high-end playback system?
Earlier this year, Old Forge Audio of Mystic, CT became a dealer for the German loudspeaker manufacturer/horn specialists Acapella Audio Arts, so proprietor Dave Cope brought to CAF 2018 the company's 187-lb, 93dB-sensitive La Campanella 2 ($26,000/pair). Used with Pure Audio's 70W, class-A Reference Monoblock amplifiers ($9500/pair) and Control 2 line-level preamplifier ($9500), with a Charles King-modified Stellavox open-reel tape deck as a source, The Acapella speakers showed considerable promise: they were dynamically/dramatically nuanced in a way that I've come to expect from a good horn, but they also allowed the system to sound colorful and especially well-textured: a movement from one of Bartok's string quartets was thoroughly engaging.
Because the Stellavox deck had displaced Old Forge Audio's record player, I decided to revisit their room so I could hear the new 14-4 turntable ($4200) from the same New Zealand company behind the carbon-fiber unipivot tonearm known as the Wand—seen here in its 10.3" Plus version ($1600). With EMT's JSD Lime cartridge and the Pure Audio Vinyl phono preamp ($4500) also in the system, the Wand combo did a marvelous job playing "Dust" from the album Vanished Gardens by Charles Lloyd and the Marvels plus Lucinda Williams, as well as the brilliant title song from Frank Sinatra's Only the Lonely. The sound was tight and well-balanced, with decent drive and grunt.
A selection from the Bill Evans Trio's Sunday at the Village Vanguard was playing when I entered the room shared by Volti Audio, BorderPatrol Audio, and Triode Wire Labs, and the experience cemented my opinion. Whether the loudspeakers in question are my own Altec Flamenco or the Volti Rivals being demonstrated that day ($11,300/pair as shown; prices start at 8900/pair), absolutely nothing under heaven reproduces the sound of a plucked double-bass as well as a tightly suspended, greater-than-12"-diameter paper-cone woofer, preferably being driven by a low-power tube amplifier. Nothing.
Other products in that very real-sounding system were BorderPatrol's P20EXD power amplifier, which uses two 300B output triodes in push-pull to deliver 20Wpc ($20,650 as shown; prices start at $17,760); the enduringly controversial BorderPatrol DAC SE ($1850 as shown; prices start at $1495), plus Triode Wire Spirit interconnects (prices start at $399/pair), American Speaker Cables speaker cables (prices start at $699/pair), and the Obsession power cables ($1399 each). As can be seen in the pic above, that beautiful pair of Volti Rivals, with their Bosse Cedar veneer and exposed-plywood trim, were purchased by a show attendee.
I'm not sure why, but prior to Capital Audiofest 2018 I'd never really met Mytek's chief designer, Michal Jurewicz. He shared with me some thoughts about the political and cultural climates in his native Poland, and when the talk turned to audio, Jurewicz pointed out that the phono section of Mytek's flagship Manhattan D/A processor/preamplifier actually uses step-up transformers to supply moving-coil phono gain. (You can see them on the phono board he's holding in the photo above.) I love step-up transformers! And now I'm looking forward to borrowing a Manhattan so I can try it in Albany.