Bowers & Wilkins 802 D3 Diamond loudspeaker Page 2
After connecting the 802 D3s to my
Theta Digital Dreadnaught D
power amplifier with AudioQuest Oak biwire cables, I fine-tuned the B&Ws' final positions by ear with familiar recordings.
Listening
Although my usual protocol is to do no critical listening for a few weeks, I was able to get down to it very quickly: my sample had been shipped not from B&W's factory but from their design, research, and listening facility in Steyning, West Sussex. For all I know, they're the pair I auditioned when I visited last August).
At Steyning, the first thing I'd noticed about the 802 D3s was that their soundstage was more open and detailed than that of the 802 Diamonds. But here in my Manhattan system, what first struck me was the greater definition I heard with familiar bass lines. I briefly entertained the thought that both perceptions might be due to a shift in balance caused by tighter, lighter reproduction of the bass—but no, the low frequencies were just as potent and extended as before. Something else was afoot.
The 802 D3's Diamond tweeter has the same diaphragm as before—but, as mentioned earlier, it has a new housing and fixed protective cover. Whatever the reason, the new speaker's treble range sounded distinctly more delicate than that of its predecessor. I first heard this with the classic Oscar Peterson Meets Roy Hargrove and Ralph Moore (CD, Telarc CD-83399). In the past, my attention had been drawn to Lewis Nash's cymbal accents, often at the expense of the melody in Peterson's piano. In fact, I liked it. With the D3, the cymbal was still as spicy, but in better balance with the piano. The same improvement occurred with higher-resolution recordings, such as Tarik O'Regan's Threshold of Night, with Craig Hella Johnson conducting Conspirare and the Company of Voices, recorded in the famous Troy Savings Bank Music Hall (SACD/CD, Harmonia Mundi HMU 807490). Individual voices had what seemed a perfectly natural degree of sibilance, defined but not outlined.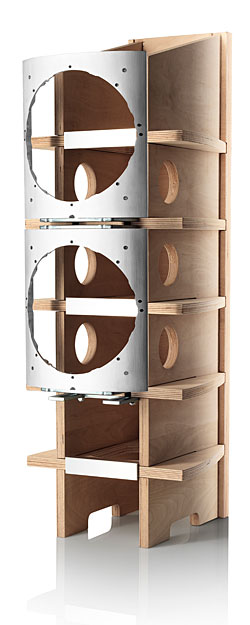 The midrange, too, was highly refined. Clearly, B&W's designs of the slightly smaller (150 vs 160mm) Continuum diaphragm and concomitantly smaller (but more rigid) Turbine enclosure represent not a philosophical but an evolutionary shift. It might account for what I heard as an extension of the Diamond tweeter's delicacy in delineating the sounds of consonants in vocal music. I easily appreciated this throughout the O'Regan disc—voices floated free in the hall's acoustic—but it became my focal point when listening to my go-to vocal track, Finzi's "Come Away, Death," sung by mezzo-soprano Marianne Beate Kielland, accompanied by pianist Sergei Osadchuk (free stereo 24-bit/192kHz PCM download or SACD/CD, 2L 2L-064-SACD). This may not be the best recording ever made of solo female voice and piano, but my familiarity with it makes it a critical tool. Through the 802 D3s, Kielland's voice was as lovely as ever, but the D3s conveyed more of its physical presence.
Probably the most satisfying thing about the 802 D3 was its agility in the bass, which I think accounted for my initial responses at Steyning and at home. This is not one of those large speakers for which "authority" is a euphemism for an overripe midbass that obscures bottom-end nuances. The 802 D3's authority was more tight, powerful, and extended than I expected. Firm bass-drum thwacks cleanly revealed the initial stroke as well as the ensuing resonance. I could pick any of my favorite orchestral recordings from Telarc or Reference and rediscover how good they are. Even more impressive were good recordings of pipe organ, such as Mendelssohn's Organ Sonatas, played by Thomas Murray on the wonderful E. & G.G. Hook instrument in Jamaica Plain, Boston (CD, Raven OAR-390). In the fourth movement of the Sonata in f, I could follow the pedal notes, low as they are, as clearly as if they were played on a piano. (This CD derives from the original Sheffield Records S-13, a remarkable LP produced in 1973 by Lincoln Mayorga.)
But much more important than the speaker's reproduction of any part of the audioband was a degree of driver-output integration that let the 802 D3 perform as a single sound source, to a degree not before achieved by B&W or, indeed, by many speaker makers. At my normal listening distance, mono sounds played by a single 802 D3 seemed to emanate from the Continuum midrange driver; listening in stereo to both speakers, the deep, wide soundstage spanned my room, the sound quite independent of the two cabinets—and often tricking me into thinking that my 800 Diamond center-channel speaker was hooked up. (It wasn't.)
"Nobody," from Ry Cooder's delightful Jazz (CD, Reprise 27355-2), demonstrated most of the features that made the 802 D3 so satisfying. This recording doesn't possess extreme dynamics or really deep bass, but I thoroughly appreciated the clarity of Cooder's solo voice and guitar, the air and balance of the band, driven by tuba and bass drum, and, most of all, the presence and weight of the male backing singers, especially in the final chorus. The 802 D3s made it all sound fresh and new.
Live recordings were transporting. Eric Clapton's Unplugged (CD, Reprise 45024-2) took on a new electricity due to the immediacy of his voice and guitar, the natural impact of the bass, the environmental noises, and the sheer hugeness of the recording space. Andris Nelsons and the Boston Symphony Orchestra's recent live recording of the Sibelius Symphony 2 (BSO Classics 1401, 24/96 FLAC download) put me only a few rows back from the stage of Boston's Symphony Hall, from which vantage I could pick out individual instruments and hear pizzicato notes from the violins amid the orchestral swell. More important, I felt part of the performing space in a way surpassed by only the multichannel download.
Was the 802 D3 faultless? Yes and no. I heard no problems with it in my room and system. Its tonal balance was somewhat lighter than many, including the 802 D3's 800-series predecessors, because the bass was entirely devoid of bloat or emphasis or resonance. Despite this, there was no lack of authority when that was called for, and the speaker's reproduction of deep bass was formidable. However, some listeners may find fault with that new balance because it might not suit the sound of their system and room, or their taste. Further, the 802 D3 easily revealed differences among other components. Of the amps I had on hand, I liked Theta's Dreadnaught D—it seemed most consistent with the D3's balance of clarity and power. Parasound's Halo A31 three-channel amp leaned a bit toward the clarity, McIntosh's MC-303 leaned toward the power.
Conclusions
With the 802 D3, I think Bowers & Wilkins have brought their 800 series into the 21st century. Their commitment to completely reimagine, reengineer, and redesign the 800 series has resulted in a loudspeaker that carries on the family resemblance while being entirely new. This an impressively better loudspeaker in every way. Those who loved the earlier 800s, as I did, will want to hear it. Those who didn't are advised to.