Bonnie Raitt, Blues Sister: Her Life And Times In Eight Songs Page 2
#5: "Nick of Time" (from Nick of Time, 1990)
Scherman: Let's jump ahead to your commercial breakthrough. What was the impact of being sober on the making of the album?
Raitt: Well, it wasn't like I'd been hammered all the time. I didn't record my records drunk or anything. It was more like having a better lifestyle and more self-awareness. I mean, I'd been sober a couple of years. I was in a really good place physically and emotionally and mentally and was happy to have a record label that was excited about me.
Scherman: From the first time I heard this song, what struck me was what I heard as a late-'80s, smooth-groove, Sade sort of feel. Was that what you and [producer] Don Was were going for?
Raitt: No. Philadelphia soul was the inspiration, the Philadelphia International sound. All those Spinners and Stylistics songs. Actually, Marvin Gaye's version of "I Heard It Through the Grapevine" was the first time that basic groove was used. It was just a type of soul music that we all grew up with; I was touching base with the kind of R&B that I love.
Scherman: I hear several different musicians providing what you've called the song's "heartbeat" groove, that sinuous boom-chicka, boom-chicka.
Raitt: Right, Ricky Fataar, my drummer, took a burlap sandbag, the kind you use to hold down a mike stand, put it on his lap and played it with his hands with a mike nearby. The percussionist Paulinho da Costa came in and overdubbed conga, and Ricky laid down a great drum part.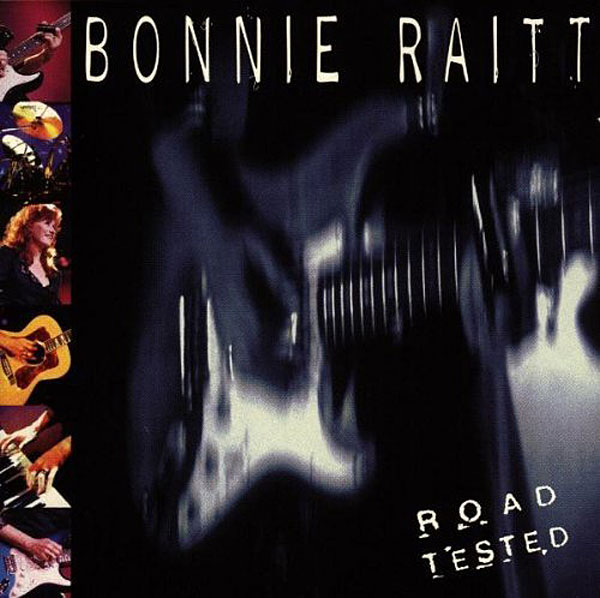 #6: "I Can't Make You Love Me" (from Road Tested (live, 1995))
Scherman: Your voice simply soars on this, especially when you hold that one note—"I will give uuuup this fight"—for what feels like forever [3:00–3:05]. I consider this your best vocal on record.
Raitt: Well, thank you.
Scherman: Do you?
Raitt: I don't compare my vocals. But I love that song. I loved recording the original with Bruce Hornsby, and of the takes we recorded for Road Tested, this was definitely a special night.
Scherman: Over the years, how much time have you put in working on vocal technique?
Raitt: None. I don't think about it. I mean, I'm the daughter of a singer, I grew up in a musical home, I listened to tons of singers growing up, Aretha and Marvin Gaye and Robert Johnson and Sippie Wallace. I just always sang for fun and have a pretty good ear. Now that you mention it, I took some therapeutic lessons when I was losing my voice in the '70s from singing too many belting songs. Our touring schedule was punishing: on the road 10 months a year, multiple shows a night. So it was nice just to get some advice. "Oh, you might want to do this song earlier in the set and not blow your voice out." And I warm up now, as I've gotten older. In my 60s, I started doing a 20-minute warm-up the afternoon of the show. But no, I didn't take any lessons on how to sing.
#7: "Ain't Gonna Let You Go" (from Slipstream, 2012)
Scherman: That's the song from this album that hits me hard.
Raitt: Thank you. I love that one too.
Scherman: How did you hook up with Mike Finnigan? (footnote 9)
Raitt: Mike was a legend in musician circles since he came out of Lawrence, Kansas. He was in so many bands where he blew it away. He was in Etta James's band and Joe Cocker's band, and he was 27 years with Crosby, Stills & Nash, so everybody that ever came to CSN shows was knocked out; a lot of times, Mike was featured. I met him when he was in Maria Muldaur's band in the mid-'70s. Fantastic band, Earl on drums and Amos Garrett on guitar. And Mike made some great solo albums. He was like Bill Champlin from the Sons of Champlin and Max Gronenthal: great white soul singers. Mike was one of the greatest soul singers, ever, of any race. And he's considered one of the masters of the B3.
Scherman: I never knew that you worked with Bill Frisell. [The eclectic guitar virtuoso contributes to three songs on Slipstream.]
Raitt: Bill was part of the Joe Henry sessions, and Joe put that band together. [Producer/singer/songwriter Joe Henry produced four of the songs on Slipstream.] The idea of having [guitarist/steel guitarist] Greg Leisz and me and Bill Frisell on three guitars was pretty amazing. Bill is one of the most unique and prolific and wonderful people, right up there with how I feel about Don Was. Just a stellar person, with no overriding ego.
Scherman: Ricky Fataar and [bassist] James "Hutch" Hutchinson have been with you for 30-plus years, more than half your career. What is it that makes this rhythm section special?
Raitt: You mean other than being incredible musicians? They're just so empathetic with all the styles of music I love, from African to reggae to Celtic to New Orleans to country to the most subtle jazz. They have no boundaries, no affixing of style, they're just very eclectic and their blend is magical. Thank goodness they still like working with me.
Scherman: Can you say what makes their blend special?
Raitt: I can't. I just know that I love the way they play together.
Scherman: Your music has always been intensely collaborative. Can you think of one or two instances when you were aware that the interaction between you and another musician, or musicians, had raised the music to a higher level?
Raitt: No, I can't. Of course, when you get to play with Bruce Hornsby, one of my heroes, an absolute genius on the level of Bill Frisell, and Billy Payne from Little Feat is another one. ... When you get to collaborate with people like Jackson Browne and John Prine, to sing with my dad, to sing with Toots Hibbert, to sing with any number of female singers that I love duetting with—those are high moments. But I would say that I wouldn't be able to trade those special moments for the magic that I have with my band every night. I just know how it makes me feel and how it makes the audience feel.
Scherman: You produced eight of the tracks on Slipstream by yourself. Was it any kind of adjustment, becoming producer? You were captain now; it was your show.
Raitt: I've been producing my records, really, since the beginning. It's just looking for a collaborator that has connections with the record company and can do the diplomacy of organizing who's going to play on which sessions, doing the meat and potatoes of the operation. A teammate.
And you can't make a record without a fantastic engineer. When I did Slipstream, I met Ryan Freeland, and we just hit it off. I asked him, "Do you think we're going to be able to integrate these Joe Henry songs?" Those were recorded in Joe's home studio, with completely different sonics and equipment than Ocean Way. And Ryan said, "Yeah, I know how to make it match." He's been an incredible addition because he's a musician, too, who understands things like all the subtleties of the different sounds that you can get off a different mike.
Scherman: When you produce, how much do you get involved with the sonics?
Raitt: You mean, how to mike the drums? I'm involved in all those decisions: what kind of amps, which guitar, which bass. The different mikes you use on a kickdrum can make all the difference. That's the fun part of making records, putting all that together. It's one of the things I love to do.
#8: "Waitin' For You to Blow" (from Just Like That, 2022)
Scherman: This song reminds me of James Taylor's "Johnnie Comes Back," about somebody's habit returning. And there's a Jason Isbell recovery song, "It Gets Easier," with that refrain, "but it never gets easy." You've been sober for more than 30 years.
Raitt: Thirty-four years.
Scherman: Do you still feel like there's a demon on your shoulder whispering, "Go ahead, it's okay to have a drink"?
Raitt: No, I'm not worried about my sobriety. You don't have to be in recovery to be nagged by things like procrastinating and making excuses and overeating and staying up too late and not returning phone calls and telling white lies and pushing people away because you're afraid there's nobody worth loving in there. Each of the verses is about a different type of slipping. Any behavior that's got you by the short hairs. You have to work your self-awareness and check your behavior, otherwise you'll just slip into a pit. You have to be vigilant.
To do "Waitin' for You To Blow" up-tempo instead of as a ballad was inspired by years and years of listening to Mose Allison and Randy Newman, the way they approach serious subjects with a kind of sardonic humor.
Scherman: Last question. In the 1990s, you went out of your way to have your early albums remastered. Why?
Raitt: Because Warner Brothers [Raitt's label for her first nine albums] did a terrible job. The original albums were mastered fine, for vinyl. Once I went to Capitol and had a hit record, Warner unceremoniously dumped all my albums onto the new format, CDs, remastered by machine with no oversight, no double-checking, and no input from me.
When I got around to listening through the CDs, I was shocked at how they sounded and told Warner that if they didn't remaster them properly, I was going to ask everyone to send the records back and ask for a refund. And now I had the clout of public opinion, I could do a few interviews and talk about it, and they were, "Oops. I guess we'd better go back and do them with some sort of artistic integrity." I brought in [engineer] Ed Cherney, who I was working with at Capitol, to oversee the process for all nine albums. I'm just glad we were able to rectify that and sorry for the people who bought substandard versions for five years.
They kicked me off the label and then tried to profit from it by compromising all those years of work and putting out crappy versions to make a buck. And I said, "I'm sorry, that's not gonna work for me."
---
Footnote 9: Mike Finnigan, who died in August 2021, plays the Hammond B3 organ and sings backup on
Slipstream
and
Dig in Deep
(2016) and on one track of
Just Like That
. Apart from the bands that Raitt mentions, and many others, Finnigan plays the B3 on "Rainy Day, Dream Away" and "Still Raining, Still Dreaming" on Jimi Hendrix's 1968 album
Electric Ladyland
.