Blowing the Lid off with Janácek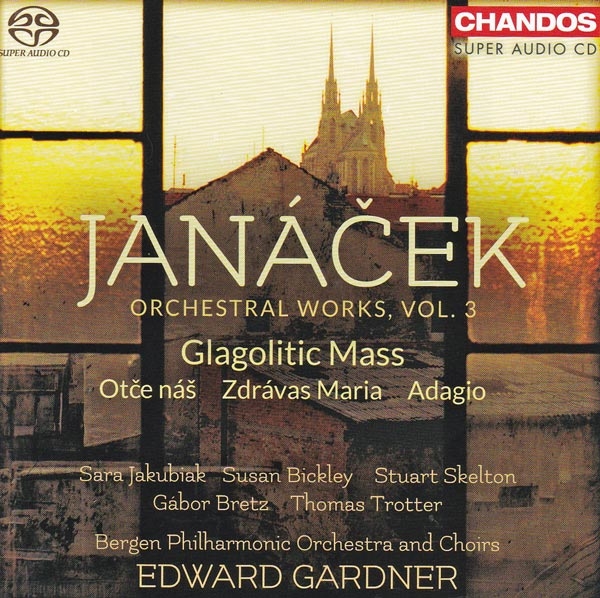 If you're looking for unusual, viscerally thrilling music guaranteed to give your system a run for its money, then Leos Janácek's Glagolitic Mass is for you. Recorded in Norway last summer by the Bergen Philharmonic Orchestra and Choirs, conducted by Edward Gardner, this gargantuan mass is the centerpiece of
Janácek Orchestral Works, Vol.3
, a new, extremely well-recorded hybrid SACD from Chandos.
If the term "mass" brings to mind what you might typically hear in church or at a performance of sacred music by Palestrina and other Renaissance masters, think again. Janácek's 40-minute masterpiece, whose title derives from the name of an early Slavic alphabet, is far more a celebration of Slavic culture than anything else. Distinguished by unusual Czech-tinged harmonies, clashing chords, and huge outbursts from soloists, double chorus, timpani, organ, and brass, it's also far more bracing than consoling. In fact, while it does offer a few serene respites, it omits entirely the traditional "Dona nobis pacem" from the Agnus Dei in favor of three purely instrumental movements.
Initial inspiration for the composition of Glagolitic Mass came from the leader of the Catholic Church in Moravia, the Archbishop of Olomouc, whom Janaácek occasionally bumped into on holiday. Nonetheless, its premiere, given by the Brno Arts Society at the end of 1927, was in a secular context. The work was revised the following year, not long before Janácek died. It is more or less that revision, in an edition by Jiri Zahradka, that we hear in this recording.
Czech writer Milan Kundera nailed the Glagolitic Mass when he called it "more an orgy than a mass." Its impact is far more akin to a fire and brimstone shakedown than a serene assemblage of cherubic angels singing and trumpeting melodiously. (For the record, Janácek had a highly conflicted relationship with his Catholic upbringing, and does not seem to have believed in Catholic notions of the afterlife.) One of its hugest fanfares, which forms its penultimate movement, is a knock-your-socks-off, three-minute organ solo that could easily serve as a demo track at audio shows. So could several of the works' shorter movements, where, in the name of heaven, all hell breaks loose. Rutter's Requiem or "O Holy Night" this is not.
The soloists are spectacular. American soprano Sara Jakubiak sings with the weighty, pungent maturity of a true Eastern European artist, and tenor Stuart Skelton blazes forth with authority. In smaller roles, mezzo-soprano Susan Bickley and bass Gábor Bretz are quite fine. Chorus and orchestra are superb.
But there's more on the disc. The SACD also includes a short, very early Adagio; an equally short "Hail Mary" (Zdrávas Maria) for soprano solo, four-part chorus, violin, and organ; and a close-to-15-minute setting of the "Lord's Prayer," inspired by the paintings of Josef Mecina-Krzesz, for tenor solo, four-part chorus, harp, and organ. But once you hear the Glagolitic Mass, it's doubtful you'll want to listen the rest in the same sitting. Rather, you may want to shower off, howl at the moon, or run out the door and invite everyone on the block to hear how great your system is.