Analog Corner #310: WallyTractor, StylusTimer, Fuuga, Tzar DST Page 2
"Miyabi" in Japanese means "elegance." Fuuga means "elegance with flair." Nagao-san was friends with Miyabi designer Haruo Takeda; he was also Japan's exclusive Miyabi dealer. Nagao has also worked at Stax, Audio Craft, and other storied companies and was part of the team that created the Infinity Black Widow tonearm all those years ago.
After Takeda retired, taking with him the Miyabi secrets, Nagao decided to reverse-engineer the Miyabi with the help of Tetsuya Sukehiro, a young cartridge designer, but soon he found that in the interim better materials had become available. Also, the method Takeda had used to support the cantilever proved to be a nightmare to reproduce in a way that delivers consistent performance.
The first breakthrough came in early 2014, when Sukehiro increased the rigidity of the rear yoke structure and incorporated it into the body. Using solid iron for its high mass, he was able to minimize the effects of magnetic field resonances on vibrating components. Among other changes, he employed an extremely powerful neodymium magnet in place of the Miyabi's Alnico. At that point, Nagao was happy with the motor, but to get the desired sound, they scrapped the original Miyabi's single metal casing and developed a complex, layered body using three aluminum alloys varying in thickness and hardness. The result is a rigid, resonance-free chassis that weighs 15gm.
A parabolic hybrid, 8µm × 40µm diamond stylus, attached to a tapered low-compliance (7 × 10–6 cm/dyne), A2017 aluminum-alloy cantilever, tracks at between 2.0 and 2.2gm. Output is 0.35mV, internal impedance is 2.5 ohm, and the price is $9275 (footnote 3).
High mass and low compliance make the Fuuga a perfect match for the Kuzma 4Point tonearm, which I used the last time as well. The Fuuga's tucked-under-the-round-body stylus makes setup difficult, but I've seen (or not seen!) worse. This cartridge has a unique, unmistakably airy, light-as-a-feather, utterly nonmechanical quality. The impression is not of a coloration but rather of a lack of coloration. Its spectral balance is as neutral as that of any transducer I've experienced, and its transient performance satisfies on every musical genre and maintains its consistency from bottom to top.
I'm not a "soft and warm" enthusiast: If forced to choose between that and hard and etchy, I'll go for the latter. The fleet-footed Fuuga doesn't veer toward either side.
Shortly after alto saxophonist Lee Konitz passed away mid-April from COVID-19 complications, Fred Kaplan suggested I listen to "Motion" (Verve V6-8399), a 1961 album of standards I didn't think I owned. After a search, I found it in my utility room, specifically the Kevin Gray–mastered Speakers Corner edition cut from the original tape. On this record, Konitz is quarantined in the left channel and Elvin Jones (on loan from Coltrane) and bassist Sonny Dallas are socially isolated on the right, with nothing in between. Backed by just bass and drums, Konitz is wide open, with, as he suggests in the notes, no chordal instruments to interfere.
Paul Desmond, who was heavily influenced by Konitz, tried to sound like a dry martini. Konitz did not. His alto had a harder, zippier sound than Desmond's, and his playing was more angular and edgier. The rhythm section, performing and recording without rehearsal, was also edgy, with Jones's snare sounding as if it had been lifted from a marching band. The presentation did not suffer from softness. It "popped" with grit, sharpness, and excitement.
Something about the cartridge's breathiness, which oh-so-subtly seeps into every record, led me to Norah Jones's debut album, Come Away With Me (Analogue Productions AAPP042), which I was very familiar with but hadn't played in years. With this record the Fuuga did a complete, sonic 360 from the Konitz album, producing vocal lushness with full articulation and three-dimensionality. The piano's attack and sustain and its timbral complexity were equally fine. I thought this presentation of the album was better than I'd ever heard it—of course, much in my system has changed since I last played it.
The superb Bach/Starker Suites For Unaccompanied Cello Complete (Analogue Productions/Mercury SR3-9016) produced mellow shudders and depth in the lower register and sweetness and that feathery quality up top. Switching to the Lyra Atlas Lambda SL delivered more detail, somewhat more-focused imagery set against better-defined space, and a spectral and transient balance that traded sensuality for organizational microdetail.
The Ortofon Anna Diamond further increased the well-defined space and detail without sounding analytical. Make sure you're sitting down when you listen to the Fuuga for the first time, for it will sweep you off your feet. It will have you falling in love all over again with your favorite records. Whoever it was 5 years ago who wrote "the Fuuga is, without a doubt, among the handful of highest-performing, most-enjoyable cartridges I have heard" got it exactly right.
From Russia With Love: Two Tzar DST Cartridges
When Robyatt Audio's Robin Wyatt offered to let me audition the $10,000 Tzar DST cartridge last winter, I said "yes," even though our dear friend Art Dudley had reviewed two iterations of it. Art described the first one, in Listening #157, as looking like a "robotic bulldog with a deformed ear." The second version (serial # 006), covered in Listening #200, was mechanically identical, better finished, but still basically a rectangular aluminum block (footnote 4).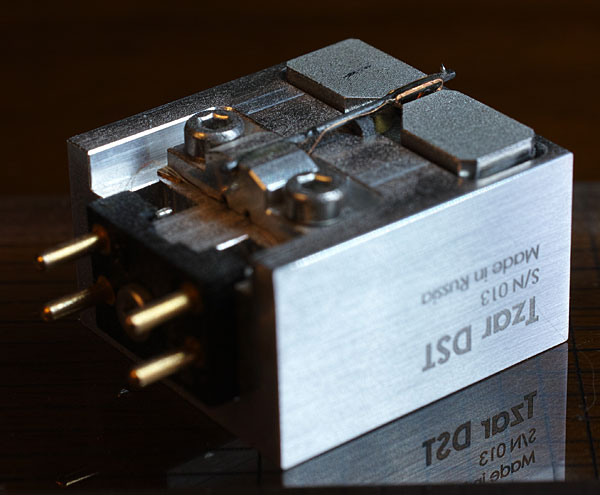 Art and I had different tastes in audio gear, but we almost always agreed about what we heard. We shared many musical fetishes, including Procol Harum (though, typical of Art, he took that one to shrine-like excess), Mott the Hoople, the Elgar Cello Concerto, Sonny Rollins's Way Out West, and of course, XTC.
Art's sonic descriptions of these Siberian remakes of a formerly obscure 1962 cartridge, the Neumann DST 62, piqued my curiosity, so I bit. Wyatt sent me number 007, but no Aston-Martin. Please read both Listening columns to better understand what's unique about the DST's design, as I will soon run out of space for this discussion.
I don't keep on hand half the variety of gear (especially tonearms and step-up transformers) that Art used to audition the DST; I had to settle for the SAT CF1-09 arm and Ypsilon MC-16L transformer, which has an inductance of around 80 henries. (Art wrote that Frank Schröder, who first got this train rolling, recommended a SUT with "moderately high inductance.")
As he always did, Art nailed his description of this cartridge. He was correct about the Tzar's production of touch and rendering of weight, like a freight train rumbling through the room. I was compelled to return to the Bruckner Symphony No.7 direct-to-disc recording with Haitink conducting the Berlin Philharmonic (Berlin Philharmonic Recordings BPHR 200271). The weight and texture of the massed strings and especially the brass pushed me back in my seat, yet the effect was not leaden.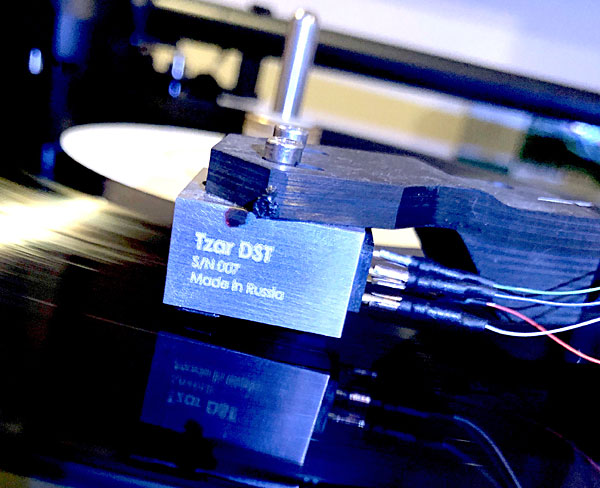 I went back to my old, live standby, The Modern Jazz Quartet's Europe Concert (Atlantic SD 2-603). The physicality of the instruments and their organization in space was unlike I'd ever before heard them, and that's saying a lot: I've been playing this record since I was 15! Connie Kay's brushwork produced a visceral, physical reaction, as did each cleanly articulated "high mass" Percy Heath bass pluck. I did not experience the center fill issue Art complained about when I listened to the same Elgar program (EMI ASD 655), Sea Pictures by mezzo Janet Baker on Side 2 and Side 1's Cello Concerto with Du Pré and Barbirolli with the LSO. I played both an original EMI and the ERC reissue, which last time I checked was one of the few ERCs that hadn't yet sold out—what is wrong with people? Either version of this record was a total knockout decoded by the Tzar.
I'll borrow a few of Art's words to describe what I heard (which he himself borrowed from a previous review of another cartridge): "taut, a little bit dry, . . . never rubbery, never excessive." He was describing the bottom end, but I'd say the Tzar was overall a bit dry, and, especially in a solid-state system (in contrast to Art's tubey tubes), somewhat too weighty and occasionally sledgehammer-like. It's fitted with a spherical stylus, so you give up some detail and resolution in exchange for a clear message—and those textures!
But Wait, More Tzar!
Last week, Robin Wyatt had a surprise for me: a new, wood-bodied Tzar with a brass top plate. It costs $11,000. Yes, these are crazy prices, but manufacturing these things must be extremely difficult—please read Art's detailed coverage of what's involved—and these days $11,000 cartridges are a dime a dozen.
The wood-bodied Tzar produced all of the aluminum-bodied version's weight and "straight from the groove to your body and brain" musical communication, but it lightened the heaviness somewhat, with some rounding and airiness where the original was angular and literal, as if the stylus was a stone bonded to the groove as it plowed through. With the wood-bodied Tzar, the Electric Recording Company's "Way Out West" floated on a cushion of air instead of digging relentlessly (but pleasingly) through the grooves.
Speaking of weights and stones: The issue of VTF never fully left my mind as I played some of my most treasured records. I've come to accept tracking at 2.4gm with the Ortofon Anna D with only a slight bit of hesitation, but I'm less comfortable at 3.5gm. That said, that heavy tracking force allowed me to experience some unforgettable performances of very familiar records. Whatever the consequences, the pleasure/ record-wear trade-off might have been worthwhile!
If you are a person of means and can easily swap out cartridges, this would be one to have in your "arsenal" for special occasions, though once you're hooked, you might have trouble returning it to a safe place: It doesn't come with a stylus guard.
---
Footnote 4: Tzar DST MC cartridges are imported by Robyatt Audio. Web:
robyattaudio.com
.