Ambrose Akinmusire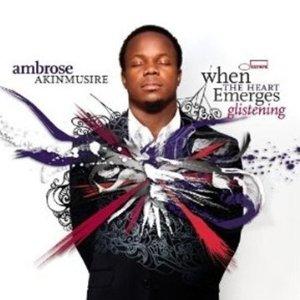 Every few years, a young jazz musician comes along and sets off some buzz. Usually, the excitement soon cools—the kid can't sustain the initial stir, he turns out to have more technique than depth—but now and then, it turns out there's something really going on. In the past decade, Jason Moran has been the most prominent of these upstarts who's the real thing. The latest, I'm pretty sure, is a trumpeter, just shy of 29 years old, named Ambrose Akinmusire.
His debut CD on Blue Note, When the Heart Emerges Glistening, is co-produced by Moran, who heard him play and urged the label's proprietor, Bruce Lundvall, to check him out. It's the most inventive, accomplished album by an emerging trumpeter since Dave Douglas' In Our Lifetime or Wynton Marsalis' J Mood.
Akinmusire counts Clifford Brown and Booker Little among his models, and his sound reflects them. It's a big sound, even boisterous at times, but he can also sink sensuously into a ballad and run arpeggios with the most hard-boppishly graceful.
His quintet is on the same page, especially the tenor saxophonist, Walter Smith, who's been playing with Akinmusire for a decade and melds with him completely, whether in unison or in counterpoint.
Akinmusire, who was born in Oakland and hardened in New York, composed 10 of the disc's 12 tunes (one of the remaining two is a zesty cover of "What's New"), and they're fresh, evocative, and accessible—straight-ahead jazz while also rife with unexpected intervals and nice harmonic twists.
The sound quality is bracing and vivid.