Finishing Up With Evolution and darTZeel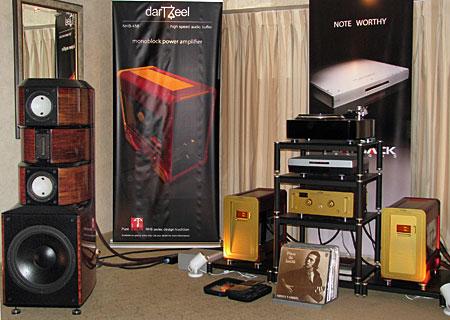 As John Atkinson and I entered the room at THE Show in which darTZeel electronics partnered Evolution Acoustics loudspeakers, I was immediately struck by the fullness of the midrange. It was as though the system was opening its heart and welcoming us in. That's how warm and nurturing the sound was.
What was especially wonderful was that this system was about far more than midrange. From a very open, clear and realistic top all way down, the darTZeel/Evolution Acoustics system sang true. And beautifully. Very, very beautifully.
First we listened to a favorite audiophile demo, tenor José Carreras singing an excerpt from Ariel Ramirez's Misa Criolla. The air around voices and instruments was as wondrous as the clarity of playback.
Then came something very, very special. But first, a description of the system.
This not exactly bargain-priced system consisted of darTZeel's new NHB-458 monoblocks, whose 1000Wpc will set you back a mere $135,000/pair, and the darTZeel NHB-18 NS reference preamplifier with MC phono section ($29,000). Speakers were the brand-new, just introduced Evolution Acoustics MMtwo loudspeakers ($35,000/pair). Weighing 375 lbs each, these gorgeous babies claim a frequency response of 10Hz–40kHz ±3dB, and a sensitivity of 93dB. They also sound marvelous.
The rest of the system comprised Evolution Acoustics' DRSC speaker cables ($5000/pair), the LINK-Reference 50 ohm BNC–BNC interconnect ($6000), and PC2One power conditioning power cord ($2000). Playback was from either a Playback Systems MPS-5 Reference SACD/CD player with 24/192 input ($15,000), or the world-premiered Music Servers Direct MSD-1 Reference Music Server ($1995) controlled by an Apple iPod Touch. Other goodies included the Audience Adept Response aR6-T power conditioner ($4600).
Yes, it was an expensive room, filled with equipment I cannot possibly afford. But it's not about me, John, or Stereophile; it's about the music that gives us joy, and the equipment that brings it to us in all its glory.
After the Carreras track, Jonathan Tinn of Evolution Acoustics began telling John how much he loved listening to a track from one of John's recordings, Cantus' While You Are Alive. (Stereophile's newest reviewer, long-time audiophile Erick Lichte, was Music Director of Cantus at the time of the recording and produced the CD). As the conversation grew more animated, I quietly mentioned that I just happened to have the CD with me.
I cannot begin to tell you how it felt to enjoy John's energy as he immersed himself in two tracks from one his finest recordings. What I can tell you was that the sound was little short of heavenly.
On that high, I bid adieu to THE Show and CES 2010. If John, in his talk earlier in the afternoon, both acknowledged the bad year that has past and the good year that he expects to unfold, the Evolution Acoustics/darTZeel demo confirmed that 2011 has the potential to launch a very full, rewarding, and musical decade. With sound like theirs, the admittedly struggling high end gives indications that it is indeed alive and well.
The Show is now so large that it is impossible for any one writer to visit every exhibit. While it was our goal, with six people covering CES and THE Show, for someone to at least make an appearance in each room, (Our apologies if that was not the case.) I regret that I left unable to visit a host of rooms at the top of my list: PrimaLuna, Bel Canto, Peachtree Audio, Kimber, XLO, Pass Labs, PS Audio, Parasound, Simaudio, The Lars, Harbeth, Furutech, Scot Markwell of TheMusic.com, Immedia. . . Then there were all the companies I'd never heard of whose products I wanted to hear. CES had at least 274 high-end audio exhibitors in 206 suites and air-walled conference rooms and THE Show offered another 110 exhibitors; the list of missed opportunities is huge. I never even had the opportunity to hug Marjorie Baumert, who continues to maintain and build the increasingly successful Rocky Mountain Audio Fest in honor of her late husband, Al Stiefel. But we can only do what we can do.
Thanks to all the designers, engineers, manufacturers, reps, and retailers who make CES and THE Show possible. Above all, thanks for giving us the opportunity to enjoy the best that recorded music has to offer.