A Visit To Abbey Road Studios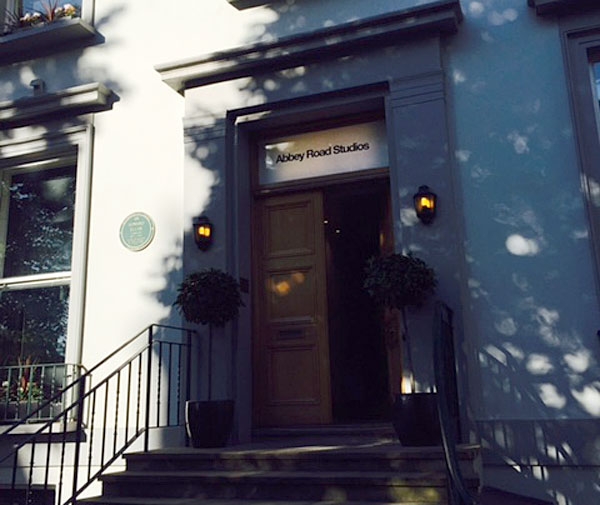 Call me a hopeless romantic but I could not get "Penny Lane" out of my head as I sat in the back of a black cab whizzing across a remarkably deserted London early one morning a couple weeks ago. "On the corner is a banker with a motorcar…" I was on a pilgrimage. More like THE pilgrimage. The one every serious fan of twentieth century music needs to make at least once. Out to St. John's Wood and Abbey Road Studios.
Luckily, I had an in at Abbey Road, namely engineer and all around charming fellow Simon Gibson, who'd been a source in several stories I'd written in recent years, and upon whom I politely prevailed to give me THE tour. In the name of retaining some slight reserve of cool, let me say that I did not insist on having a shot of me taken at the famous zebra cross walk. Course, I was alone, so I would have had to ask someone to actually take the shot which would have been slightly embarrassing so I…
After a stern admonishment that I could not take photos inside the building from a receptionist who proved to be very friendly otherwise, Simon led me through the tour. Taking photos, as it turned out, was permitted, a fact that came in handy when Gibson snapped on the lights in Studio 2. If you're a Beatles fan, walking down the stairs into Studio 2 is about as close to our heroes as you are likely to get today.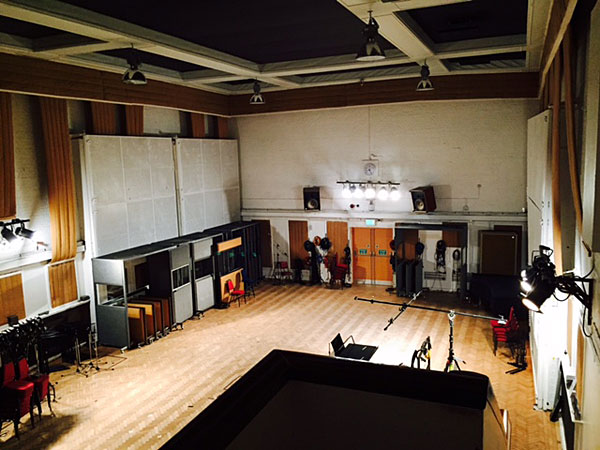 While the electronics have all been updated since those days, the originality and acumen and ingenuity that was once presence there still lingers. Not a believer in ghosts nor other supernatural claptrap, I nevertheless did manage to over-romanticize to the point of sensing that many a great thing had happened and been recorded in this room. Other than a few things done at Trident Studios and elsewhere, most of The Beatles catalog was recorded in this long, high, narrow room with parquet floors and a slightly dank smell that my brain and olfactory glands will forever remember.
The actual tapes, the holy grail if you will, of popular music are safely and permanently ensconced in a storage vault on the premises. In an age where musicians record at home or in the drummer's basement or God knows where, to have come back over and over again to the same studio is an unheard of situation. Even back in those days, when the Stones for example, recorded all over the world, often for the same record, The Beatles devotion to Abbey Road, a studio owned by their label, was unusual. Quality, in the end, I guess, wills out.
Next door to Studio 2 is massive Studio 1 which is where orchestras are recorded and which is also impressive though the wisps of genius still trapped in Studio 2 is the reason to visit and adore Abbey Road. For those unable to take the silver bird across the Atlantic, there's the studio's fabulous new collaboration with Google called, InsideAbbeyRoad.com, which allows anyone to tour the studio via computer.
Later, back upstairs in his very pleasant workspace, Simon played me some test samples of things he'd been working on and also odd bits from the EMI catalog, none more intriguing than a recording by Will Gaisberg, brother of the great Fred Gaisberg, one of the towering figures in the history of sound recording, of the Royal Garrison Artillery loading and firing gas shells at the Germans in Lille, Belgium in 1918. This early recording, issued as an audio commercial for war bonds, ends with spoken words about how the public must "feed the guns" and help to "win the war."
We also spoke about the film and gaming soundtrack work that have become big drivers of growth and revenue at Abbey Road these days. Perhaps the biggest project in that vein is the Final Fantasy album that Gibson has been a part of. For those unaware of this massive franchise, Final Fantasy was originally a video game launched back in 1987 by Hironobu Sakaguchi, that has now grown into a multi-generation computer game, film, merchandising and now live music concert empire. Much of the music was at first composed by Nobuo Uematsu but in recent years Masashi Hamauzu, Kumi Tanioka and others have all contributed and made Final Fantasy music a musical subgenre unto itself. Last December came the announcement that a Final Fantasy album, with music played by the London Symphony Orchestra would be recorded, mixed and mastered at Abbey Road. It was recorded in Studio 1 by engineer Simon Rhodes and Gibson mastered the 5.1 and stereo audio for download and Blu-Ray releases. Gibson mentioned that mastering for 5.1, having sound coming from six rather than just two speakers, is more taxing on the ears.
And then course there is the wall out front of Abbey Road, parts of which are now reproduced on the front of the reception bar inside. Scrawlings from the world over adorn this impromptu shrine to the Fab Four. When I discovered that the Marquee Club on Wardour Street, celebrated as the first place the Stones ever performed live in 1962, was right around the corner from my hotel, I rushed to see it only to find that it had been turned into condos and strangely had a plaque to Keith Moon located high on its façade. Fortunately, Abbey Road, now owned by Universal Music, survives more or less intact, a situation that will not change in the foreseeable future. When in London, just standing out front, or walking the crosswalk, is a must.