T.H.E. Show Newport on Press Day: We Happy Few...
Day One was press day, with only we ink-stained wretches (or at least the carpal-tunnel afflicted) invited to the party. By early evening (the show ran from 2PM to 8PM on press day) just about everyone who was anyone had already passed Go and collected their press badges, leaving the attendants little to do but screw up their courage for tomorrow's crowds of eager audiophiles.
Anyone who has ever stepped onto the convention-center floor at CES the day before opening has seen pre-show chaos. When you're not dodging forklifts you wonder if the show will ever be ready by the next day. But it always is.
The Marketplace at T.H.E. Show Newport is nothing like that. There are no hulking machines carrying tons of exhibit cases to and fro. But it's still a bit chaotic. The fortunate few who finished setting up early had covered up their wares, safe from curious eyes until Friday, the first public day.
But many demo-room exhibitors elected not to support press day. It was an option, and more than half the show's rooms were locked, or at best open but inaccessible. Much scurrying about was clearly going on inside, preparing the setups for Friday's paying attendees. But it wasn't a total bust for those of us hoping to get a head start on finding stuff to write about, thanks to the manufacturers who were up and ready. Many of them had even printed sheets listing the gear, and often the prices—a major time saver for we wretches.
My first stop was a ballroom on the main floor, sponsored by USA Tube Audio Labs of Scottsville, Arizona. Four separate systems were set up here, one on each wall. The huge room was hardly typical of most home listening rooms, but all three of the systems I listened to performed exceptionally well (a fourth was from Mark Levinson/Revel; their gear is also being shown and demonstrated in several separate rooms which we'll cover later). Wall one, shown here, consisted of Ayon electronics driving Lumenwhite loudspeakers.
All of the products in this system are new, at least to the U.S. The system I listened to was fronted by an Ayon CD-3sx CD player DAC/Streamer/DSD ($9,850), an Ayon Auris preamp ($8,900), and a pair of Ayon Titan Orthos XS Gen 4 mono amps (350Wpc, $29,800/pair). The speakers were Lumenwhite White Light 25 Anniversarys, at $69,000/pair. If you get the idea that this will definitely be a High-End show, you'd be on the (very large pile of) money. The White Light 25 is the larger of the two speakers in the photo—I didn't audition the smaller Artisan model.
The system sounded superb as it indeed should for that amount of cash. Its clean, clear midrange, and sparkling but natural highs were a pleasure to listen to. I had brought my own CD-R mix disc to the show and used it wherever I could (though a few rooms lacked CD players). My only reservation was the system's somewhat soft and woolly (though deep) bass. But keep in mind (as I've said ad infinitum in my speaker reviews) that no show, or reviewer, can definitively tell you what a speaker's bass (or the bass from an amp/speaker combination) will sound like in your room and setup. This show room was large enough to avoid serious room modes, but that itself can be an issue if the speaker was voiced (as is likely) with a best guess at a typical listener's room. While the latter is necessary, it can also be a shot in the dark as all rooms are different.
Another wall in the USA Audio Labs room featured a pair of KEF Blade 2 speakers driven by electronics from Italian company Mastersound—the SpettroPH L5-V2 preamp ($8,100) and the PF 100 mono amplifiers (110W each, $25,900/pair). The source here was also an Ayon CD player. I've always had somewhat mixed feelings about the Blades and Blade 2s, though their engineering pedigree is unquestionable. But this was definitely the best I've heard them sound.
On the third wall, not shown here, was a pair of KEF Reference 5 speakers ($15,500/pair—the Blade 2s are north of $20,000/pair) driven by Accustic Arts electronics. The latter consisted of the Player II Tube CD Player-DAC ($13,740), the Tube Preamp II MKII ($8790), and Mono Amp II MK 2 amps ($13,850/pair, solid state). This may have been my favorite system in this room. While the top end was a bit less airy than the Ayon/Lumenwhite system, the spectral balance was spot on (particularly the naturally full-bodied but not overdone midbass, the superb imaging, and deep bass that was the crunchiest of the bunch. I suspect the amplifiers' specified output of 300W into 8 ohms, putting their iron grip on the speakers, had something to do with the latter.
Here's a closer look at the Mastersound 110W monoblock tube amplifier mentioned in an above post. There's no mistaking its uniquely Italian style.
There was also no mistaking the upscale vibe in the Optimal Enchantment room either. It featured electronics from Audio Research and Vandersteen, Vandersteen's flagship speakers, a $185,000 Basis Work of Art turntable and a $12,000 Lyra Atlas cartridge. When I was told that the Basis was a Work of Art, I thought they were speaking metaphorically rather than giving me the model name!
The Audio Research electronics here were the Reference 10 line-level preamp ($30,000) and the Reference 10 phono stage (also $30,000—how times have changed since around 1976, when I paid $600 for an Audio Research SP-3 preamp with its own built-in phono stage!). Those Vandersteen Seven MKII speakers ($62,000/pair) were driven by Vandersteen's own liquid-cooled, monoblock power amps ($52,000/pair). Topping-off the system were a pair of Vandersteen Sub 9 subwoofers (available in the fall, no price set as yet but likely north of $15,000/pair).
And oh, yes, there were also three HRS equipment racks—at $10,000 each!—holding the front-end gear.
Adding up the total price, this system comes to $416,000. That's about $66,000 more than I paid last year for my new home near (but not on) the Gulf coast in northwest Florida. Just sayin'.
The sound was superb, as it should be, but I couldn't really judge it with familiar material as the room was only equipped to play vinyl; my demo CD-R never left my briefcase.
If you're in the market to decorate your listening room with music art, or musician art, you can pick up a print or three at the show as well.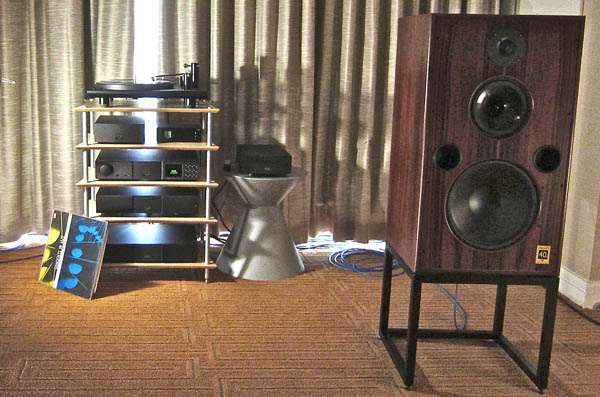 Venice Audio was showing the new Harbeth Monitor 40.2 speakers ($14,795). The driving was done by a full range of Naim electronics, and the source was a Well Tempered Labs Amadeus GTA Mk2 Turntable with Symmetrex tonearm ($3850 including the arm). The cartridge was an EMT TSD 15 ($1950).
With its wide cabinet the Harbeth definitely parades a classic look. The style may be a bit unfashionable (though superbly finished), but there was nothing unfashionable about the sound. It was immediate and full-bodied, with highs that were a trace forgiving but consistently enjoyable. The system sounded a bit more open with the analog system than with digital files from a NAS into the Naim NAC-N272 preamp with integrated streamer, but with different material. Unfortunately, this room also lacked CD replay capability so my CD-R was once again left in the lurch.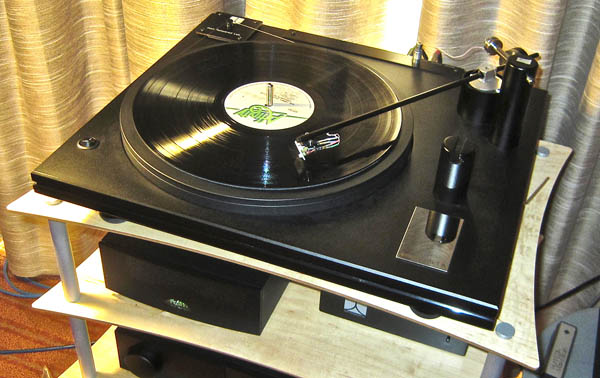 Here's a close-up of that Well Tempered Labs GTA Mk2 turntable in the Venice Audio room.
Not all of the turntables at the show carried "if you have to ask" prices. The Well Tempered mentioned previously isn't outrageous in today's market, but it isn't cheap, either. Thorens, one of the oldest names in the record spinning business (and the official turntable of the NBA…just kidding) has something to say about that. Thorens's US distributor showed four models on static display. The two most visible here are the TD 240-2 at $1099 (far right) and the TD 309 at $1999 (next to it), Also shown (less visible in the photo) were the TD 203 at $999 and the TD 295 Mk4 at $1199.