Shane Buettner, Intervention Records
"With all due respect, what the hell is the matter with you?"
Over the years, I've felt obligated to ask this question of several friends who somehow concluded that their life's work involved founding a record label.
"That is the best question isn't it?" Shane Buettner said with a big laugh. "Why do I want to hurt myself this badly and spend a lot of money doing it?" He smiled again, with a mild shake of the head.
"Actually, yes—that's exactly what I mean."
So went the conversation between the former Home Theater editor and me, conducted over Cobb salads (hold the bacon) at Reichenbach Hall, in midtown Manhattan. We were there to talk about why he'd decided to launch his own LP reissue label, Intervention Records.
"The short of it is, I think that there's a lot of great music that has not been captured in the reissue market. I think we all see the same reissues of the same records. The catalog, especially in rock and pop from the '50s to the '80s, has been trolled hard and heavy. But I think from 1980 to now has been under-served. And there's also some great stuff from the '70s that hasn't been reissued. So there's an opportunity, and more than that, I thought there was a lot of great music that people should be able to hear, and hear on vinyl."
Saying that he wants his LPs to be "the last copy of these records that anybody will ever want to buy," he's hired Kevin Gray, of Cohearent Audio, to supervise their remastering. The LPs themselves are being pressed by RTI, in Camarillo, California, and their beautiful, glossy jackets, many painstakingly re-created because the original artwork is long gone, are printed on heavy stock by famed LP jacket printer Stoughton Printing Co. Buettner plans initial pressings of 1000 LPs per title, and to sell his re-creations for $35 apiece, or $50 for two-disc sets. While Intervention's web store is still in the works, the debut releases are currently available from ElusiveDisc.com, AcousticSounds.com, and MusicDirect.com.
The first of Intervention's initial seven releases is Stealers Wheel's self-titled debut album (1972), containing "Stuck in the Middle With You"; to be followed by the band's second, Ferguslie Park (1974). Also in this batch are reissues of Everclear's Sparkle and Fade (1995) and So Much for the Afterglow (1997). Most interesting are three Joe Jackson titles: Look Sharp! and I'm the Man (both 1979), and Night and Day (1982). Other than the last, none of these albums has previously been remastered or been reissued in an audiophile LP pressing. It was with Night and Day, by far his most successful record both artistically and in terms of sales, that Jackson made his bid to be considered a truly great songwriter—hence the Cole Porter title. Songs like "Cancer," "Breaking Us in Two," and "Real Men" are among his most tuneful and heartfelt originals, and are enhanced on this album by inspired performances.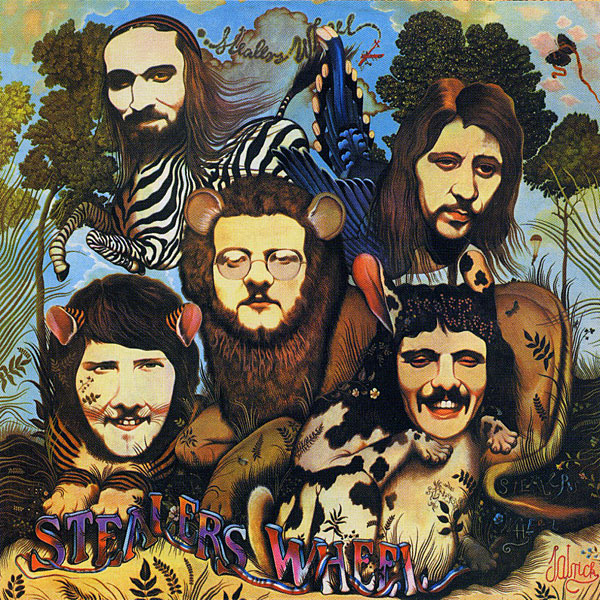 Since its release, Night and Day has seen a number of remasterings for and repressings on LP and CD, including a 1983 Mobile Fidelity Sound Lab LP reissue and a 1990 gold CD reissue, also on MFSL. It's also been reissued on LP by Speakers Corner (1998) and Music On Vinyl (2011). In 2003, the album's original label, A&M (now owned by Universal), also released a deluxe two-CD edition that included demos and live tracks. A test pressing of the Intervention Records version had presence and detail superior to all but MoFi's original 1983 vinyl. The reason, of course, is that, unlike most of the reissue labels that have sprung up with the return of vinyl, Buettner is picky and upfront about his sources.
"A lot of brands are coy. When they say they have the original master, they don't tell you whether it's analog or digital. Others will say, 'mastered from the original analog tape,' and what they mean is they did a digital rip of the original analog tape and still did it digitally.
"When the original is analog, I will only do analog. If the source that I can get is not good enough to make the best-sounding record that's ever been produced, then . . . If I'm too ashamed to say what the source of something is, then I shouldn't be doing the record."
"Lastly, what's with the name?"
"If you're not listening to vinyl yet, somebody should probably hold an intervention with you and ask why you're not. And if you've already gotten the bug, somebody's gonna hold one the other way, to get you to stop filling your house with crates and shelves and stacks of records. Lastly, by choosing titles that are new to the reissue market, that, in itself, is sort of an intervention.
"I'm 45, and I'm curious if people my age and even a little younger are willing to buy premium on a bunch of the great records from the late '70s on. There's gonna be a lot of stuff in my catalog that will test that as a theory."