Recordings of September 1982: Two Audiofon Piano LPs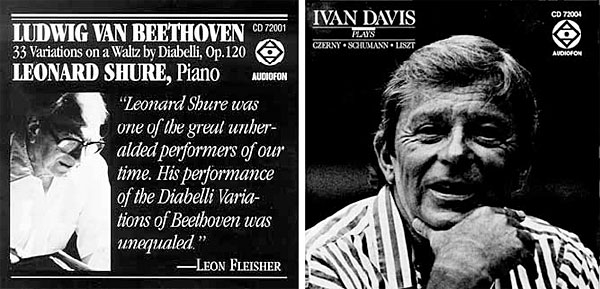 Schumann: Faschingsschwank aus Wien, Op.26
Liszt: Reminiscences de Norma (1841)
Ivan Davis, piano.
Audiofon 2004 (LP, subsequently released on CD as CD 72004) Julian Kreeger, prod., Peter McGrath, eng.
Beethoven: 33 Variations on a Waltz by Diabelli, Op.120. Piano Sonata No.31 in A-Flat, Op.110.
Leonard Shure, piano
Audiofon 2001 (LP, subsequently released on CD as CD 72001) Julian Kreeger, prod., Peter McGrath, eng.
Audiofon is an audiophile record company with a difference. Instead of going for good sound and hoping the performance is satisfactory, Audiofon goes for performing excellence (usually at live performances) and gives it the best recordings possible. The result to date has been several recordings which may prove to be definitive.
The Schumann and Liszt is a gorgeous piano recording and the program is exacting. Schumann's piano works are some of his most enjoyable music. Carnival Jest from Venice was written one year after his first visit to Vienna and, to quote Ivan Davis, "The Intermezzo is one of the glories of German Romanticism." In fact the whole work is Schumann at his best. Mr. Davis elicits warm tone and demonstrates his ability to perform the Romantic composers properly, with all the sweep and fire necessary to make their work meaningful.
The Liszt is a technical tour de force. Usually, I do not care for piano transcriptions; they seem to be pallid versions of the original. An exception must be made in the case of Liszt. His piano transcriptions, perhaps because of their technical demands, seem to not only capture the essence of the original work, but put a burden on the poor pianist to reproduce the gamut of orchestral tonality as well.
Mr. Davis succeeds in this performance of themes from Norma. Not only is his technique up to the demands of the music, but the lyrical qualities are maintained as well as the dramatic. Although these works are not the foundation of the piano repertoire, any collector of piano music, as well as audiophiles, should have a copy of this disc.
The Beethven is another stunning piano recording from Audiofon. As this is the fourth record of theirs I have reviewed, I am not going to repeat all the details. Suffice it to say that Peter McGrath has set and maintained high standards for the discs which he engineers.
Leonard Shure has a stunning technique, as well as the distinction of having studied with Artur Schnabel. This lends great interest to these interpretations. The Diabelli is a superb work. Beethoven took the concept of theme and variations and gave the musical form a totally new structure. Instead of following the traditional bases of melody, harmonic scheme, or ground bass, Beethoven utilized rhythm and form as a foundation for the variations as well as the historically tried and true formats. The Diabelli is indeed a monument in the history of music. It is also monumentally difficult to play well.
Leonard Shure gives this lengthy work a superb performance. I was not quite so happy with the Opus 110. Having studied this sonata for some time myself, I have some fairly definite ideas about its interpretation. I feel that at times Mr. Shure has sacrificed interpretation to virtuosity. However his performance is certainly acceptable by any standard.
I realize that all of this month's reviews have been unusually positive, but I am not going to condemn any record just for the sake of variety. Once again, I feel that this piano recording belongs in any library, whether record collector or audiophile.—Margaret Graham