Recording of June 2017: Silent Light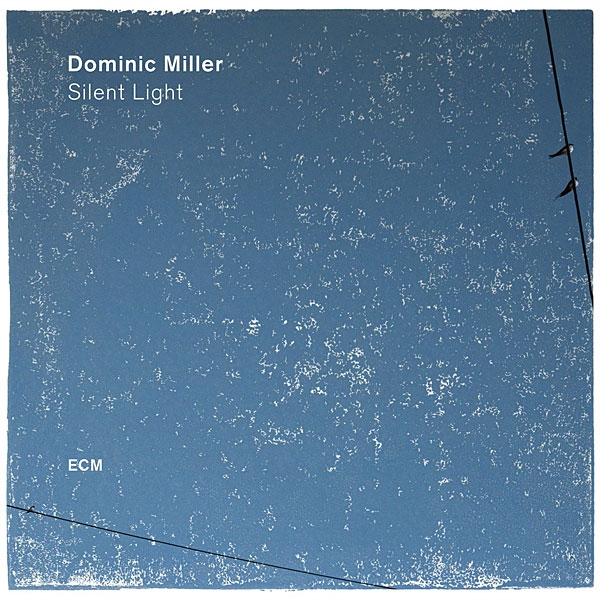 Dominic Miller: Silent Light
Dominic Miller, guitar; Miles Bould, percussion
ECM 2518 (CD). 2017. Manfred Eicher, prod.; Jan Erik Kongshaug, eng. DDD? TT: 41:06
Performance *****
Sonics *****
It was a pairing that seemed right from the very start: ECM's founder, Manfred Eicher, a man renowned for having an unmatched ear for talent and exacting sound-engineering skills; and guitarist Dominic Miller, an internationalist who was born in Argentina, raised in Racine, Wisconsin, and now lives in Provence, France, and who's spent more than 20 years playing and writing with Sting. Along the way, Miller has been a hired guitar slinger with everyone from the Pretenders and Chris Botti to Rod Stewart and Plácido Domingo. He's made 13 solo records, has recorded the music of J.S. Bach on guitar, and says his favorite album is Deep Purple's Made in Japan.
Silent Light, Miller's debut for ECM, features mostly Miller's steel and nylon-stringed acoustic guitars and the occasional percussion of his childhood friend Miles Bould. It's an intimate and extremely appealing statement that touches on many of the places Miller has been, and much of the music he's played over time. In his long liner note, he references "the feel and syncopation" of music from Latin America as well as the soul and jazz music he heard growing up in America; the songwriters he enjoys, such as Neil Young and Joni Mitchell; and the influence on him of UK rock bands like Pink Floyd and Led Zeppelin. Finally, Miller pays tribute to his most seminal influence: "Throughout my musical 'education,' a never ending process, there has been one constant, J.S. Bach. It's also the only music I practice."
Miller composed 10 of the 11 tunes here—all but Sting's "Fields of Gold," so memorably covered by Eva Cassidy. From the opening chords of "What You Didn't Say," it's clear that his ability to express emotion through the strings of a guitar is unparalleled—it's amazing to hear. Bould's percussion is unfailingly tasteful, in the background and yet an integral part of each of the five tracks he plays on. The balance between guitar and percussion is absolutely right throughout, and Bould adds tasty flavors to the moods Miller sets. Moods, atmosphere, and an overall wistfulness that's uncommonly sensitive for a guy who's spent much of his career playing electric guitar in rock bands pervade Silent Light. The album was almost entirely recorded as single, unbroken takes, without overdubs—only on "Chaos Theory" did Miller add a second guitar and electric bass.
Miller's varied career gives his playing an odd, almost spooky quality in which other tunes and players are heard. I found myself listening over and over again to the meditative "Tisane," trying to discern where I'd heard it before, what or who it sounded like. One obvious similarity is the moments on the album such as 'Urban Waltz" that are reminiscent of Gustavo Santaolalla's guitar work for the film Brokeback Mountain.
The background flavors can change slightly from track to track. For example, an insistent Latin rhythm comes and goes throughout "Baden." Miller describes "Angel" as "an attempt at leaving a lot of space for the listener to fill," and it's true—what he doesn't say or play is as important as what he does. In the most upbeat tune, "Chaos Theory"—it sounds a bit like something the Brazilian jazz-funk trio Azymuth might attempt—Miller departs from the melody in spots to venture off into long, almost bebop-like solos. His tender rendition of "Fields of Gold," covers of which seem to be popping up everywhere these days, strips the song down to its barest melodic skeleton—which, in this silent light, is incredibly sturdy and appealing.
Miller's distinctive warm, round tone, his touch on the strings, and his senses of timing and phrasing are nothing short of stunning. Solo-guitar records can be cluttered with too many guitar effects or cameos by other players. And solo-guitar records that aim for a sensitive vibe, as Silent Night does, can often be deadly boring. Silent Light, which contains perhaps the poppiest tune ever to appear on an ECM record, is a model of what a solo-guitar recording should be. Special mention must be made of the recording quality: Every tone and resonance of Miller's guitar is captured in spectacular detail. While ECM recordings are almost always sonic marvels, this one must rank among the very best in the label's catalog. The gorgeous sound, and the glorious empty spaces between the guitar chords, serve to make listening to Miller's playing an even more intimate experience.—Robert Baird