Recording of June 2011: Dinastía Borja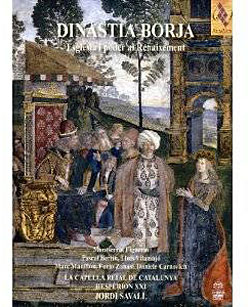 Jordi Savall: Dinastía Borja
Music by Guillaume Dufay, Josquin Des Prez, Lluis del Mila and others Jordi Savall, viola da gamba, director; Hespèrion XXI, La Capella Reial de Catalunya
Alia Vox AVSA 9874A/C (3 SACD/CDs). 2010. Jordi Savall, prod.; Toni Figueras, recording coordinator; Aline Blondiau, Nicolas de Beco, Dominique de Spoolberg, Olivier de Spoolberg, recording assistants. AAD? TT: 3:43:19
Performance *****
Sonics *****
As is usually the case, a recent performance at New York's Lincoln Center by Jordi Savall, his instrumental ensemble, Hespèrion XXI, and his choir, La Capella Reial de Catalunya, was a triumph—his impeccably researched and realized early music had the crowd on their feet. In lesser hands, such exotica as old-world Spanish music influenced by indigenous forms from Mexico would have trouble drawing a paying crowd, let alone filling Alice Tully Hall; but Savall's unique vision has rescued and revitalized obscure musical forms aplenty, from the medieval, renaissance, and baroque periods. Along the way he's also managed to record notable versions of more popular works of the standard classical repertoire, such as the Mozart Requiem, and J.S. Bach's Brandenburg Concertos.
After the performance in New York, audience members were snatching up armloads of Savall's lavish, book sets from a table in the lobby. Hungry clumps of tweedy classical-music buffs, frenzied enough from hearing from having just heard two hours' worth of hybridized 15th-century Spanish music to jostle each other as they plunk down $75 for a classical-music boxed set? The scene defied two schools of thought now prevalent in the world of music: Physical media are tumbling toward extinction, the victims of downloads and piracy; and classical music in particular, a victim of its own snobby pretensions, not to mention a lack of appealing new tonal music, has become, outside pockets such as New York City, a tired, repetitive museum piece.
This mad scramble for Savall music—and a new series on Showtime, The Borgias, starring Jeremy Irons as the head of what the cable network is avidly promoting as "the original crime family"—sent me digging for the latest of Savall's wonderful musical events, the new Grammy Award winner for Best Small Ensemble Performance: Dinastía Borja, (The Borgia Dynasty), a set of three DSD SACD/CDs bound in a 245-page book, with notes in Spanish, Catal†n, English, and Italian. An import version has the text in six languages and includes a DVD on the making of the project.
The tale of the Borgias (in Spanish, Borja), the ambitious and, some might say, mad Spanish clan who ascended to a position of power in Italy by using any means necessary, must have a special place in Savall's heart; not for their famed viciousness and inventive perversions (the Ballet of Chestnuts) but because he, too, comes from the Spanish province of Valencia.
As in all of Savall's historical explorations, his idea here was to unearth, rearrange, and play—with educated guesses as to which instruments might have been used—music from the time of the Borjas. Dinastía Borja contains instrumental and vocal music, much of it simply played on the horns, stringed instruments, and hand drums that might have been used in courts and churches every day, as well as for special events. Because they came from the city of J†tiva in Valencia, the Borjas would have been familiar with a mix of Moorish, Jewish, and Christian music.
When Rodrigo Borja, who became Pope Alexander VI in 1492 he took with him to Rome Spanish vocal and instrumental ensembles. The singers, according to an essay in this set by Dr. Vicent Ros, from the Conservatorio Superior de Música de Valencia, Rodrigo's vocal group was described by a contemporary observer as having "good voices, and if they had plainly observed the accents and choral chant, they would have sung excellently, but when they mixed the Hispanic style with ours, the result did not sound good." The instrumental group, which was said by another observer at the time to be composed of "Fifes, trumpets and other fine instruments," was described as being "sweet-sounding and almost divine."
Savall, as is his wont, has divided the three discs into programs that follow a historical narrative, with such headings as "The Demise of the Three Cultures and the conquest of power. The Vatican." He has given each track under a heading its own title, all of it serving to move along the narrative of the Borjas' rise and fall. It's less complicated than it sounds. Under the heading mentioned above, the second half of disc 1 traces the family's rise to power in works such as track 19, an enchanting horn-led piece by an anonymous Ottoman composer called an Taksim and Dance" that's entitled "Prince Djem, the brother and rival of Bayazid II, a hostage in the Vatican." As with many of Savall's book-like packages, historians will delight in the often ingenious sense of discovery inherent in the organization of Dinastía Borja.
While some of the recordings here appeared in earlier sets by Savall, the pieces assembled in this nearly four-hour program cover the period from 1063 to the death of and canonization of Francisco de Borja (St. Francis Borja), in 1671, and represent a wide range of composers, including Dufay, Josquin, Isaac, del Mila, and others. The pieces range from festive court dances and simple pieces for solo guitar, to mournful vocal solos and full set pieces for voices and instruments, such as Bartomeu Carceres's Tau garco la durundena (disc 3). Eight vocal soloists perform, led by Savall's wife, soprano Montserrat Figueras. There is even a Credo in Unum Deum attributed to Francisco de Borja himself.
Although it has the ring of hyperbole, no classical-music ensemble on earth, particularly in the early-music/original-instrument realm, can make the sounds or get the feeling from the music that viola de gamba master Savall and his longtime collaborators do, all of it naturally and honestly recorded. In a world of derivative soundalikes in all genres of music, Savall is a hyperproductive original with a fierce vision and a growing empire that includes the Alia Vox record label, based in Bellaterra, Spain; a number of performing ensembles; and a seemingly endless stream of interesting projects. No less impressive is the bound-book packaging of his multidisc sets, a subject now written about nearly as much as the music itself. The combination of rediscovered music inspirationally played and recorded, and lush packaging, continues to make Savall and his recording catalog a world unto themselves.—Robert Baird