Recording of July 2014: Texas Hurricane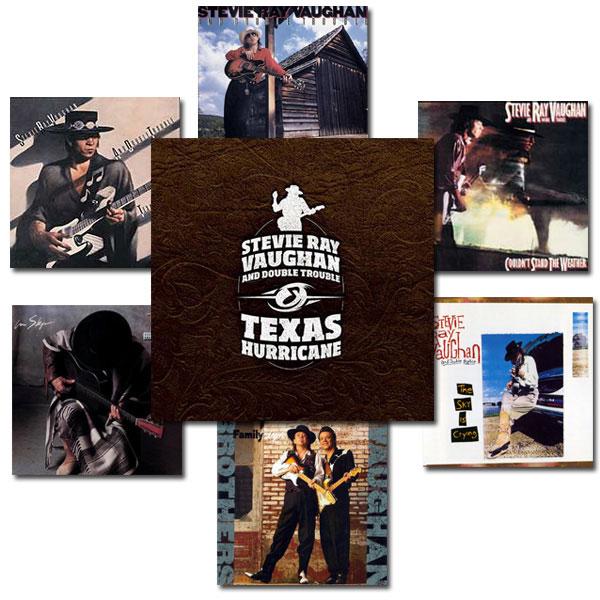 Stevie Ray Vaughan: Texas Hurricane
Epic/Legacy/Analogue Productions AAPB SRV33-BOX (6 LPs, 331?3rpm). 1983–1991/2014. John Hammond Sr., orig. exec. prod.; Stevie Ray Vaughan, John Hammond Jr., Richard Mullen, others, orig. prods.; Richard Mullen, James Geddes, Lincoln Clapp, others, orig. engs.; Chad Kassem, reissue exec. prod.; Ryan Smith, remastering. AAA. TT: 3:55:20
Performance *****
Sonics *****
He was the shining star the blues world had always dreamed of: the rare performer who could break through to the musical mainstream. Yet alas, he flashed across the musical heavens and was gone far too soon, dying in a helicopter crash in August 1990, at the age of 35. That Stevie Ray Vaughan's reign as blues-guitar hero was brief but incendiary is driven home yet again by this spectacular new boxed set from Epic/Legacy and Chad Kassem's Analogue Productions label.
Available in three formats—331?3rpm or 45rpm vinyl and SACD/CD (the last also contains the bonus tracks previously available on Epic/Legacy's CD reissues), Texas Hurricane collects the four studio albums released during Vaughan's lifetime—Texas Flood, Couldn't Stand the Weather, Soul to Soul, and In Step—as well as Family Style (1990), recorded with brother Jimmie Vaughan; and the posthumous The Sky Is Crying, assembled by Jimmie. Missing are the musically unfocused and badly recorded Live Alive (1986), and such major posthumous releases as In the Beginning (1992) and Live at Carnegie Hall (1997).
The most crucial aspects of Vaughan's style and sound were the copious amounts of soul and feeling he poured into his playing. After that came his speed. The man had fingers as fleet as those of Jimi Hendrix, his greatest influence (along with Lonnie Mack and Albert King) and the player to whom he is most often compared, favorably or not. Finally, there was the overdriven sound he got from his Fender Twin reverb amps and what he called his 1959 Fender Stratocaster (it was actually built from an early-1960s body and neck). Vaughan didn't use huge numbers of effects, preferring to stick mostly to wah-wah and screamer pedals.
For Texas Hurricane, the original 30ips, ½" analog master tapes were used for the studio albums and the SACDs' bonus tracks. Using a Neumann VMS 80 cutting lathe, Sterling Sound's Ryan Smith cut the lacquers for the 200gm LPs. Gary Salstrom handled the plating, and the vinyl was pressed at Kassem's Quality Record Pressings, in Salina, Kansas. Andy Aledort, senior editor for Guitar World, wrote the liner notes, with contributions from Vaughan biographer Craig Hopkins. The LP jackets were printed direct to board, and the first 1000 boxed sets are numbered in gold foil. Kassem is particularly proud that Texas Hurricane corrects an error in Vaughan's catalog: Unlike every reissue since 1999, this one used the correct original master for Soul to Soul, which contains the right take of "Life Without You."
Even those familiar with these standards of Vaughan's catalog will be impressed by the sound on the LPs. These recordings have never sounded this good, and likely will never sound better. Layers seem to have been stripped away, and the music seems to have been set free. Vaughan's guitar has new bite and edge. His first-rate backing duo of drummer Chris "Whipper" Layton and bassist Tommy Shannon has more low-end impact and a wider, more dynamic soundstage. Overall, when A/B'd against both previous CD reissues and the original LPs, these tracks sound brighter, with more detail.
Some key tracks tell the story of this reissue's superior sound. From Vaughan's sparkling debut, Texas Flood, his finest album, comes one of his biggest hits, "Pride and Joy": the 331?3 edition sounds more spacious, with Vaughan's always-underrated singing more prominent in the mix. In the refreshing "Stang's Swang," from Couldn't Stand the Weather, SRV works out his swing-jazz chops. In no previous edition does his unaffected tone have this much presence, and the interplay of Vaughan's guitar and Fran Christina's snappy drumming has so much more life than has ever been audible before. "Crossfire," from the final studio album, In Step, hints that Vaughan had larger rock ambitions. From the opening crack of Layton's snare to Shannon's thick bass chords and the sweep of Vaughan's never-better guitar work, the new remastering and fresh pressings are nothing short of exceptional.
As with his idol, Hendrix, the question of where Stevie Ray Vaughan might have gone musically had he survived remains a mystery, yet sonically all questions have now been answered: Texas Hurricane is the Stevie Ray set to own and enjoy.—Robert Baird