Recording of July 1985: United States Live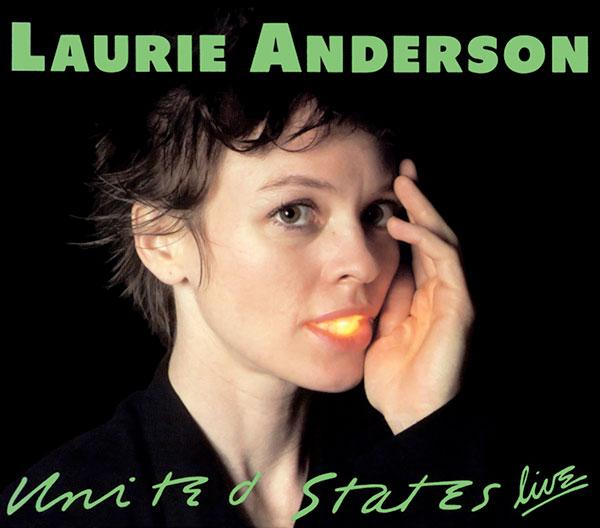 Laurie Anderson: United States Live
Warner Bros. 2519201 (5 LPs). Bob Bielecki, eng. AAA.
Anyone who thinks the ultra-chic New York progressive music scene lacks a sense of humor hasn't heard Laurie Anderson. Her last album, Mister Heartbreak, proved to be the most listenable and entertaining example of the genre on years. It also provided a sound quality that put most "audiophile" discs to shame.
Anderson's style has elements of Philip Glass, Peter Gabriel, Japanese koto music, and George Carlin, but in United States Live the result is a unique and fascinating form of multi-media entertainment. With her tape-bow violin (footnote 1) in hand and small voice speaker in her mouth, Anderson takes the listener on a tour of the no-man's land where absurdity and reality overlap. She shocks, entertains, and challenges the audience to think—and one gets the unmistakable impression that she's enjoying every minute of her own performance.
This five-record set was recorded live at the Brooklyn Academy of Music, with Bob Bielecki as the engineer. Kudos to Mr. Bielecki; the sound is absolutely first-rate and suffers none of the problems that so often affect live concert recordings. It is clean, detailed, and well-balanced. The natural hall acoustic and audience noises are the only sonic clues that this is a concert recording, although the energy and intensity of the performance by Ms. Anderson and her cast are real giveaways.
United States Live is not likely to set any sales records or win a Grammy. It's too far from the mainstream and it strikes too close to the truth. But it is most worthy as a definitive statement of the art and talent of one of America's most gifted and innovative performers and composers.
This is the most important recording of avant-garde, contemporary music since Philip Glass's Einstein on the Beach and is destined to become a classic. Highly recommended.—Steven W. Watkinson
---
Footnote 1: A "tape bow violin" is an instrument consisting of a wooden violin-shaped body on which is mounted a tape head; a piece of magnetic tape with a complex monotone recorded on it is "played" across the head and the output is amplified to create "music."