Recording of February 2018: Chopin's Last Waltz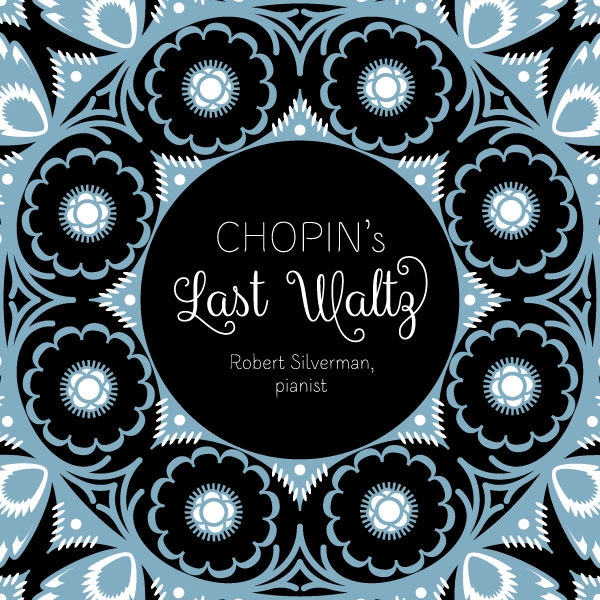 Chopin's Last Waltz
Chopin: Ballade 4 in f, Op.52; Fantasie in f, Op.49; Mazurka in c-sharp, Op.63 No.3; Mazurka in f, Op.68 No.4; Nocturne in E-flat, Op.62 No.2; Prelude in c-sharp, Op.45; Valse in A-flat, Op.64 No.3
Robert Silverman, piano
IsoMike 5606 (LP). 2017. Available from Acoustic Sounds and other on-line retailers; DSD files available from NativeDSD, www.nativedsd.com. Ellen Silverman, prod.; Ray Kimber, Aaron Hubbard, engs. DDA TT: 50:05
Performance *****
Sonics *****
At the 2017 Rocky Mountain Audio Fest, Ray Kimber was beginning to feel a little antsy. He'd just released his first LP, Chopin's Last Waltz, an all-Chopin program performed by pianist Robert Silverman, and while being part of the rush to re-embrace vinyl sounds great, pressing your first-ever long player can be a bit nerve-racking.
"No one had listened to it," Kimber told me from his home in Utah. "The LP pressing finishes the day before Rocky Mountain starts. They are driven over from Quality Record Pressing in Kansas in the QRP company truck. We had never used a turntable for any of our demos—we'd always just played back files out of the workstation. Oracle Audio is coming down with a turntable. Bob [Silverman] is going to be there. I was worried because we've never done a record [LP]. Once the records are set up and displayed, the night before the show starts, I kind of disappear. The next day, people listen in my room, and when I reappear, everyone says, 'It's amazing!'"
A concert and recording artist for more than five decades, Canadian pianist Robert Silverman's discography of more than 30 titles, for such labels as EMI Marquis Classics and CBC Records, includes complete cycles of the Mozart and Beethoven sonatas. His 1977 recording of Liszt's piano music received a Grand Prix du Disque from the Liszt Society of Budapest, and his 10-CD, 2001 set of all 32 Beethoven sonatas was shortlisted for the Juno Award. In 2010, he released a SACD of Mozart sonatas recorded with Ray Kimber's IsoMike process. He's also recorded several albums for Stereophile Records, the most recent being Beethoven's Diabelli Variations (2006) also recorded with the IsoMike technique.
Silverman's Chopin is an unqualified success. Although every composition presented here is a familiar selection from Chopin's oeuvre, Silverman's conceptions of them delve deeply into the composer's inherent passions for his music and his love of melody. The overall architecture of Silverman's playing is solid and sure. Taken at slow tempos, the well-known Fantasie in f, Op.49, particularly its placid Adagio, benefits from Silverman's deft, lingering touch. Perfectly projected, his statements are captured in ravishing, exquisitely balanced Direct Stream Digital (DSD) sound.
In a call from his home in Vancouver, British Columbia, Silverman explained why he decided to record Chopin this late in his career, and how he formulated his approach to the work of this troubled icon of the Romantic era: "I did not start off with any preconceived notions. I wanted to see where a deep and profound study, as well as my musicality—such as it is as I approach my 80th birthday—would take me. I thought, What if you just forget all these little Chopin-esque formulas that everybody automatically puts into their playing—including me, to a certain extent—and really study it as seriously as I studied Beethoven?
"So many people think of Chopin as a tunesmith, but he was as serious and as talented a composer as anybody, with a sense of counterpoint that's different than Bach, but better than anyone since Bach—and I include Beethoven in that, frankly. And he was an original thinker. He had a language that really was his own, and it probably did develop out of the way he played the piano. In some of the great pieces, Like the [Ballade 4, Op.52], or the Polonaise-Fantaisie [in A-flat, Op.61], he really did invent a different way of composing fairly large-scale pieces. I wish he was a nicer man, but I'm in awe."
The recording presents a beautiful, multidimensional sound image, with a wide dynamic range and gorgeously sharp, true tone colors. Ray Kimber's IsoMike recording technique is the result of much experimentation over the years. After reading about it, I thought it better to let Kimber himself explain it.
"I was tinkering with this very unusual crossover design and listening to the Fauré Requiem, and it struck me that there was something that was happening that wasn't being properly represented on playback. I tend to like gigantic, epic things with choir, organ, soloists, and maybe some brass thrown in. I found that those things were always highly disappointing on recordings, and glorious in person.
"I began to think, how do you hang a pair of microphones at an optimal distance for stereo reproduction—which I was thinking was five, six, seven, eight feet—and yet the microphones won't 'see' each other acoustically?
"In IsoMike, the two microphones see Bob's piano. The microphone on the right only sees the right-hand side of the acoustic of the hall because it has no line of sight to the other microphone—it's cut off by a baffle. That was a revelation to me, because it removed the interference. If the left microphone sees the right acoustic from the hall, all it does is interfere with it, muddle it, infuse it.
"I was philosophically opposed to using any processing like EQ, filtering, compression, or limiting, but if you don't use a limiter in the analog chain, then you stand a chance of clipping the DSD digital signal and the recording is ruined. But if you record it at a low enough level that you've got absolute confidence that you won't clip it, then all you're doing is throwing away bits of resolution or sacrificing signal-to-noise ratio.
"So we recorded in eight channels, and really didn't care if we clipped the main track by a dB or two, because we had a safety track running in sample-sync accuracy underneath it, a few dB [lower]. Say we clipped it by 2dB—we would simply go into the digital audio workstation, turn down the track by 2dB, turn up the safety track by the difference, and do a sub-millisecond splice.
"And then there was a medical issue that got into the record. After we had done the 4x, 256kHz DSD, Bob said we should make a record, and before I could stop myself, I said yes. Now, I had been meaning to have the impulse to say yes medically removed for years but it hasn't been done yet."—Robert Baird