Europe's Best Vinyl Shopping?
After living in NYC for nearly two decades, and having traveled to most of the cities of Europe in that time, a hard realization has become apparent. If it's LP record shopping you seek, vintage or new, singles or full albums, the best in the world lies right here in the USA. How did Chuck Berry put it: "A juke-box jumping with records like in the USA."
The only slight exception to that rule is the whole of the UK, and London especially, where if you dig and spend time negotiating the Tube, you can actually uncover things like original purple and orange label Atlantic pressings of early Led Zep records, classical music treasures galore, and a plethora of obscure techno and electronic music at a one of a kind store like Phonica. And then there's those super cool compilations on Soul Jazz Records, which you can find in the US but not easily.
And let us not forget that in any discussion of record shopping anywhere, eBay and to a lesser extent Discogs.com may well always be superior to any bricks and mortar shop. In fact, most actual physical record stores are contributing to that dynamic by putting their best stuff up onto eBay or Discogs which would seem to be hastening their demise but then surviving is, in the end…surviving. If you can get better prices on eBay for original Blue Note records than you would leaving them sit on the shelf in a store, then I guess it would be crazy not to use the web.
Now I've discovered that the UK is not the only place to find great vinyl in the EU (well, the UK and the EU…but let's not go there). From looking at recordjunkie.com and thevinylfactory.com, I knew that Amsterdam, Netherlands (or Holland to be old school) was record shopping country, but once I was there, the reality was infinitely better than what I saw and read online. As many are aware, Amsterdam is an evolved society. The setting is gorgeous what with the canals and trees and fabulous shops. The public transportation, above ground trams and taxis that are often Tesla electric cars, is really together. The food is surprisingly consistent and includes every ethnicity you can name. And then there's the cheese, oh yes, the cheese and the damned caloric and wonderful Apple Pie--both are worth the trip. The Dutch do cheese every bit as well as the French and Italians. And that pie, well, it gives new meaning to the phrase, "American as …" While it may be as simple as their proximity to France, the Dutch also have the wine buying thing down to a science. Obscure labels and exquisitely curated lists, even in some corner bars. Not a single bad glass was had during the entire stay. While the legal prostitution and marijuana cafés are the big draw for nervous millennials from Great Britain and America who are immense fun to watch furtively partaking, the vinyl LP shopping in Amsterdam is as good as anywhere I've ever been outside Greenpoint, Brooklyn.
Amsterdam's record shops have much in common with those in New York in that everyone seems to have self-selected their area of specialty and so has staked out their niche. In other words, you go to one shop for vintage British pressings (Concerto), one for techno music (Zwart Goud) and one for a bout of good old fashioned crate digging (Distortion). There is also what's now become obligatory in cities with an established record buying scene: the record shop that also sells food (Flesch Records). Thanks to an effort by city government to "diversify" the economy in the Red Light district, there are even LPs stores sprinkled into this wholesome environment (Vintage Voudou and Red Light).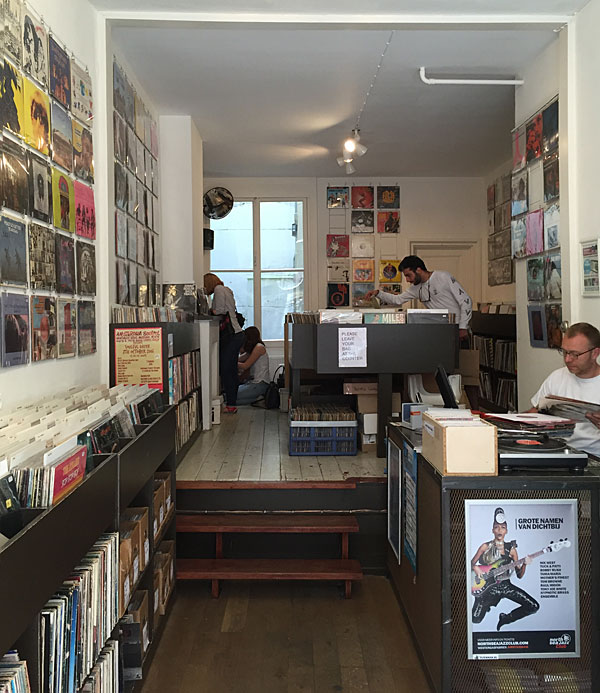 As this was a vacation with my wife who I'm fond of and have no wish to drive (any further) into madness over vinyl clogging our home, I chose my record store visits wisely, selecting what seemed to be to be the best, or at least the most interesting. A long, Jenever-fueled discussion with all the model handsome bartenders in our wonderful hotel bar about where they buy vinyl—they only listen to MP3 downloads and LPs-- also turned me on to several less obvious choices. Talking to locals is the secret key to world travel.
A few scant blocks from the indescribably great Pulitizer Hotel was Waxwell Records. When vinyl shopping outside the U.S., I hold to a strict rule: unless it is some extraordinary item, I mean like a miracle--a Robert Johnson 78 for ten euros—then hauling American records back across the Atlantic is ridiculous. I'm looking for local product, records I can't get at home, the weird, the freaky and in this case, The Dutch. As Motown hits are the background music, the Muzak in many European restaurants—it's a weird phenomenon that attests to Barry Gordy's genius—it was no surprise that Waxwell's focus, was American soul and hip hop records, though they had some rock and some jazz as well. For a store, not in the U.S. the selection here of soul and R&B records was outstanding. The entire collection of Otis Redding Volt pressings was there in various conditions, though nothing below VG. Chatting with the guy behind the counter, he told me he loves the return of vinyl. "Kids want easy stuff, Springsteen, The Police, it saves me from talking about matrix numbers all day."
When I spotted a sealed LP copy of Buffalo Tom's 2007 record, Three Easy Pieces (which was only released in LP form in the Netherlands) hanging in the window in one of those metal chain contraptions that hangs LPs in vertical rows—all the covers were red--I ask the dude behind the counter about the wisdom of hanging vinyl records in the sunshine. Assuring me that the summer weather that was happening that day, complete with streaming rays was a rarity that wouldn't warp the record, he shrugged when it turned out to have a serious ripple. Without missing a beat, he threw it in for free with the Duke Ellington and Serge Gainsbourg records I bought. Nice gesture. Smart retailer. Very together store.
Just as New York City once had J&R Music World whose theory of retailing involved knocking the walls out of an adjacent building and slowly absorbing most of a city block, Amsterdam has Concerto which has been up to the same thing since 1955. This is the big daddy, old school record shop, with an upstairs and downstairs maze like arrangement, a coffeehouse, a large room of new vinyl, very respectable jazz and classical departments and acres of CDs. Also a lot of British pressings of Anglo-American rock music. After combing through the reggae section, and growing confused in the Dutch Rock section over every act that wasn't Focus, I slid down into a very heavy vinyl, purple and orange label UK Atlantic pressing of J. Geils Band's first self-titled record and a beautiful, near mint verging on pristine UK first pressing copy of Bowie's Pinups. If you want what used to be deemed a full service record store, Concerto is the place. Unlike most stores of it's ilk, everything in there is organized and findable. And the canvas tote bags with the Concerto logo on them that they use for purchases is the kind of sweet touch that has largely disappeared in America.
There we, the wife and I, strolling along, debating the merits of various women in various states of undress standing behind glass, both of us smiling broadly about a bar named PRIK, when what to my wondering eyes did appear but Rush Hour, perhaps the most essential record store in Amsterdam. Having just moved to a new, larger, better lit room after 19 years at their previous location, this shop is also a record label and distributor. While I bought one of their records, Surinam Funk Force—everything in the store including what's on the Rush Hour label can be perused and purchased on their website rushhour.nl—the wall of used vinyl, much it Brazilian and rare, that confronts you when you walk into the store is very impressive. After obsessively building a pile of vinyl that I wanted, I went through the inevitable winnowing, and came away with a number of treasures including Luiz Melodia's Maravilhas Contemoporaneas.
Finally, the boys at the bar--one from Greece, one from Holland and one from the UK--all agreed that the only place they buy records was Zwart Goud (Black Gold), which dealt exclusively in dance records. Record shopping in Europe means a lot of techno and dance records, so of course I had to sample the riddims. Getting there however meant another trip through the red light district (oh darn) but once there, owner Ilker was a very affable fellow who's also an accomplished deejay. He'd just been spinning in NYC, and told me, much to my amusement that while he liked Brooklyn, Manhattan made him anxious. Welcome to the club! After listening to a number of records, most 12 inch dance singles, on the turntables in the store, I bought among others TK Lawrence's Cavalier.
Although it caused a groove in my shoulder lugging my booty home, Amsterdam provided an extremely fertile ground for Lp obsessives. And oh man, the cheese!