AudioQuest Bugs Out With New Dragonfly Black, Dragonfly Red, and Beetle DACs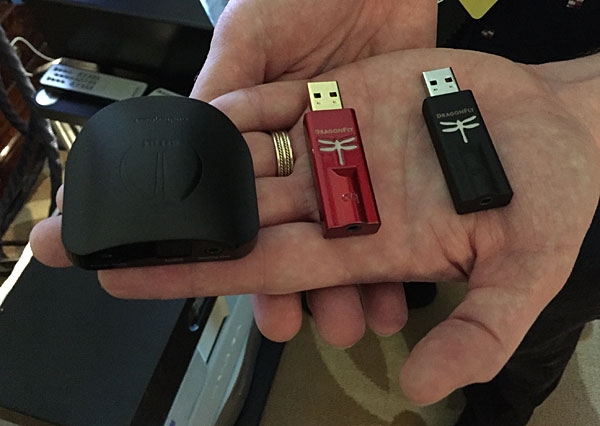 Kicking off CES early, AudioQuest held a press conference Wednesday morning to present their three new portable DAC/Headphone amps to the public for the first time. Designer Gordon Rankin and AudioQuest's Steve Silberman were on hand to explain the new products and run a brief demo.
First up is the Dragonfly Black at $99, which is the new updated version of the Dragonfly. The big change is that in addition to a lower price, instead of just working with high-powered computer USB connections, the Dragonfly can now work with phones and tablets. Both iOS and Android are supported. One of the ways they made this happen was with more efficient chips inside and lowering the output voltage a tad to 1.2 volts.
Next comes the new Dragonfly Red at $199, described as a hot-rodded Dragonfly. It has a higher output voltage and has been better optimized for driving headphones.
Finally, a completely new product will be released called the Beetle, also at $199. In addition to the USB input, the Beetle will sport an optical input as well as Bluetooth. Different Beetles can have unique names on your Bluetooth network, so multiple devices can be driven in a single location such as "bedroom beetle", "kitchen beetle" etc.
Though the Beetle does not include the popular aptX codec that many audio Bluetooth devices use, a quick demo on Wilson Audio speakers proved that the sound quality was impressive for such a device.
Common to all three products is up to 24/96 PCM support and also a new desktop app that will allow users to update their bugs as new firmware becomes available, hopefully extending the usable life of these products. Availability is slated for the early second quarter this year.