Recording of August 2004: Hymns of the 49th Parallel
K.D. LANG: Hymns of the 49th Parallel
Nonesuch 79847-2 (CD). 2004. k.d. lang, Ben Mink, prods.; David Leonard, John Morrical, engs. AAD? TT: 47:24
Performance
****½
Sonics
****
The trajectory of Kathy Dawn Lang's career has been unlike any other in the musical history of the last two decades. But that's no surprise when you consider that lang, more than any other pop vocalist of the last few generations, has an instrument whose tone, volume, and range are without equal. One listen to "Pullin' Back the Reins" (from Absolute Torch and Twang), "Season of the Hollow Soul" (from Ingénue), or "Summerfling" (from Invincible Summer), to name just a few of her knockout performances, and you know that she has one of the finest female voices in pop music today. Anyone who's ever sat in the first several rows at one of her concerts knows that without question.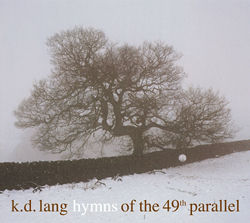 Married to lang's voice is her completely unpredictable artistic sensibility. After Ingénue, which for a moment made lang a genuine rising superstar, she decided to put the brakes on. It was three years—much of it spent touring—before she released the quieter, ultimately less accomplished All You Can Eat. After that, lang drifted into the equally unfocused Drag (1997), a set themed around the act and/or romance of smoking. Neither of those post-Ingénue records, however, showed lang at her vocal or artistic best. The kinds of records that fans loved but the uninitiated or casual listener did not, they slowed her career to a cult-artist crawl.
In this new century, lang seems satisfied to take that career at her own pace. In 2000 she released a return to form of sorts: Invincible Summer, which brimmed with sunshine, love made easy and light, and fluffy pop original songs. That record showed, albeit in small, accessible ways, that the Canadian-born singer's career was again moving forward instead of heading off into one-shot, concept-album detours such as Drag. A live disc, Live By Request, and a duets album with longtime admirer and duet partner Tony Bennett, A Wonderful World, followed in 2002.
While Hymns of the 49th Parallel contains only one new lang tune, "Simple," the album heralds the return of Ben Mink, lang's songwriting and performing partner on the ever-shifting musical shapes and creative arrangements that made Ingénue such a wonder. While Hymns is another concept album—songs by Canadian writers—lang's apparent stratagem of starving her audience until they're just grateful to hear her voice again has worked like a charm. I'm only half kidding. While Hymns isn't going to push back the frontiers of science, it's always great to hear lang back again, singing a batch of songs she's never sung on record before.
Like any covers record, Hymns is as interesting as the material chosen, and while anyone can argue with lang's selections here, she's picked a fair number of winners. The album opens with a perfect example of what her gifts can wring from a song. Most people who were alive and musically inclined in the early 1970s will agree that radio DJs played Neil Young's "After the Gold Rush" nearly to death. Here, lang's phrasing, timbre, and—most of all—her affecting and effective emoting give this rock standard new life. Young returns in "Helpless," from 1970. During the verses, Mink sets a rhythm by plucking a guitar string before a 10-piece string section kicks in, and makes the choruses sway with a lush grace that Young would approve of but that would never have been part of his original plan.
Joni Mitchell's "A Case of You" is another masterful vocal performance: just lang, with Teddy Borowiecki playing an effects-free acoustic piano.
Lang cannily plays with the expectations of a grand, sweeping performance that come with Leonard Cohen's secular hymn to music and love, "Hallelujah" (last heard in Shrek). She tosses off the single-word refrain of "Hallelujah" while soaring, in a controlled way, on the verses. In live performance, her rendition of this tune is sure to take on even more weight and power, and should be a tour de force. She returns to Cohen's oeuvre with a guitar-and-organ-backed version of "Bird on the Wire."
Like Ingénue, every track on Hymns is wisely arranged to give lang wide latitude to use and showcase her voice. In the past—All You Can Eat comes to mind—there have been moments when the instrumentation and fussy arrangements have gotten in the way of her vocal sound and fury. It may have been the re-teaming with Mink that's made this album so clean and, first and always, zeroed-in on lang's voice. Not surprisingly, the mix focuses that voice front and center: very forward, very immediate. And while the instruments are in the background, their imaging is transparent and very clean.
In another intelligent move, lang saves the best for last, tearing through a towering reading of Jane Siberry's "Love Is Everything" that closes Hymns of the 49th Parallel with a final verse that might just be the way lang feels about her career to this point:
"So take a lesson from the strangeness you feel / And know you'll never be the same / and find it in your heart to kneel down and say / I gave my love didn't I."—Robert Baird