GALLERIES
You are here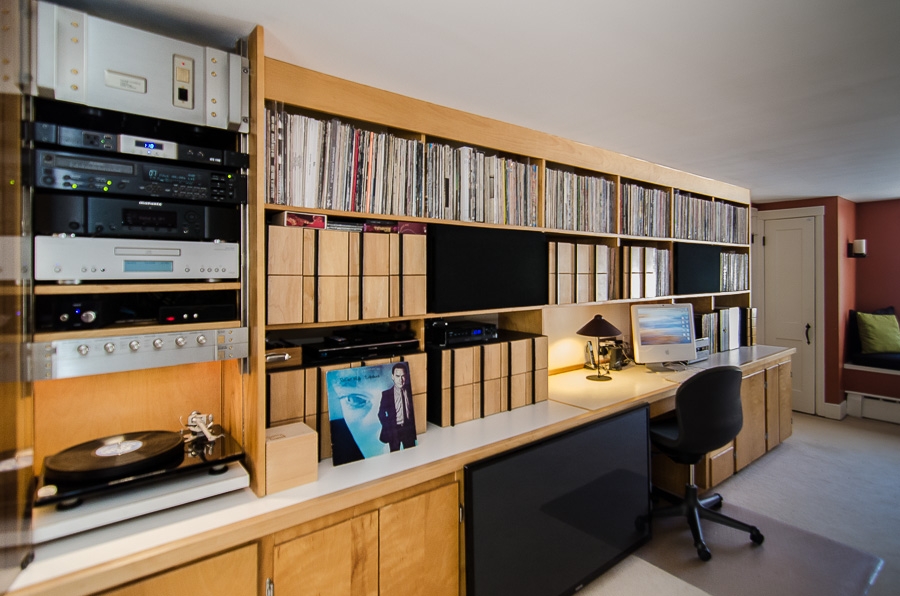 I am trying to figure out if I can provide more than one photograph. Maybe somebody could help me with that?
My system is built into a room which was previously a garage. It has a poured slab floor at ground level, with the room's current floor about 18" over that. When we moved here in 1985 I reinforced the wooden floor a bit and had the contractor build the wall system you see here. The support for the turntable is a cinderblock column which starts on the poured concrete floor and rises through the wooden floor and wall unit, not touching them. There's no mechanical connection between the turntable and the rest of the room. The equipment rack uses a UniStrut sliding-nut and rail system, with shelf standards as well, to flexibly support both rackmount and non-rack gear. Note also that the speakers are soffited into their own enclosures in the wall unit.
Some of this gear is pretty old now. I bought the NS1000's around 1977, as monitors for my recording studio, and they've been with me ever since.
Rack top to bottom (updated 02-2016)
Threshold S350/e amp
Alesis Masterlink recorder
Marantz NA7004 media player
Cambridge Azur 840C DAC/CD player
Heed Canamp headphone amp
Threshold FET 10/e preamp
Manley Chinook phono pre (Mazda France 6922)
Rega RP6 plinth, 24V TTPSU, Audiomods Series Five arm, Groovetracer reference subplatter & delrin platter, custom inverted bearing, Lim dual pulley
Shelter 501-II cartridge with Soundsmith Level II retip
Elsewhere:
Yamaha NS1000M speakers with minor mods
Velodyne ULD-15 Series II subwoofer
Discovery Essence cables
Samsung PN51F5300 Plasma
Panasonic DMP-BDT220P Blu-ray
Sony DVP-SR320 region-free DVD
Stewart Pro Reference 500 amp for other speakers in house

Semi-Vintage built-in
Views: 4359
Dimensions: 900x596
Size: 198kb