About 6 weeks ago I found out about the Groovetracer subplatter for Rega turntables. As the manufacturer was local, I drove down and met the developer of the Groovetracer, Frank Smillie. Frank owns and runs a professional CNC-based machine shop and his "day job" business is focussed on providing extremely-high quality machining, design, and CNC-milling to the aerospace and IT industries.
But he is also a serious vinyl-lover (his handle on AK is VinylAddict) and a big fan of the Rega turntables, and with his expert skills, developed the Groovetracer sub-platter.
We spent the evening after work listening to music on his custom-made turntable (which, believe me, is as impressive as any high-end table I have ever seen), and talking and listening to music.
I left that night with his signature product, the Groovetracer subplatter.
Groovetracer makes three versions of the subplatter: standard, deluxe, and reference models. I bought the reference model, which in, in addition to the Delrin pads that decouple the glass platter from the subplatter on the Deluxe model, also has a sapphire bearing mounted in the business end of the spindle bearing. This sapphire bearing rests on a new zirconium oxide ball bearing in the brass bearing that is mounted in the plinth of the Rega. In addition to the improved bearing specification of this subplatter, the runout of the Groovetracer is considerably better lower than the stock plastic Rega subplatter, which results in more precise speed (and I would guess, less wow or flutter, but, hey, I'm not an engineer, so I could be wrong here).
Bottom line is that the Groovetracer has significantly lowered the noise floor of my Rega Planar 3. With a good-quality presssing, lowering the Grado Sonata (5 mV) onto the lead-in groove with the Arcam at 80 dB volume setting, the LP is dead quiet. It's impressive to hear the cartridge between tracks and hear virtually no noise. The lower noise floor has resulted in better "air", spaciousness, imaging, and most of all, a more musical presentation.
Here's a picture of mine.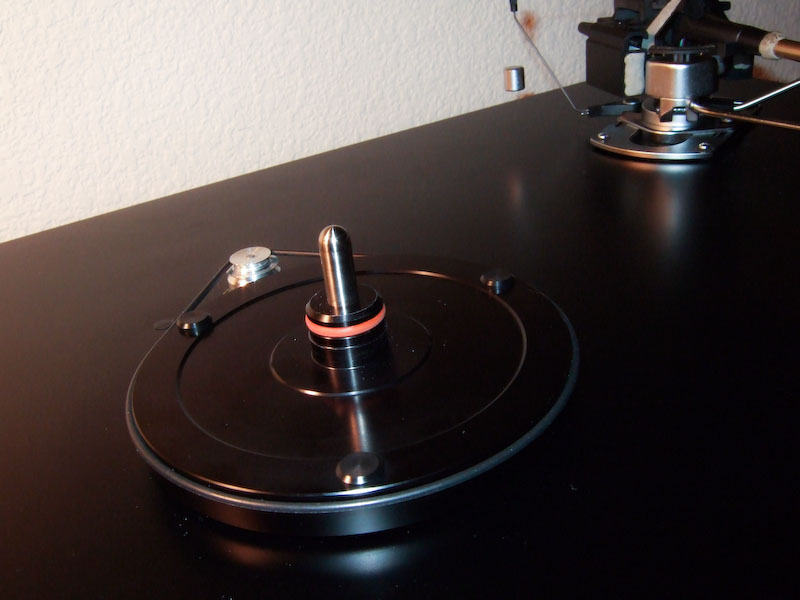 Mine is an unusual "one-off" in that it had been black-anodized, I bought it as I liked how it matched the black plinth of the Rega. All the Groovetracer subplatters are a natural aluminum finish.
Groovetracer: http://www.groovetracer.com/subplatter_groovetracer.htm
Groovetracer also makes a beautiful acrylic platter for the Rega tables, and a counterweight for Rega tonearms.
I can't recommend this tweak to all you Rega owners highly enough. No affiliation, merely a very, very satisfied customer.