21st Century Vinyl
A highlight of recent Home Entertainment Shows has been the Sunday afternoon "Analog Clinic" presented by
Stereophile
senior editor Michael Fremer. Michael, who writes about vinyl playback every month in his "Analog Corner" column, spends an hour showing Show attendees how to set up a turntable and how to optimize the tonearm geometry. To judge by the attendance at Home Entertainment 2006, held last month in Los Angeles, this is a popular subject these days.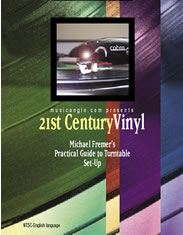 It seemed a no-brainer, then, for Michael to produce a DVD covering the subject in even greater depth. 21st Century Vinyl is the result: On this almost three-hour, double-layer DVD, Michael Fremer sets up three popular turntables. Using close-ups, illustrations, animation, and straight talk, Fremer takes you from leveling the platter to spinning a record. Mikey "guarantees" that after watching the disc, even a totally inexperienced audiophile will be able to set up a turntable (though he recommends first attempting it with an "inexpensive" cartridge).
There's a chapter on selecting tools and even one that suggests the proper set-up mood. You will never confuse this often entertaining, sometimes funny, and always informative DVD with one of those cadaverous home theater set-up discs. Bonus features include: a "tour" of Sterling Sound mastering engineer George Marino's cutting lathe and a 20-page PDF containing more set-up tips and easy-to-understand explanations of fun stuff like tonearm mass vs cartridge compliance.
In his review for Home Theater magazine's website, Mark Fleischmann praised Mikey's DVD, concluding that 21st Century Vinyl is "a helpful bridge between the first flush of analog enthusiasm and a long-term survival strategy."
The information in 21st Century Vinyl will be found useful by veteran audiophiles and tyros alike. The DVD is available from this website's secure "Recordings" page for $29.99 plus S&H.