Forums
Posted: August 18, 2010 - 3:07pm
does not the plastque bag surrounding the splendid pebbles have a detrimental affect??? surely it causes degradation
#2
Posted: August 18, 2010 - 4:33pm
"Today's Brilliant Pebbles Large Size in Clear Ziplock Bag"
"Mini Brilliant Pebbles - Comes in a small clear plastic ziplock bag. This smaller Brilliant Pebbles is effective on top of CD/DVD/SACD players above the transport. Also, on top of DAC; turntable armboard; proximity to small electron tubes; and on tube traps and room lenses. Placed on the amp power cord connector on the amp end of the cord. Minis can also taped to glass doors, windows and the glass of pictures on the wall to control resonance. $79 each."
"Mikro Brilliant Pebbles - The small but powerful Mikro Brilliant Pebbles comes in a small ziplock bag and is intended for use in proximity to low level electron tubes in electronics and for all interconnects and digital cables, draped over or taped to the RCA connector at one or both ends of the cable. Also, on the power cord connector on the amp side. One or two Mikros is very effective placed on top of Quantum Electraclear & Quantum Symphony parallel line purifiers. Mikros can also be taped to glass doors and windows to control resonances. $39 each. "
I guess those low level pieces of gear you mention like artificial Belt-disapproved baggies.
"New Size! - Extra Large Brilliant Pebbles - about 50% larger than the Large size, intended for room corners of larger rooms and larger speaker cabinets. Comes in clear ziplock bag. $159 each."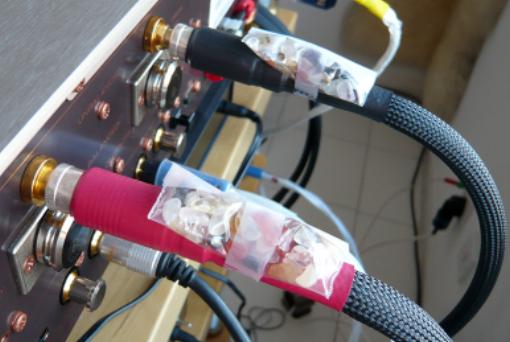 Mikro Brilliant Pebbles on Interconnects
________
I wonder if geoffie will answer the question now? Maybe he puts special sauce on the baggies and the Scotch tape.
I bet not.
Site Map / Direct Links