Forums
Posted: January 23, 2009 - 7:46pm
Want to try out this brand! Any happy users in here?
#1
Posted: January 23, 2009 - 9:25pm
I'm totally psyched about my new Audio Technica ESW10JPN. These are the advanced versions of ESW9s, which are more common... the 10JPNs are limited to 1000 units in Japan, and 500 elsewhere in the world, but curiously, none in the U.S... got my pair from an excellent ebay seller from Japan. From what I understand, big web stores still have these, but smaller shops are selling out fast on these...
These are intended for portable listening, but I find these to be a joy to listen to in a great home rig, too. The sound is very lush and vibrant, a bit more forward in presentation than circumaural phones. Mine are still being broken in but already, the bass is gaining more definition. Great instrument separation and first-rate imaging, strange considering that the depth of the soundstage is limited. But more important than that, these cans hook you into the music. Got that intangible quality... some cans can sound impressive, hit all those audiophile notes, but still fail to involve you. The ESW10JPN captures the ebb & flow of the musical line as well as any cans that I've heard.
Anyway, for me, these are the cans to love for years and years. On the road or in the office, there aren't many others that better these. I have Sennheiser PXC450 and the ESW10JPN puts it to shame... PXC450 sounds coagulated in comparison, with muddy bass... but the PXC450 isolate outside noise WAY better than the ESW10JPN.
ESW10JPN won't top cans like the coveted L3000 (I think forum member mikeymad has these) but I've heard more than a few experienced head-fi guys putting the ESW10JPN in the ranks of the classic Audio Technicas, like W11JPN. I use them during my commute, with an iMod, and at the office... at home, I've also been loving these w/ WA2 and Leben CS600. I like the fact that they're so versatile & I can take them on the road, and call me vain but the fact that they're so bloody gorgeous helps, too, with urushi lacquer.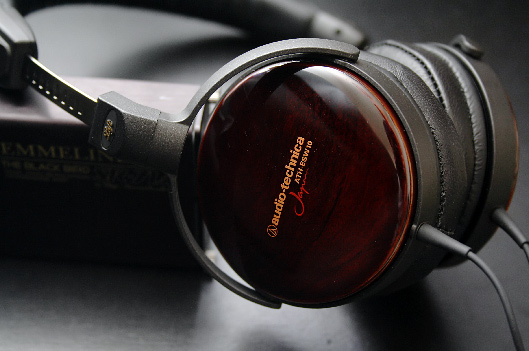 Not my pics, btw., the bottom is from head-fi and the top pic is from a UK forum called 'overclockers' or something.
Site Map / Direct Links