The Fifth Element #20
Lera Auerbach is an important new classical composer.
Stop!!! Freeze!!! Do not run from the room in search of silver bullets, wooden stakes, garlic, or a crucifix. Defenses, supernatural or otherwise, will not be necessary. For two reasons.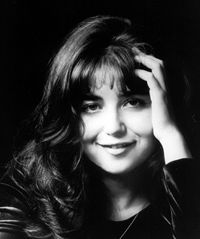 First, Ms. Auerbach's music, at least as represented on her new BIS CD, 24 Preludes for Violin and Piano (BIS CD 1242), is tonal and melodic. While they exhibit touches of modernism in their nods in the directions of Prokofiev, Shostakovich, Schnittke, and Messaien, on the whole Auerbach's 24 Preludes hark back to the 19th-century tradition of the instrumental virtuoso as composer. This is most definitely red-meat-and-red-wine music, not tofu-and-green-tea music.
Dare I call Lera Auerbach a neo-conservative? In her liner notes, she writes: "Re-establishing the value and expressive possibilities of all the major and minor tonalities is as valid at the beginning of the twenty-first century as it was during Bach's time, especially if we consider the aesthetics of Western music and its progress with regard—or disregard—to tonality during the last century."
Take that, you tenured radicals!
Auerbach is supposed to be something of a piano whiz herself. The Preludes' piano writing is chock-full of technical challenges, and quotations (some of them, I hope, tongue-in-cheek) from the lexicon of those mid-19th-century finger-busters remembered now only by keyboard completists. (Indeed, at one point I expected Dudley Do-Right to make an appearance, the piano part was so insistently melodramatic.) But there is more going on here than mere display, either pianistic or violinistic.
Writing separate but interconnected pieces of music for each of the major and minor keys is a considerable compositional challenge. Literally or figuratively, the busts of Bach and Shostakovich will be looking over one's shoulder from their places on the mantel. Without appearing presumptuous or self-important, Auerbach grabs the bull by the horns and holds her own.
The first Prelude (in C major) opens with a tolling-bell figure that strongly reminds me of the opening of Bach's C-major Sonata for solo violin. The second Prelude (A minor) is in waltz time, but its foreboding, heavy-footed piano part and contrastingly ironic comments from the violin strongly echo Shostakovich's compositional world. Like many virtuoso-composers before her, Auerbach is not shy about quoting. There is even a tango-inflected Prelude that could make one think of Piazzolla. (The commendably full disc also includes a Prayer and a wistful, truly lovely Postlude.)
This premiere recording is by the Preludes' dedicatees, violinist Vadim Guzman and pianist Angela Yoffe. Guzman plays with wonderful tone and solid pitch security, even in the most violin-unfriendly of remote keys, and Yoffe's playing is so spot-on that one quickly forgets all but the music.
The sound, as one would expect from BIS, is excellent. The piano has great depth of tone, and the sound of the violin (a 1690 Stradivari) is unfatiguing. Dynamic range is excellent. The perspective is live but not swimmy, and the balance between instruments is very natural. (This means that many violinists and violin fanciers will think the piano is too loud.)
Oh. Reason No.2 you need not get your defenses up is that Auerbach is as cute as the proverbial bug's ear. In the seemingly obligatory Christian Steiner headshot, she appears to be all of about 17, with an adorably crooked smile. Her biography puts her age at 30.
This is a disc that all fans of the piano and the violin should investigate. New-music fans may polarize a bit. If Boulez is your cup of tea, Auerbach's ethos may strike you as hopelessly retro, if not reactionary. If the "holy minimalism" of Arvo Pärt is your home away from home, you probably won't get excited over this. But if a lot of modern music strikes you as stilted or self-important, and you yearn for actual melodies and harmonies, you might find yourself signing up for Lera Auerbach's fan club. I have.
More great discs
As long as I'm recommending recordings, here are a few more.
Bach's sonatas and partitas for solo violin have exercised a hold on the imaginations of later composers at least as strong as Bach's keyboard works. German violinist Renate Eggebrecht takes the interesting approach of beginning her recital of solo works of composers influenced by Bach by playing the last minute and a half or so of the Chaconne that ends Bach's D-minor Partita. Max Reger's Op.117 Chaconne in G minor follows. (Troubadisc Music Production TRO-CD 01424, .)
What follows that is the world-premiere recording of Reger's student Johanna Senfter's solo sonata, which, curiously enough, starts on the same chord as does Reger's Op.117. A solo sonata from another unfamiliar composer, Nikos Skalkottas, who studied with Schönberg, follows. But Skalkottas' violin teacher Willy Hess was the dedicatee of Reger's Prelude and Fugue in A minor for solo violin, so there is that Reger connection again.
The disc concludes with Honegger's solo-violin sonata. Although we usually think of Honegger in terms of the Paris avant-garde scene of the pre-World War II era, this disc's liner notes tell us that Honegger was "obsessed" with Reger as well as with Bach. So here we have an unusual selection of rather weighty, somewhat challenging, but quite rewarding music, all of it related to Reger and, through Reger, Bach.
Renate Eggebrecht's playing of the end of the Bach Chaconne is a bit idiosyncratic. She interrupts the flow to make rhetorical points, and speeds up the final scale run in a way I do not find convincing. But without question, she is an accomplished player, and her playing of the 20th-century composers' works seems more confident and idiomatic. The sound (24-bit, with SBM redithering) is a trifle over-reverberant, but otherwise really quite good. All serious fans of violin music should make an effort to hear this most impressive disc.
My favorites for Bach's D-minor Partita are Joseph Szigeti's version from his integral set on Vanguard (footnote 1) and Arturo Delmoni's, from his recital of solo works by Ysaÿe, Kreisler, and Bach. The Vanguard set is from 78rpm sources, and therefore is probably only for the hard core. But the sense of inevitability that Szigeti builds throughout the arpeggiated middle section of the Chaconne is, in my experience, unique. Delmoni's heartfelt and inward-looking version was recorded by Kavi Alexander with his usual finesse, and was originally released on Water Lily but has since found a home on my label, JMR, remastered by Bob Ludwig.
Although I'm tempted to say that one cannot have too much solo violin music, I also remember the wonderful Rodrigues cartoon from Stereo Review of many years ago. A befuddled chap arrives home from work to find his wife and all her luggage in the hallway outside their apartment: "Sorry, Charles. I can no longer live with a man who belongs to the Unaccompanied Violin Record of the Month Club." So there's that (footnote 2).
One does not usually think of Edward Elgar as a composer of works for violin solo, but, thanks to Black Box Music, now we must. Elgar: Re-discovered Works for Violin (Black Box BBM 1016) contains what must be the first recording of Elgar's dauntingly Paganini-like Etudes Characteristiques for solo violin, Op.24. Marat Bisengaliev, a violinist new to me, has phenomenal technique and a warm tone. Elgar's five solo studies combine the technical demands of Paganini's caprices with glimmerings of a modern sensibility. Truly fascinating.
The rest of the disc consists of Elgar pieces for violin and piano, some rather familiar, but also some rewarding new discoveries. In those pieces, Bisengaliev's rubato and portamento may be a bit too heart-on-sleeve for modern tastes, but if you just think of them as "authentic performance practices" and ask the waiter to bring you more Campari, all should be fine. Pianist Benjamin Frith is a sensitive accompanist. The sound is excellent. A must-have for all Elgar enthusiasts and fiddle fanciers.
Finally, if all this violin music is a bit troppo stringendo for you, my last pick this issue is a selection of organ voluntaries by Samuel Wesley, nephew of the founder of Methodism, and roughly a contemporary of Mozart. Nearly forgotten today, Samuel Wesley was the most important composer of the Classical era in England. (Of course, it says a lot for the lack of serious composition in England between the time of Purcell and the advent of Elgar that most of us would be hard-pressed to name even one of Wesley's British contemporaries; and, no, Handel and Haydn do not count!)
This fascinating collection (Redcliffe Recordings RR 019) has American organist David Herman playing the organ of Coventry Cathedral. Although Wesley died in 1837, before the Oxford Movement had revitalized Anglo-Catholicism, his musical development was, surprisingly enough, tied in with the chapels of the London embassies of Catholic countries, which, during the times of proscription, were the only places in England one could legally attend a Catholic Mass. Not coincidentally, the embassy chapels were just about the only link to European music life, especially sacred music. Indeed, for many years, the only organ in England that could do justice to Bach's works was found in the chapel of the Portuguese embassy.
All of that is to say that if you enjoy the organ music at an Anglo-Catholic church today, you are at least partially in Samuel Wesley's debt, and you are sure to enjoy this disc. Great sound, tremendous bass, great playing: good clean fun all around. What's not to like? Just go for it.
---
Footnote 1: Presently unavailable, but it may return, in view of Vanguard's recently having been
acquired by Artemis Records
.
Footnote 2: Even crueler was Rodrigues' panel of a woman calling back over her shoulder as she marches down the front walk, suitcases in hand: "...And another thing, your stereo system never sounded to me as though we were in the presence of a live orchestra—I lied." You mean women lie about such things?