Loaded with Delicacy and Detail: The Fi 46 Monoblock
Don Garber's Fi 46 monoblocks, in "test mule" form.
Last Thursday night, I had the great pleasure of accompanying Michael Lavorgna, John DeVore, and Nori Komuro on a visit to the home of gentleman, painter, and tube amp designer, Don Garber. Garber's unique Fi amplifiers have been mentioned in a number of Art Dudley's "Listening" columns, and when John Atkinson and I visited Art's listening room on our way home from Montreal's Salon Son et Image, I got my first close-up look at a Fi product, Garber's new 2b preamp. I was immediately charmed by its striking appearance—it seemed, at once, like a fun toy and a rugged piece of machinery. So, when Michael Lavorgna mentioned that a new Fi amplifier was being developed, I was intrigued.
Soon, we received an e-mail from Garber, inviting us over for a listen.

The listening room.
He lives in a old charming townhouse, facing a little park, on a alley in an historic section of Brooklyn. It's always such a treat to enter someone's home. From the outside, you can never know what treasures exist within. Walking into Garber's home was like walking into a beautiful antique shop, was like walking back through history to a simpler time, was like walking into someone's very special and very personal world. We were surrounded by purpose and soul—well-loved books, records, art, leather, glass, wood, tubes.

Pots and pans.

A Fi X, fashioned with the 46 tube.

Books.
I spun around and around, trying to memorize its shapes and textures. Everything in the home seemed worn by care, weathered by thought, dirtied by love. Even the chips in the paint, the cracks in the wood trim, seemed purposeful and perfectly placed. I wanted to touch things, but was afraid that touching things would set off some cosmic alarm, that everything would collapse on me, that the memories and dreams would be creased and crumpled.
It seemed better almost to leave no sign of myself at all.
I enjoyed watching and listening as Garber and Komuro talked shop, their language completely foreign to me, filled with strings of numbers and letters, power ratings, and all kinds of sensitivity. We drank beer and wine, ate pizza and chips, talked and laughed, and, of course, listened to some outstanding music.
The sound, like the place, was loaded with delicacy and detail.

John DeVore has an idea.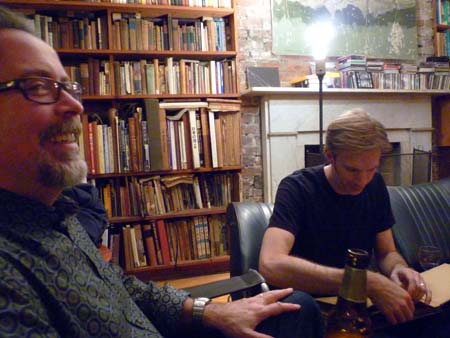 Michael Lavorgna and John DeVore.

Old friends and colleagues: Don Garber and Nori Komuro.
For another perspective on the evening, including outstanding photographs, lovely thoughts, and information on the genesis of the Fi 46 monoblock power amplifier, please visit Michael Lavorgna's Twittering Machines.