Klipsch Palladium P-17B loudspeaker
Every audiophile is born sometime, somewhere. My audio birth happened on a family visit to my Uncle John's house, when he played Information Society's "What's On Your Mind (Pure Energy)" through his brand-new Klipsch Heresy IIs. Uncle John did three things at this listening session that turned 12-year-old me into the audiophile I am today: he played music I liked, he played it really loud, and afterward, he took the time to explain how his system worked and why it sounded so good. His Klipsches were powered by Nelson Pass–influenced Nakamichi gear—I'd never before heard speakers play music with such ease or such startling dynamics. I was immediately hooked. In many ways, nothing I've heard since that day has impressed me as much, or been as revelatory of what home audio can do. That single experience set me on a path of caring about re-creating musical performances in my own home.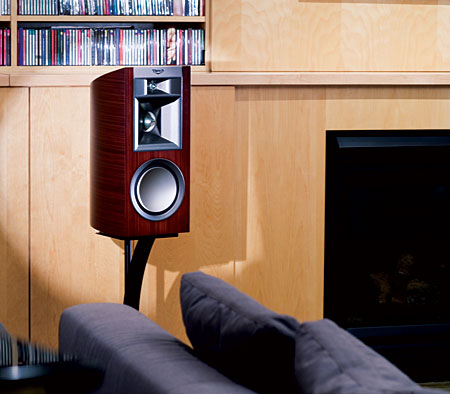 Though my love of audio was sparked by the horn-loaded sound of those old Heresy IIs, my relationship with horn speakers has always been a mix of that first infatuation and some loathing. Though I love much of what horn-loaded speakers can do, I have never heard one that did not impart some sort of squacky horn coloration. So when I read Wes Phillips' rave review of the Klipsch P-39F in the June 2009 Stereophile, I looked and looked for him to subtly imply that this member of Klipsch's new Palladium line did impart horn colorations to the sound. But the more I examined Wes's review for this implication, the more I didn't find it. Since most folks can't afford the P-39F, which costs $20,000/pair, I thought that perhaps the smallest Palladium, the P-17B, at $4000/pair, might be a more affordable way to get much of its big brother's performance. I also hoped that the P-17B would play well with some of the low-powered amps I love. I e-mailed Sarah Knight at Klipsch, and she shipped a pair of them to my house.
Palladium gets a gold star
The Klipsch Palladium P-17B is a three-way, stand-mountable design (do we still call this size of speaker "bookshelf"?). Its drivers, horns, crossover, and cabinet have been designed by Klipsch from scratch, and variants of them are used throughout the Palladium line. The woofer is a 7" unit using a cone of aluminum damped with Kevlar and Rohacell, the latter a superstiff foam used to make helicopter blades. The bass driver features a cast-aluminum frame and a complex magnet system of neodymium; the woofer's backwave meets a 3"-diameter port on the speaker's rear. The midrange driver, which handles the 600Hz–3.4kHz range, is an inverted aluminum dome with a low-density surround designed to minimize distortion at the edges of the driver. The tweeter, a 0.75" titanium dome, is driven by two neodymium magnets.
Both the midrange driver and tweeter are horn-loaded in a Tractrix configuration with a flare of 90° horizontal by 60° vertical and which creates a 4:1 compression ratio. The horns for both drivers comprise a single unit molded from an acoustically inert, carbon-infused composite that's said to reduce ringing. The P-17B's claimed sensitivity is 94dB with 2.83V input at 1 meter. Some amplifiers may find the speaker's nominal impedance of 4 ohms a bit tough to deal with, but John Atkinson will make that call when he measures it.
The cabinet, designed to have no parallel internal surfaces, is made of medium-density fiberboard (MDF) at least 1" thick on all sides. The entire speaker is wrapped in a veneer Klipsch calls Linia. With its distinctive stripes, it looks much like endangered zebrawood, but actually comes from sustainably farmed trees. Get down with your green self, Klipsch! The Linia veneer, used on all models in the Palladium line, comes in three stains: Natural, Merlot, and Espresso. I got mine in Merlot. Each P-17B meets the amp via two pairs of biwirable binding posts on the rear, and comes with a black grille (I never used these).
The P-17B's overall look and fit'n'finish are beyond reproach. It is the finest-looking speaker I've had in my home; every inch of it looks more like sculpture than audio equipment. Sitting on a stand, the P-17B reveals no visible screws on the front, back, top, or side panels. The molded horns meet the gorgeous veneer with seamless precision. The metal cap above the tweeter, bearing the familiar Klipsch logo, blends beautifully with the sloping top and curving side panels. The finish of the wood and the side panels' subtle curves invite touching. The whole effect is striking yet understated, modern yet traditional. In terms of appearance, Klipsch has outdone themselves and most other speaker companies with the Palladium line. Nothing from their old plant in Hope, Arkansas, looked anything like this. (Klipsch is now based in Indianapolis.) Go find a pair of these speakers just so you can look at them—pictures don't do them justice. Bravo, Klipsch!
Stands. Still . . .
Setting up the Palladium P-17Bs was easy. And difficult. Attaching my Kimber Kable BiFocal XL cables to each speaker's four binding posts was easy enough, but finding a place for the speakers to rest wasn't so simple. The P-17B doesn't come with its own stand, nor could Klipsch recommend one. This posed three problems. First, the base of each P-17B is much larger than that of your average bookshelf model. Many stands lack a plinth large enough for all four of the P-17B's rubber feet to rest on securely, and my own stands were barely large enough to accommodate them. Second, I found that, for optimal sound, the P-17Bs needed to sit at a height where their midrange drivers were exactly at the level of my ears when I'm seated. Any deviation shifted the tonal balance more than with most speakers I've listened to. Luckily, my stands were close to the right height. Third, my brutally designed B&W stands—two black metal columns loaded with sand—looked downright crude under the P-17Bs. Not only did they not match the Klipsches' colors and materials, their fit'n'finish didn't come close to the P-17Bs'.