KEF Reference 201/2 loudspeaker
In the waning days of 2007, I delivered some small audio doohickey to John Atkinson one weekend afternoon. "Come down to the listening room," he said. "I want you to hear something."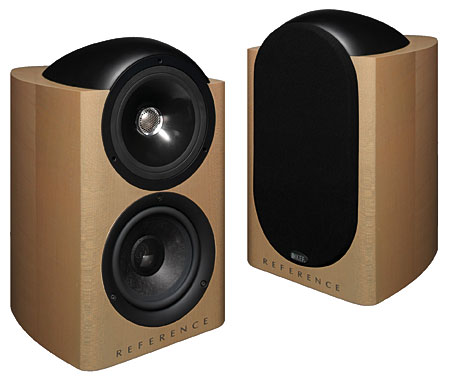 I forget now what he played me—a hi-rez recording of Cantus or Attention Screen, I'm fairly certain—but I remember what he played it through: the KEF Reference 207/2 loudspeakers he was reviewing for the February 2008 Stereophile. "Holy cow!" I said. "I've always admired KEF speakers, but this is a speaker I could actually be passionate about."
"Yes," agreed JA. "They are rather well sorted." Which is British understatement for Ooh-la-la!
A few weeks later, as several loudspeakers I'd lined up for review failed to ship one after another, our beloved editor had a suggestion. "I have the $6000/pair KEF Reference 201/2 Signatures in-house, awaiting review. They'd work a treat in your smaller listening room."
"Bring 'em on!" I said. Wouldn't you?
Burning lamps and sparks leap out
The KEF Reference 201/2 is a big stand-mounted monitor (16.4" H by 9.8" W by 15.9" D) that weighs 27 lbs. It has a top-firing port and a classic "canoe prow" profile. A KEF Uni-Q coincident tweeter-midrange drive-unit stands proud of the front baffle in a bulgy cowling that extends beyond the top of the cabinet. Beneath the Uni-Q assembly is a 6.5" low-frequency driver with a powerful motor that controls distortion with two Faraday shorting rings on the voice-coil formers.
The Uni-Q driver is Mark Dodd's variation on the coincident driver originally designed in 1987 by Laurie Fincham. This latest version better aligns the 1" titanium-dome tweeter to its surrounding 6.5" controlled-flare midrange driver, which functions as a waveguide, allowing a much more controlled acoustic wavefront. If you're interested in the details, including reference to Dodd's 2006 AES paper "Optimum Diaphragm and Waveguide Geometry for Coincident Source Drive Units," refer to JA's February review of the Reference 207/2.
The "fully multiway crossover" (which, I gather, means fourth-order) employs selected electrolytic and polypropylene film capacitors, iron-core coils (bass), and air-core coils (higher frequencies). OFC wiring is used, hand-soldered to components.
On the sharp end of the speaker are three pairs of WBT terminations, allowing consumers to triwire (or passively triamp, I suppose) the 201/2s. KEF includes hefty OFC jumpers with bananas and spades so that consumers can use a single set of speaker cables or biwire (which is what I did).
Above the terminals are three gold-plated "switches" (hex-head bolts, actually) that can be removed to alter the "Uni-balance." One, designated LF, is designed to allow the speakers to be placed nearer to boundaries than with the Flat position. I found this somewhat helpful, since my smaller listening room necessitates that—however, I suspect that KEF's claimed 2dB of LF reduction is a tad optimistic.
Two HF switches permit four EQ options: Flat, +0.75dB, –0.75dB, and –1.5dB. Anal-retentive that I am, I kept going back to Flat because that is the proper audiophile response, but I really liked the air that +0.75dB gave my best-sounding acoustic recordings. I also liked being able to tone down some of the hot rock recordings being released nowadays, however—but that way lies madness.
KEF sells their own heavy Reference stands, which are 24" high and cost $500/pair, and to which the 201/2 can be directly bolted. But I had a pair of aggregate-filled 24" Foundation stands in-house, so I didn't audition the KEF stands.
The speakers are shipped with nice-looking protective grilles. Use them for all speaker-moving tasks (the chrome-plated titanium tweeters are protected by a screen, but still). Just don't listen to the Reference 201/2s with the grilles in place—they're mufflicious.
One idea sparks another
The Ref 201/2 was a lot more demanding of amplifiers than I had thought. My initial thinking had been Small room, smallish speaker, recommended power minimum of 50Wpc—go for an integrated amp. The two such amps I had to hand were the 100Wpc Portal Panache and the 60Wpc Ayre AX-7e. With both, the sound was quite good: natural, rich in the bottom, and extremely clear—but still no sparks. Then I installed my Musical Fidelity Nu-Vista 300 power amp and kicked the KEFs in the arse with some welly. Zzzzzzzt!
I'm not going to say you need to drop 200–300W into the system, but don't skimp on a power amp with the KEF. It hungers for juice.