Infinity Primus P162 loudspeaker
Home Entertainment 2007
was a blast for me, as it is every year. Not only did I get to perform with
two
jazz bands,
Attention Screen
and the John Atkinson Trio, but I enjoyed good to extraordinary sound in every room I visited. I've been attending hi-fi shows more than 20 years, so I'm rarely surprised, but HE2007 had two big surprises in store. First, the percentage of rooms sporting analog front-ends—vinyl
and
open-reel tape—was the highest I've seen at a show in over a decade. Second, there was a surprising number of
very
expensive loudspeakers. In fact, I counted more speakers costing over $50,000/pair than I did costing under $500/pair.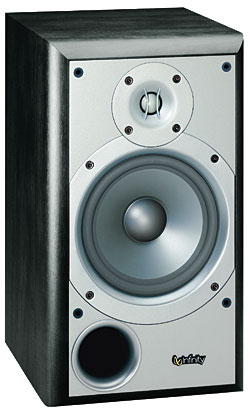 After listening to the gorgeous music emanating from those Most Expensive Speakers at Show, I went home, cranked up my system, listened, and thought: Why would someone want to spend over $50,000 on a pair of speakers when it's possible to get a damn reasonable facsimile of the real thing for a lot less?
I was thinking this again as I listened to the Infinity Primus P162 loudspeaker, which costs $298/pair. I'm not saying that the P162s were nearly as good as any of the +$50,000/pair speakers I heard at HE2007, but the sonic realism I was hearing with all forms of music at multiple volume levels was so realistic and lifelike, and so much better than it had any right to sound at the price, that I began to envision audiophiles wondering: "Should I buy the $50,000/pair speakers, or should I buy my wife a new Mercedes for her birthday and get the Infinity Primus P162s instead?"
The revamped Primus line
I was very impressed with the Infinity Primus 150 and Primus 360 series speakers I reviewed in April 2004 and June 2005, respectively, and when I received notice that the Primus line had been completely revamped, I thought it would be fun to have a shot at the largest bookshelf model in the new 160 series, the Primus P162.
The Primus 160 series comprises three bookshelf and two floorstanding speakers that range from $198 to $698/pair, plus two center-channel models. The P162 is the largest of the bookshelf models. All Primus speakers use Infinity's Metal Matrix Diaphragm (MMD) driver technology for both the tweeter and woofer. MMD cones are made by anodizing both sides of an aluminum core to a controlled thickness, to produce low-mass diaphragms of great rigidity. The company claims that this minimizes distortion while maximizing transient response, resolution, and smoothness throughout the driver's frequency range.
The P162's 0.75" tweeter is mounted in a recessed waveguide designed to provide precise imaging, even frequency response, and controlled directivity over a wide listening angle. The front-ported, magnetically shielded cabinet houses a 6.5" woofer. Unlike the boxy, plebian-looking enclosures of the older Primus series, the new models feature a more contemporary look: a black-ash finish accented by light silver grilles with a curved and tapered top surface.
I placed the P162s on my trusty Celestion Si stands, loaded with sand and lead shot. I listened to them with their grilles on and off, and although the tonal balance didn't change much, I heard slightly more detail and transparency with the grilles off, which is how I listened for the bulk of my testing.
The Musical Experience
With every vocal recording I tried, an uncolored, detailed, and holographic midrange shone through the Infinity Primus P162s. All tracks of Cassandra Wilson's Belly of the Sun (CD, Blue Note BN 2435-37072-20) floated Wilson's voice in rich holographic splendor throughout her vocal range. Part of the P162's realism stemmed from its ability to render subtle low-level dynamic articulations in an organic fashion. Well-recorded woodwinds were particularly lifelike. On Responsorium (CD, ECM 1816), Dino Saluzzi's interaction on bandonen with his guitarist son, José Maria Saluzzi, captured the sound of this polyphonic woodwind instrument, so like a human breath. Vocal music in a well-recorded acoustic, such as the church used for John Rutter's Requiem (CD, Reference RR-57CD), was lifelike to a degree I did not expect from a speaker costing under $300/pair. Soprano Nancy Keith's upper register sounded downright angelic, and the P162s revealed the dimensions of the recording acoustic with tremendous ambience retrieval. From my notes: "Decayyyyyyyyy..."
The Primus P162's high-frequency characteristics were not as revealing, detailed, extended, or grain-free when compared with much more expensive speakers, but this relative deficiency in no way detracted from the musical experience. Lorne Entress's ride cymbals on Mighty Sam McClain's Give It Up to Love (CD, JVC JVCXR 0012-2) were natural and shimmering, and the upper partials of Kevin Barry's Stratocaster would have made Leo Fender proud. This recording also revealed how much more realistic high-level dynamics could be coaxed from the larger enclosure of the P162 when compared with the sound of the Primus 150. About those louder passages, from my notes: "Wow! Drama!!!"
I wrote those same words in my notebook when I listened to a very loud playback of Kraftwerk's Minimum, Maximum (CD, EMI ASW 60611). The lightning-fast synthesizer transients were cleanly reproduced without edge or smearing, and the loud bass passages bloomed without strain. But the silky midrange passages flowed through the mix, and the concurrent bombast induced no congestion or blurring. This recording (and most others) did reveal a very subtle midbass ripeness that gave the overall perspective a warm quality, but I found this effect pleasing on balance.
At no time did the P162 sound bass-shy—drummer Mark Flynn's dramatic bass-and-snare blast near the end of "Mansour's Gift," from Attention Screen's Live at Merkin Hall (CD, Stereophile STPH018-2), shook the room and damn near scared the dog. Similarly, the bass drum in the loudest tutti passages of Antal Dorati and the London Symphony's recording of Stravinsky's The Firebird (CD, Mercury Living Presence SR90226) was forceful, uncolored, and uncompressed. With this recording, however, I learned one shouldn't push the P162 much past 95dB—then, the highs sounded more grainy, and the more complex passages congealed a bit.
Highly processed rock recordings were revealing but also tunefully pleasing. The Primus P162 let the crisp, distinct sibilants of Aimee Mann's voice shine through on her Bachelor No. 2 or The Last Remains of the Dodo (CD, Super Ego SE007). The bass guitar was rather warm, but it was mixed that way, and it was easy to pick out all of the compression, limiting, and studio processing tricks that were used in the mixdown of this album. All of the detail was there, and my foot never stopped tapping.