Recording of July 2010: The Complete Sinatra-Jobim Reprise Recordings
Sinatra Jobim: The Complete Reprise Recordings
Concord CRE-32026 (CD). 2010. Sonny Burke, orig. prod.; Lee Herschberg, orig eng.; Hal Gaba, reissue exec. prod.; Charles Pignone, reissue prod.; Larry Walsh, reissue eng.; Dan Hersch, 24-bit remastering. AAD. TT: 58:23
Performance ****
Sonics ****
"Kill the album. Kill the sucker."
Guess who?
Could those words have come from anyone but America's greatest ring-a-ding-ding wannabe gangster, Francis Albert Sinatra? In Sinatra lore, that was what he said to pull the plug on the second of two records he made with bossa-nova boy wonder Antonio Carlos Jobim.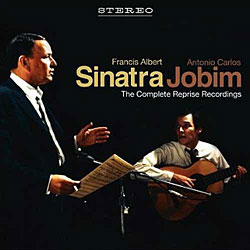 Sinatra's two sets of recording sessions with Jobim were made at Western Recorders, at 6050 Sunset Boulevard in Los Angeles: January 30–February 1, 1967, and February 11–13, 1969. The title of the first album to come from them, Francis Albert Sinatra and Antonio Carlos Jobim—notice whose name is first—included a classic twist: If the kid from Brazil could use three names, then so would Frank.
Released in 1967, this first Jobim-Sinatra record climbed to No.19 on the charts, but did not sell as well initially of his three previous records (Strangers in the Night, That's Life, Francis A. Sinatra and Edward K. Ellington). There's always been the suggestion that Sinatra's bossa-nova albums made him a Johnny-come-lately to the trend. After all, Jazz Samba, the record by Stan Getz and Charlie Byrd that lit the bossa-nova fire in America, was released in April 1962. But, to be fair, Sinatra had flirted with Latin rhythms as early as 1965, on Moonlight Sinatra.
Late or not, both records sound like nothing else in the Sinatra catalog. From the opening bars of the "The Girl from Ipanema," in which Jobim sings the second verse, then gamely duets with Sinatra's major-league instrument, it's clear, at least on F.A.S. and A.C.J., that Frank had never before sung so softly. In "If You Never Come to Me," his voice is so light that it often nearly cracks from lack of breath. This lightness forces Sinatra to dig deep for the fine, wave-like textures that appear here in his voice, as well as an emotional fragility and subtlety that he really never found again. Three tunes on the record are not Jobim compositions, yet even in these—such as "Change Partners," by that noted bossa-novist Irving Berlin, here given a Latin flair by Claus Ogerman, who arranged everything for the first album—Sinatra sounds out of his element, reaching for something inside he's never quite tapped into before. And on the sexy Sinatra scale, his vocal performance on "Quiet Nights of Quiet Stars (Corcovado)," paired with Ogerman's lush orchestral arrangement, is easily one of the most seductive bedroom ballads ever recorded by this master of the form.
Sinatra's second encounter with Jobim, two years later, intended for an album called Sinatra-Jobim, was vastly different from the 1967 sessions. Where the first record was uncommonly and unexpectedly quiet, the new sessions were upbeat, and featured a far more prominent rhythm section and arrangements by a long-haired Brazilian, 26-year-old Eumir Deodato. In a tune like "Drinking Water (Aqua de Beber)," with Jobim chanting rhythmically in the background and winds, particularly flutes, punching in and out, Sinatra turns the samba flavors into swing. As on the first record, Sinatra often sounds out of his Tin Pan Alley comfort zone, which makes him work harder than usual. In "One Note Samba (Samba de Uma Nota So)," he ends up singing below his normal range, and nearly has to talk his way through the lines. Remastered in 24-bit transfers especially for this release, the sound of both sessions is luscious and natural, though not all that different from the original digital remasterings, the most obvious change for the better being added depth in the midrange. Sinatra-Jobim is the album that Sinatra allegedly killed with that legendary phone call to Reprise. Famous as a "lost" album it's also notable among the Sinatra faithful for its aborted cover art, which happily is reproduced in the CD booklet of this reissue. One of the strangest cover images of his or any other recorded catalog, it features Sinatra standing behind a Greyhound bus, in a shot actually taken on the Warner Bros. movie lot, in Los Angeles. The images of Sinatra and bus were then cut out and superimposed on a background shot of a jungle. The result is nothing short of surreal.
Sinatra-Jobim was scheduled for release in 1969 on LP and 8-track tape, but only a few of the 8-tracks made it into stores to be sold to customers. According to the liner notes for this package by former Executive VP of Warner Bros. Records Stan Cornyn, one of those hallowed tape cartridges recently sold on eBay for $4550. Seven of the ten tunes originally recorded for the spiked record later appeared on Sinatra & Company (1971), a slapdash compilation whose flip side was filled with various soft-rock singles, produced by Don Costa, that had not appeared on an album before. The three remaining tracks from the original ten were the problem cuts that supposedly motivated Sinatra to kill the album.
According to noted Sinatra scholar Tony Sachs, "Son of the Sabia" and "Bonita" were finally released domestically as B sides of singles in 1971, and also on a 1979 Brazil-only release, The Sinatra-Jobim Sessions. "Off Key (Desafinado)," with an amateurish vocal but great guitarwork by Jobim, remained unavailable until the release in 1995 of The Complete Reprise Studio Recordings: Deluxe Edition. With 20 CDs packed in a flimsy leather suitcase (it tended to fall apart), this luxuriant collection remains the high-water mark in the history of the CD boxed set. Now out of print, copies in "New" condition of "The Suitcase," as it is commonly known, are available on Amazon.com for $1399.
According to Sachs, another school of thought about the demise of Sinatra-Jobim holds that by 1969 the bossa-nova craze had long passed, and that Warner Bros., not Sinatra, pulled the plug on the record before it reached stores—except, of course, for those few tantalizing 8-tracks. Whatever the case—and the image of Frank growling at label flunkies is a lot more fun—the collaborations of Francis Albert Sinatra and Antonio Carlos Jobim, compiled in their entirety here for the first time, are a rich, striking left turn in Sinatra's massive catalog of irreplaceable recordings.—Robert Baird