Recording of December 2009: The Astounding Eyes of Rita
Anouar Brahem: The Astounding Eyes of Rita
Anouar Brahem, oud; Klaus Gesing, bass clarinet; Björn Meyer, bass; Khaled Yassine, darbouka, bendir
ECM 2075 (CD). 2009. Manfred Eicher, prod.; Stefano Amerio, eng. DDD. TT: 53:31
Performance ****
Sonics *****
For many in the new world, the sinuous melodic lines and infinite variety of dark harmonic shading produced by the exotic oud define the term "Middle Eastern music." And when it comes to players of that ancient instrument, only a handful, Hamza El Din for example, have ever been as internationally well known as the Tunisian oud master Anouar Brahem, who has just made his tenth and perhaps best record, The Astounding Eyes of Rita, for Manfred Eicher's ECM label.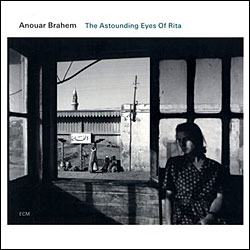 The oud is a fretless, 11-stringed instrument (five paired strings and one bass string) that first appeared in Mesopotamia about 5000 years ago. Reputed to have been invented by a descendent of Cain, the oud is the forerunner of the European lute, and the most recognizable symbol of Arabian music the world over. Despite local variations, the oud is distinguished by its pegboard, which is bent back at a 90° degree angle, its bowl-like back, and, in many case, the intricate carving around its sound hole.
The now long and glorious partnership of Brahem and ECM has had many highlights. His first record for the label, Barzakh (1991), was remarkable in that few in the West, even among ECM's multiculturally literate audience, had ever heard this kind of lucid virtuosity on the oud. On Thimar (1998) he explored the jazz possibilities of the oud with the help of an all-star trio that included saxophonist John Surman and bassist Dave Holland.
In 1992, Brahem's second ECM record, Conte de l'Incroyable Amour (Story of the Incredible Love), introduced what is perhaps the oud's most surprising and most perfect accompanying instrument: the clarinet, played in that instance by Brahem's longtime collaborator, the Turkish clarinetist Barbaros Erköse. On this latest project, the creatively restless Brahem has formed a powerfully simpatico musical relationship with bass clarinetist Klaus Gesing, who was suggested as a possible collaborator by another steadfast creator, ECM founder-owner-producer Manfred Eicher.
From the very first cut here, "The Lover of Beirut," Brahem's fascinating blend of traditional Eastern-flavored tonalities and his very jazz-like sense of free rhythms mix, in an astonishingly instinctual and intimate way, with Gesing's moody clarinet, their melodic lines at times doubling before breaking free to bend and swerve off into a melodic maze before slowly returning to their intricate Byzantine dance. The timbre of the clarinet is a perfect match for the oud's sonorities.
According to Brahem, "When I write music, my focus is simply on the melodic universe. Ideas for instrumentation come later." While you have to take an artist's statements about his art at face value, it would also seem that the improvisational interplay between Brahem and Gesing, which sounds somewhat composed but has a great degree of improvisational freedom inherent in its loose forms, is at the heart of the music on The Astounding Eyes of Rita. He also blurs the line between past and present. Although Brahem's music is grounded in the traditions that have grown up around the oud over centuries, and which are still to be heard in North Africa, Turkey, and even central Asia, his hybridization of those traditions with the ways of European and American jazz have made his extremely individual canon pointedly modern, and very much an example of a genuine world music.
Brahem and Gesing's beguiling musical interplay—a mystical poetry that, despite a richness of tones and ideas, is really very minimal and spare—could not exist without rhythmic drive, supplied here, as is only fitting for a truly world-music project, by Swedish bassist Björn Meyer and Lebanese percussionist Khaled Yassine. Using both a darbouka (the familiar goblet hand drum, variations of which are used from Egypt to Thailand) and a bendir (a wooden frame drum), Yassine is the third most prominent and influential instrumental voice in this very talented quartet and both he and Meyer drive both lead instrumentalists and gather a powerful energy between themselves.
Throughout these eight tracks, it's clear that not only do the clarinet and oud clearly belong together, but the ideas that flow from both players mesh into an emotional and intellectual whole as they thrust and parry in turn, bending toward and away from each other—as they do in the title track, leaning at times toward sustained single notes and long legato passages, and at others toward nimble, compact bursts of speed and economy. These songs, which on record are close to what Western music fans know as "jams," evoke a wonderfully dark-hued atmosphere, with oud and clarinet working much of the time in their lower registers. The foursome is gorgeously recorded by Eicher and Amerio, the players and the music given the expansive space, separation between instruments, and the silence they need to breathe and bloom. Yet again the legendary ears of ECM have scored a triumph.
Some of this disc's best moments are in "Stopover at Djibouti," which is as close to a jazz-like cutting session as this disc comes. Brahem and Gesing swiftly, and with a muted but perceptible joy—and perhaps even a bit of competitive spice—navigate passages of breathtaking inventiveness in a full-tilt mixture of ancient instruments and mountains of tradition. You hear each keeping an open mind, readily welcoming what is best from modern jazz, and reveling in the freedom that comes from imagining and then realizing a music that is unmistakably new.—Robert Baird