Joint Recordings of December 1990: Fish Out Of Water & The Widow In The Window
CHARLES LLOYD QUARTET: Fish Out Of Water
Charles Lloyd, tenor sax, flute; Bobo Stenson, piano; Palle Danielsson, bass; Jon Christensen, drums
ECM 1398 (841 088-2). TT: 57:50
KENNY WHEELER QUINTET: The Widow In The Window
Kenny Wheeler, fluegelhorn, trumpet; John Abercrombie, guitar; John Taylor, piano; Dave Holland, bass; Peter Erskine, drums
ECM 1417 (843 198-2). TT: 61:17
Both
: CD only. Jan Erik Kongshaug, eng.; Manfred Eicher, prod. DDD.
This pair of recent ECM releases brings us new music from two master musicians who have not been studio leaders for some time—more than ten years for Lloyd, seven for Wheeler. That seems far too long, but if it takes that kind of time to come up with what Lloyd and Wheeler have to say on Fish Out Of Water and The Widow In The Window, then perhaps most other jazz musicians—and fans—have much to learn about patience.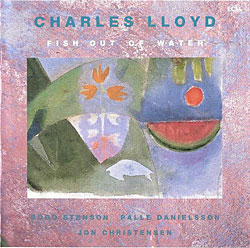 After "discovering" Gabor Szabo, Keith Jarrett, Cecil McBee, and Jack DeJohnette, and after selling more than a million copies of his 1967 "crossover" album Forest Flower—jazz even hippies could love—Charles Lloyd dropped out of the music scene in 1969 to spend most of the next 20 years in meditation and other spiritual pursuits. He emerged briefly from Big Sur in 1982 to make two live recordings with French pianist Michel Petrucciani, but there's been little since then.
But as serendipitously as Forest Flower captured a strange confluence of musical and cultural genres at a strange time in America, Fish Out Of Water is a far finer, wiser work—in a word, it's Lloyd's best. This new date teams Lloyd's shifty sax, creamy and troubled by turns, with three-fourths of the Bobo Stenson Quartet.
This is surely one of jazz's finest and most underrated rhythm sections, right up there with those of Miles (Garland/Chambers/Joe Jones, Hancock/Carter/Williams), Coltrane (Tyner/Garrison/Elvin Jones), even Brubeck (Wright/Morello). Stenson's band has played together, on and off, for 20 years, and, sans Stenson, formed the rock over which purled Keith Jarrett's piano cascades in Jarrett's "Belonging" recordings. The effortless, egoless bass of Palle Danielsson consistently disappears; one hears so much what he doesn't play—an essential absence. Jon Christensen remains one of my all-time favorite drummers: spare, delicate, full of crunch when that's called for, full of nuance and silence when it isn't. And with Bobo Stenson's own clarity without brittleness, intelligence without grandstanding, and pulse without push, it all adds up to wise, weathered, world-class trio playing.
Fish Out Of Water should silence all those who've mumbled over the years that Lloyd OD'd on OMs—this is timeless, peerless, excellent music, and Lloyd's chops seem to have only improved through disuse (compare his lively but ragged work on Chico Hamilton's 1963 Man From Two Worlds, for example). The first and title cut is the spirit of Lloyd's original "Forest Flower" raised far beyond that early composition's almost too-easy, unexamined peace; one hears the maturity, the grace, the implicate order of each moment met, appraised, and acted upon in serial singularities of conflated time and space. And to those of you for whom the label "New Age" connotes flaccid complacency and unadventurous pseudo-music, or who might even have heard Lloyd's mid-'70s Beach Boys recordings—"New Age" music this is not.
"Haghia Sophia" is an aptly modal cloud of atmosphere àa la Jarrett's "Oasis" on Nude Ants (also with Danielsson and Christensen). After a long intro, "The Dirge" falls into a slow, bluesy swing, Lloyd wailing while perfectly in control. "Bharati" is sultry, sexy, a jazz Scheherazade, Lloyd's sleek playing as full of blood as a vampire's wetdream. And after he's done, the rhythm break is a study in the possibilities of jazz-trio telepathy.
"Eyes Of Love" could be an instant standard, music for quaffing cocktails at God's own bistro. But things do heat up with rumblings from Below—after a long layout following his false start, Lloyd rides larger and larger swells until he floats in an unexpected calm.
I'd say that Fish is a Forest Flower for the '90s, but too many hard-core jazzers would take that to indicate a lack of substance and edge. They'd be wrong. Lloyd's chops are just rough enough to keep things interestingly on that edge, as does his trademark trick of long, sustained tones preceded by restless arpeggios (as in the first bar of "Forest Flower" itself). The music is smooth without being slick.
Fish... is tender, gentle, loving, well-seasoned jazz that refuses to lose itself in glib platitudes. The compositions—all Lloyd's—are strong; as I listened, I constantly had the impression that Lloyd was playing definitive versions of standards I couldn't quite put my finger on. Fish Out Of Water is probably the most inaccurately titled jazz album in history—at 52, Charles Lloyd is fully submerged in his element.
Kenny Wheeler is now 60, believe it or not, and The Widow In The Window is only his fifth album (as a leader) in 15 years. My, but it was worth the seven years since Double, Double You. Look at the band: John Abercrombie, John Taylor, Dave Holland, Peter Erskine—and that's just the core-group of Kenny Wheeler's 19-piece Large Ensemble, whose recording (also on ECM) may even have been released by the time you read this.
With the exception of his first, Gnu High, Kenny Wheeler albums (Deer Wan, After 6, Double, Double You) listen like Knut Hamsun novels read: darkly brooding, with hints of menace amid great tenderness. Wheeler fully experiences each note before he plays another. His fluegelhorn/trumpet voices are lonely, mournful without being lugubrious, awesome in the elegiac finality of his never-busy statements over constantly shifting chordal foundations. His music always seems suspended, harmonically and metrically—it floats with tensile strength, as if sprung—a melancholy bouyancy, with absolute control of tone and dynamics. Like no other music but Sibelius's, Wheeler's spare sounds remind me of the northern seas—cold, gray-green, not to be treated lightly, with huge, dark shapes of tragedy always moving dimly beneath the surface. Reflective, sad, remarkably intelligent music that demands to be taken seriously.
Of the six cuts that comprise Widow, the first four, longer ones are the meat. The longest (14:43), "Ana," after a climbing, mounting introduction, breaks off for a bass meditation by Dave Holland; then the band enters for a long ensemble passage topped by Wheeler's keening trumpet. John Taylor's crystalline piano reprises the intro, the pace slows, and the band seems to recall what they've just been playing, this time reflecting in sorrow.
"Aspire" lets John Abercrombie swing a little more straightly than usual, while "Ma Belle Hélène" sails with smooth, quiet urgency under a cool, urbane, steel-and-glass Taylor solo. The title cut's arching, aching primary theme, and the floating-in-place ensemble work that follows, with Wheeler's hot-brass squeals in places where other bands don't even have places, is tropical heat unsodden by monsoon humidity.
"Hotel Le Hot" similarly simmers rather than sizzles, though it's still the most uptempo cut here, and most like what Wheeler's done on the Dave Holland Quintet recordings released in the '80s: Jumpin' In, Seeds of Time, and The Razor's Edge. And "Now, and Now Again"'s sprung balladry is as close as Wheeler gets to whimsy or standards.
But the tunes drift in and out of each other on first or second listening; it takes a few hearings to first take them apart, then reassemble them in one's own aural image. This is music you can marry.
It's great to hear Peter Erskine, an excellent drummer who doesn't always play so, percussing with more restraint and judiciousness than he often does. Dave Holland plays the Yggdrasil bass (footnote 1) Jack Casady of the Jefferson Airplane always claimed for himself. John Taylor—who, with Wheeler and Norma Winstone, makes up Azimuth, an ECM trio with three albums—chooses his notes with exceeding care. Only John Abercrombie seems a bit out of place, if only for his electric guitar's relative crudity of tone in this sumptuously (if not accurately) recorded, otherwise acoustic, session.
But that's the merest quibbling. The Widow In The Window consititutes a working definition—or paraphrase—of jazz as the purest music, the soul of poetry, a schematic of taste. Remarkable.
Both of these discs receive the usual round, fat, reverb'd, multi-miked ECM treatment (footnote 2) guaranteed to sound perfect on harsh, hashy, mid- to low-fi systems. If I wanted a technically inaccurate recording, I'd want Manfred Eicher to produce it. Such a production style is hardly contradicted by my velvety Vandersteen 2Ci's, but my taste admittedly runs to the mellifluously euphonic anyway. Nothing wrong here.—Richard Lehnert
---
Footnote 1: Yggdrasil is the ash tree in whose branches nests the world, for those not up on their Teutonic mythology.
Footnote 2: In the liner notes to the Kenny Wheeler album, Steve Lake calls this "a clear-eyed understanding of the differing demands of the concert platform and the studio." Of course, an audiophile would point out that there's no reason other than convenience to use a studio at all, but I can live with producer Manfred Eicher's aural vision. In fact, I do.