Recording of September 1991: Glenn Gould Conducts & Plays Wagner
WAGNER: Glenn Gould Conducts & Plays Wagner
Siegfried Idyll
, original chamber version.* Piano Transcriptions (Gould):
Die Meistersinger
, Prelude to Act I;
Götterdämmerung
, Dawn & Siegfried's Rhine Journey;
Siegfried Idyll
Glenn Gould, piano, piano 4-hands (overdubbed), conductor; members of the Toronto Symphony
Sony Classical SK 46279 (CD only). Kevin Doyle,* Kent Warden, Frank Dean Dennowitz, engs.; Glenn Gould,* Andew Kazdin, prods. ADD. TT: 71:00
Listening to Glenn Gould's masterful Meistersinger and Götterdämmerung piano transcriptions again for the first time since their release in the mid-'70s, I reacted exactly as I had then: these are fascinating abstracts of Wagner's music, Gould's astonishing technique revealing in x-ray fashion Wagner's equally astonishing contrapuntal skill. But music they're not. It's nowhere clearer than in this disc, by a master technician and musician, how inextricably wedded is Wagner's music to his orchestral writing. (Wagner is not Bach, who sounds wonderful no matter on what motley aggregation of instruments his music is played.) Only in the brief fugal section of the "Rhine Journey," as might be expected, do Gould and the music take off. Otherwise, in Gould's extremely capable hands, some of Wagner's finest music still ends up sounding no better than Liszt's lesser tone poems: too many notes, too little soul, all painted with too literal a brush.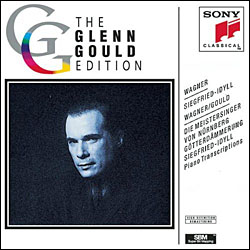 The Siegfried Idyll is altogether different, Wagner's original and uncharacteristically sparse scoring (13 instruments) lending itself perfectly to Gould's expansive art of piano reduction. Most important, Gould slows down the piece to 23:31, making it by far the longest Idyll on record (apart from his own orchestral version; see later). He allows himself the time and space to pick lovingly, savoringly over this music's fragile bones, and, for the first time in my listening experience, this very private, intimately charming piece of incidental music, never intended for public performance, becomes a small masterpiece of High Romance. For the piano transcriptions Gould is at the top of his form, but, yes, he hums throughout, and the inside-the-instrument piano sound is painfully harsh and fatiguing.
But the real treat is Gould's 1982 orchestral version—his conducting debut and final recording, released here for the first time. It's even longer than his piano version, if by only a minute, and even more of a revelation. After the first few bars I relaxed fully under Gould's slow, sure conducting hands, not resisting. My gratitude for his willingness to take time to create this most personal vision grew and grew over the next 24 minutes and 28 seconds. Needless to say, I heard things I'd never heard before, as arpeggios became figures, figures became phrases, phrases became long, suspended melodic lines, and rests threatened to stop time itself.
Program your CD player to play first the piano arrangement, then the chamber version. At nearly the same speeds, they remain wholly different creations. Gould makes the listener work and wait for, savor each note—his genius is to coax the listener to work hard, willingly, and happily, his final reward complete satisfaction. The pick-up chamber orchestra of Toronto Symphony players leaves a good bit to be desired in terms of execution, but the long, slow pace leaves the players so revealed I'd hate to have been in their shoes (footnote 1).
For those familiar with the Idyll, this disc is a must-buy for the chamber-orchestra version alone. From this mere 25 minutes of music, it's clear Glenn Gould had a great deal to say as a conductor when a stroke felled him days after his 50th birthday and a mere month after this performance was taped. All the more reason to treasure his Siegfried Idyll—you'll not have heard its like.—Richard Lehnert
---
Footnote 1: This is also due, I think, to the fact that the recorded balance is extremely
close
to the instruments. This kind of orchestra-under-the-microscope engineering—it presents an illustrated score rather than a document of a real acoustic event—leaves me in two minds: while the sounds of the individual instruments are scratchy and not particularly beautiful, that very lack of beauty to the sound allows the individual musical lines to stand proud of the overall sonic texture. However, I can't help feeling sorry for the musicians, there being nowhere for even the slightest unevenness of tone or technique to hide.—
John Atkinson