Recording of September 2008: Harps and Angels
RANDY NEWMAN Harps and Angels
Nonesuch 075597998931 (CD). 2008. Mitchell Froom, Lenny Waronker, prods.; David Boucher, eng. ADD. TT: 34:54
Performance
*****
Sonics
****
"A lot of people write less as they get older. I don't know the reason for the tendency for the best work to get done early."
It's been nine years since the world last heard new work from Randy Newman, solo artist. During that time, advancing age certainly hasn't kept him from working well. Since 1999's Bad Love, he's won four Grammy Awards and an Oscar for his film scores. As the nephew of the great musical triumvirate of American film music, his uncles Lionel, Alfred, and Emil Newman, Randall Stuart Newman is a proud addition to the family business.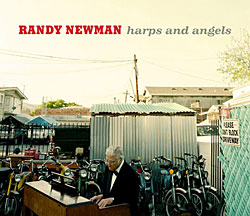 Yet as time rolled along, the possibility grew that this man—so capable of sweet melodies, tart, perceptive lyrics, and virtuoso arrangements and orchestration—might never make another solo album.
Happily, the singer-songwriter has returned with another collection of uniquely chiseled miniatures that vividly bring back memories of what a master he is of songcraft and how expressive his voicings can be, from the aw-shucks goofy to the ringingly resolute. A new quiver of wickedly pointed topical opinions provides this album with its edges, and a fresh reserve of humor, much of it self-deprecating, makes it all engaging and fun. In short, Randy Newman has done it again.
One big change on the brief Harps and Angels, however, is that instead of singing in the voices of some of the indelible personas he's created over the years—the Alabama steelworker in "Birmingham" comes to mind—these tunes, no matter how fanciful the subject (as in the title track's semiserious near-death experience), are now clearly the sound of their author ruminating on himself and the world around him. Instead of the rip-snorting young artist whose first solo album closed with the pearl of "Davy the fat boy, Davy the fat boy /isn't he / isn't he round?," the Newman we hear now is, at 65, growing nostalgic, and aware that the end is close. In the second track, "Losing You," over one of his most tender, heart-wrenching melodies, and in the kind of delicate high notes that at this point would seem to be beyond his vocal range, he sings "When you're young / And there's time / To forget the past / You don't think that you will / but you do / But I know that I don't have time enough / And I'll never get over losing you."
In the background, the full orchestra assembled by the producers, Mitchell Froom and Newman's childhood friend and former Warner Bros. boss, Lenny Waronker, add warmth and light via Newman's multilayered, multihued arrangements. With this album's uniformly rich, transparent sound, which successfully highlights all of those delicate layers, it's vintage Masterman and Baby J at his very best.
As has been the case in many previous Newman efforts—most prominently Little Criminals (1977), whose single, "Short People," overshadowed the rest of that album—"A Few Words in Defense of Our Country," a rambling, mostly spoken rant about the state of the union that Newman has been tweaking and playing live since 2006, has become Harps and Angels' lightning rod. Set to an ambling country waltz, it meanders through the tyrants of world history before turning to a stanza, crowned by a divine last line, that the New York Times censored when it published the lyrics on its op-ed page in January 2007:
"You know it pisses me off a little / That this Supreme Court is gonna outlive me / A couple of young Italian fellas and a brother on the Court now too / But I defy you, anywhere in the world / To find me two Italians as tightass as the two Italians we got / And as for the brother / Well, Pluto's not a planet anymore either."
A second topical song, "A Piece of the Pie," does a more acute job of skewering Bush's America. Set to the kind of horns-honking/people-rushing-by music that theater composers once used to signify a bustling city, this tune also has some of the album's funniest lines, as Newman asserts that "No one gives a shit but Jackson Browne / Jackson Browne / Jackson / Jackson," and nails corporate America and its shills: "There's a famous saying someone famous said / As General Motors goes so go we all / Johnny Cougar's singing it's their country now / He'll be singing for Toyota by the fall."
Harps and Angels lacks a weak track, along the way pausing for such twinkles as the laconic "Potholes," where Newman tells a story—or, more accurately, has a conversation with himself—about memory and women. The closer is the touching love ballad "Feels Like Home," which, in terms of melody and the way it unfolds, is very reminiscent of a Newman triumph from the past, "Sail Away."
But the zenith is "Korean Parents," in which Newman's film-scoring experience has morphed into a tightly written, smartly orchestrated show tune in which Randy Newman, father and accomplished composer of children's film scores, pays tribute to Korean parental mettle by asking, "Look at the numbers / That's all I ask / Who's at the head of every class? / You really think they're smarter than you are / They just work their asses off / Their parents make them do it."
"You don't have to condescend," Newman says of his songwriting. "It's like movies; audiences may like action and mindless kind of stuff, but they understand anything if they can follow it."
Lead on, Mr. Newman, and we will follow.—Robert Baird