Recordings of July 1994: The Eyes Have It, Lady Be Good...for EllaMichael Ullman
LYNN ARRIALE: The Eyes Have It
Lynn Arriale, piano; Jay Anderson, bass; Steve Davis, drums
DMP CD-502 (CD only). Lynn Arriale, Tom Jung, prods.; Tom Jung, eng. DDD. TT: 62:22
TOMMY FLANAGAN: Lady Be Good...for Ella
Tommy Flanagan, piano; Peter Washington, bass; Lewis Nash, drums
Verve 314 521 617-2 (CD). Jacques Muyal, Diana Flanagan, prods.; Lou Holtzman, eng. DDD. TT: 61:07
FRED HERSCH: The Fred Hersch Trio Plays...
Fred Hersch, piano; Drew Gress, bass; Tom Rainey, drums
Chesky JD116 (CD). David Chesky, Fred Hersch, prods.; Bob Katz, eng. DDD. TT: 63:21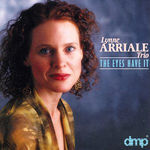 All music should be as good as these three piano trio discs: two by veteran pianists of different generations, and the third, Lynn Arriale's The Eyes Have It, the debut album by an instrumentalist who won the 1993 Great American Jazz Piano Competition. My guess is that she deserved the honor. Arriale has the poise, invention, and playfulness that I associate with the best jazz pianists. With her soft but firm sound, she plays a couple of originals, including her seductive "Elegy." She's also not afraid to take on the chestnuts, as in her airy "My Funny Valentine." Arriale builds ominously at the end of the first chorus, then subsides to allow bassist Jay Anderson the first solo. Her own solo has the same breathing quality as she builds tension with ascending single-note lines, then pulls away naturally.
There's nothing deliberately virtuosic here, or anywhere on the recording: Arriale is content to let the music ebb and flow, and to play lyrically. She doesn't neglect rhythm: all of these performances swing. She even plays deft rhythmic games from time to time, as on "Witchcraft," which she introduces with swirling figures, then settles down over a walking beat set by bassist Anderson, and gradually, unsettlingly increases the tempo to something like doubletime. At that point, listening to that walking bass is like watching Charlie Chaplin, knees akimbo, shuffle along in a speeded-up silent movie.
Curiously, Fred Hersch plays a similar game with Thelonious Monk's "Think of One," beginning thoughtfully at a tempo somewhat slower than Monk's own, and then, in about the third chorus, moving the beat up a notch. He plays faster still in the later choruses. This disc, a followup to his ballad recital, Dancing in the Dark (Chesky JD90), is a brilliant tribute to his jazz influences, which range from Ellington and Strayhorn to Coleman and Coltrane. One of the most versatile, accomplished pianists around, Hersch plays limpid lines on Herbie Hancock's "Speak Like a Child" that almost shine in their polish and clarity. He's witty with Monk, and spirited and playful on Ornette Coleman's "Forerunner." This disc would be valuable if only for the repertoire, but it doesn't have to rely on borrowed laurels: here's a remarkably empathetic trio—the drum solos, as on "Doxy," could have been played by Hersch—led by a pianist with a spare style that seems to say it all.
The dean of bebop pianists today, and one of the greatest jazz instrumentalists alive, Tommy Flanagan pays a more personal tribute on Lady Be Good...for Ella. Flanagan was for over a decade Ella Fitzgerald's accompanist. They parted with some rancor. When I interviewed Flanagan at the time, in the late 1970s, he said that "there was no love lost between them." Of course, that's exactly what was lost—or misplaced. On his disc, Flanagan repairs whatever was broken. In his notes, he writes: "These songs, among the hundreds we did in those years, especially remind me of you and that exciting and beautiful time in my life. And, Lady, you were good! So good, and you were good to me, too."
Flanagan's disc is more than good. He begins with a slow, bluesy version of "Lady Be Good" that mimics the one Fitzgerald sang on The Gershwin Songbook. He ends with a zipped-up improvisation on the same tune, playing exquisite lines over Lewis Nash's crisp, exciting drumming. In between, Flanagan reviews the bop anthems "How High the Moon" and "Cherokee," and plays a smoky "Angel Eyes" that's a classic. Every jazz fan should hear this recital.
Two of these discs have been recorded by well-known audiophile labels. The tonal quality of the Hersch and Arriale discs is excellent, accurate, and clear. If I prefer the sound of the Hersch, it's because Chesky sets the trio back in space a bit, and creates a realistic image of the drum set. DMP uses more mikes than Chesky, and, I would guess to fill up the soundstage, places the hi-hat in mid-stage, the crash cymbals all the way to the right.
Flanagan's recording is less distinct than either of the others, and further breaks up the drum set so that Lewis Nash's hi-hat is heard on one side of the room, his snare at the other. But this minor annoyance disappears in the flow of great music.—Michael Ullman