Recording of October 1995: Beethoven: Symphonies 1 & 3
BEETHOVEN: Symphonies 1 & 3 ("Eroica")
Wolfgang Sawallisch, Royal Concertgebouw Orchestra
EMI 54501 2 (CD only). John Fraser, prod.; Michael Sheady, eng. DDD. TT: 77:15
Despite the supersaturated Beethoven-symphony market, these performances offer a new and highly relevant view. I can't recall a finer Symphony 1. Everything about it is superb: the care with voicing and phrasing of the opening; the buoyant sauciness of the fast movements; the delicacy of the slow movement; and—throughout—exemplary balances that keep winds and brass well forward, illustrating how a modern-instrument presentation can be as richly colored as one with period instruments. Yet for all its buffa vibrance, the performance suggests something of the Beethoven to come without resorting to Furtwänglerish breadth. Even Sawallisch's anticipation of the first-movement allegro on the final measure of its introduction is made to sound convincing.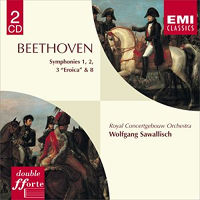 The "Eroica," if equally commanding, is more controversial, mainly because Sawallisch underplays some of the first movement's brashest, most revolutionary traits by favoring a relatively broad tempo and softening some of the music's intentionally rough edges—for one, the dissonant eruptions where the pulse shifts briefly from triple to duple meter. And in the coda, while opting for the usual addition of trumpets, he plays the passage so as to suggest the Urtext. Still, well-defined textures, pointed rhythmic elasticity, and a firm grasp of shape make the movement compelling.
The high point of the performance is the Funeral March: grim, insistent, and colored by the anguished groans of double-basses and the sobbing gasps of winds, it has a stark, haunting pathos. Moreover, carefully gauged balances in the Trio and great double-fugue reveal a wealth of often-veiled detail. The two concluding movements—animated and strongly accented—provide a jubilant crown. Notable features in the finale include a welcome suggestion of humor in the opening variations on the bass line, and a slight exaggeration of Beethoven's staccato indications just before the closing peroration.
In both works, the Concertgebouw Orchestra plays magnificently, its lean, slightly astringent sonority being ideally suited to the music. Sawallisch observes all three exposition repeats in 1, but wisely omits that in the first movement of the "Eroica." Resonant, relatively distant sound complements the performances perfectly. Indeed, free of the glare that sometimes affects orchestral recordings that have been miked too closely, it serves as a reminder of what an orchestra sounds like when heard from a front-row balcony seat in a superb hall. In sum, a triumphant conclusion of a glorious Beethoven cycle.—Mortimer H. Frank