Recording of July 2007: The Third Quartet
JOHN ABERCROMBIE: The Third Quartet
John Abercrombie, electric & acoustic guitar; Mark Feldman, violin; Marc Johnson, bass; Joey Baron, drums
ECM 1993 (CD). 2007. Manfred Eicher, prod.; James Farber, eng. DDD. TT: 59:45
Performance ****½
Sonics ****½
John Abercrombie has never become a star like the other major jazz guitarists of his generation, Pat Metheny and John Scofield and Bill Frisell. He gives up nothing to them in chops or artistic depth, but Abercrombie lacks the instincts of a crowd-pleaser. There are guitar hooks that are guaranteed to bring the masses to their feet, and Abercrombie may never have twanged one in his life. He plays subtle, sophisticated, adventurous, lyrically off-center music. In the 33 years of his distinguished discography, he may never have made a more poetic, more fully realized recording than The Third Quartet.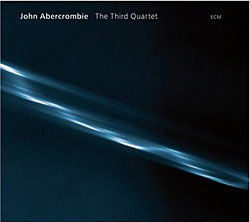 The violin is currently enjoying a renaissance in jazz. Mark Feldman has a violin sound as pure as Regina Carter's, and ideas as erudite as Billy Bang's. He brings out the best in John Abercrombie. Together their two instruments, similar in treble tonal range but different in texture and inflection, make a heady sonic elixir. Guitar and violin flow in unison, or diverge into luminous counterpoint, or seamlessly exchange foreground and background.
Bassist Marc Johnson and drummer Joey Baron are an established team. (They are, for example, two-thirds of two world-class piano trios, those of Enrico Pieranunzi and John Taylor.) They are the right rhythm section for Abercrombie's group: intuitive, loose yet exact, able to generate irresistible energy in a context of understatement. Because Johnson is a fully articulate third solo voice, this ensemble could be called a string band, almost a string quartet, with sonorities more often found in contemporary through-composed music than in jazz.
But this is a take-no-prisoners version of chamber music. Its glowing allure is deceptive, because there are sharp edges at the margins. The first track is "Banshee," wide-open spaces injected with indeterminate spontaneous occurrences. Guitar abstractions hover, a violin keens or whispers, drums clatter. But with these players free improvisation never feels random for long, because they listen to one another and always collectively come upon form. Most bands take Ornette Coleman's "Round Trip" as an opportunity for ritual, hammering hard around the song's tight loop. Here it is nearly dissolved by a typical Abercrombie foray that just touches its edges. It takes a long while for the melody to emerge, and when it does, Joey Baron is the one who plays it most explicitly, on his drum kit. The Third Quartet is for listeners who prefer implication to exposition.
Besides the Coleman tune, the only piece not composed by Abercrombie is "Epilogue," by Bill Evans. It first appeared on the 1958 Riverside classic Everybody Digs Bill Evans. It is recognizable here, yet never insisted on. Evans's theme, revoiced for pianoless "string band," is suspended in the airy aural fabric.
Abercrombie's eight originals are all like meditations coalesced into structure. He likes to write unresolved fragments of melody in triple time, which has the effect (especially as selectively executed by Johnson and Baron) of making the beat ambiguous. "Tres" is an example, although it is unusual because it offers actual solos. Most of this album is about voices and timbres commingling, but "Tres" opens specifically with Feldman, in whose hands all fragments of melody become poignant. Abercrombie throws out on the air a freely associative design, then Johnson comes up from his dark undertow to postulate his own interpretation, while behind him Abercrombie breathes chords and counterlines.
"Number 9" is representative of the overall mood, as ephemeral as a barely completed sigh. What keeps this music from becoming precious is that Abercrombie, as he wanders and digresses, discovers so many firm, fresh ideas, and Feldman's melodic delicacies possess tensile strength. "Elvin" is a eulogy for Elvin Jones. It starts with a melody like a sad, quiet thought and extends it far and wide over eight minutes, Feldman singing and wheeling, Abercrombie digging down.
A word on the sound. In print and in public forum, I have compared the work of James Farber unfavorably to that of Jan Erik Kongshaug, who has recorded more ECM albums than any other engineer. Therefore let me humbly affirm that The Third Quartet sounds gorgeous. Kongshaug might have treated its details somewhat differently. But this is an album about nuance, and Farber's engineering unifies The Third Quartet into a single soundscape and atmosphere, making it a sensual celebration of the complex sonorities of four instruments.—Thomas Conrad