Recording of March 1997: The Great Miles Davis Prestige Recordings
MILES DAVIS QUINTET: The Great Prestige Recordings
Includes:
The New Miles Davis Quintet
,
Cookin'
,
Relaxin'
,
Workin'
,
Steamin'
Miles Davis, trumpet; John Coltrane, tenor sax; Red Garland, piano; Paul Chambers, bass; Philly Joe Jones, drums.
Analogue Productions APJ 035 (5 LPs). 1996. Bob Weinstock, original prod.; Rudy Van Gelder, original eng.; Chad Kassem, reissue prod.; Stan Ricker, mastering eng. AAA. TT: 3:11:09
Music
*****
Sonics
*****
The music of Miles Davis is more a religion than a career. What are the three subjects you should never mix with jazz-literate in-laws (or outlaws) and single-malt? Politics, religion, and whether or not Kind of Blue is really the best jazz album ever made. Religions have been based on much less than the illuminations to be found in the Davis catalog.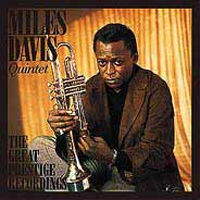 The only problem with worshipping at the church of Miles was that, just when you'd signed on to his system of beliefs, he'd change the rules—often radically so. The permutations are endless. Early fans remain attached to Birth of the Cool, or even his first sessions with Bird and Dizzy Gillespie. A slight majority still holds (probably correctly) that Kind of Blue is the one true Miles to have. Simultaneously, Miles and Gil Evans were fashioning their elegant orchestral collaborations, headed by Sketches of Spain.
The next generation of fans, however, bowed down and howled hosannahs that the spacey In A Silent Way was the indisputable icon. Then came the blasphemy of the jazz/rock fusion of Bitches Brew, which engendered a rift slightly less yawning than the Reformation. Motivated by a restless creativity and an impish love for confounding the faithful, Miles then veered even further from his boppish beginnings and got funky with On the Corner and Big Fun. From there, genres blurred into indistinguishable (and to some ears masterful) mélanges like the Ellington/Stockhausen homage Get Up With It, the return to big-band sensibilities (Aura), and the final unexpected stylistic turn, Doo-Bop.
After choosing your favorite style, another way to approach the Miles monolith is to pick which of his many bands you favor most. In my unhumble opinion—really, I'm more live-and-let-live when it comes to Miles's chameleonesque catalog—I've always been most attached to the five discs recorded by the quintet he formed in 1956. With John Coltrane on tenor and the monster rhythm section of Red Garland (piano), Paul Chambers (bass), and the great Philly Joe Jones (drums), this quintet cut one disc (Miles) in November of 1955, and four more (Cookin', Relaxin', Workin', and Steamin') between May and October of 1956. A contract settlement between Miles, Prestige (his old label), and Columbia (his new one) accounts for the rapid-fire recording.
Because they were recorded so close together—and are in many ways a creative extension of each other—these discs are best considered as the result of one gigantic session. This closeness also made them a natural choice for a boxed set (the previous Prestige box, Chronicle: The Complete Prestige Recordings, 1951-1956, covers everything Miles recorded for the label), a circumstance that Chad Kassem of Analogue Productions must be commended for finally spotting.
None of the five albums stands out as the unquestioned winner. All revel in the interplay between Miles's quiet, soulful, sinuous solos and Coltrane's aggressive, unstoppable exclamations. The deeper Miles sank into himself, the more extraverted Coltrane became. While these discs show Miles's unique tone and exquisite phrasing fully formed, Coltrane's mature style was just beginning to emerge. Critics of the time (who, like critics today, thought they knew everything) questioned Miles's choice of Coltrane. And while it's true that Coltrane's playing on these sessions is more potential than actual proof, it remains an enthralling display of awesome talent thrashing about in search of the coherent solos and torrential arpeggios (the so-called "sheets of sound" style) that he began flashing in the Prestige dates he began leading the year after these sessions.
Up to the dual tasks of supporting these two towering soloists and driving the sessions along, the rhythm section is without equal, and for my money is one of the main reasons to own this set. Thought of today as "classic jazz," these five LPs remain potent documents of the state of post-bop ca 1956, easy to enjoy both for their artistry and instrumental fire and for their smooth, spontaneous class.
Compared to the DCC gold CDs of these same titles, the sound of the LPs is generally excellent. The only problems surface on Workin', where numerous dropouts signal the deterioration of the master tapes. (See Wes Phillips' "Quarter Notes" sidebar for a full discussion of sound quality.) The only slight downside to these sessions is what their continued transcendence says about the state of the modern jazz trumpet (or the modern tenor sax, for that matter). Will Wynton Marsalis or Roy Hargrove or any of the other young guns ever lead a session with this much soul and fire?—Robert Baird