Recording of May 2004: Villancicos y Danzas Criollas
HESPÈRIAN XXI: Villancicos y Danzas Criollas de la Iberia Antigua al Nuevo Mundo (1550-1750)
La Capella Reial de Catalunya, Hespèrian XXI, Jordi Savall
Alia Vox CD 9834 (CD). 2004. Nicolas Bartolomée, prod.; Nicolas de Beco, eng. DDD. TT: 77:03
Performance
****½
Sound
*****
The latest aural adventure across time and space led by Catalan conductor and viola da gamba virtuoso Jordi Savall transports us to the melting pot of the early Americas. It's where the cultural imports of the Iberian colonizers mixed fruitfully with the native legacy of the Indians and the traditions of transplanted Africans. In music, the boundary between Old World and New—as well as the barriers between high and low, sacred and secular—were being blurred out of both convenience and mutual fascination. The colonization was a forced (and often brutal, exploitative) marriage, but it produced the rich musical inheritance of Latin America.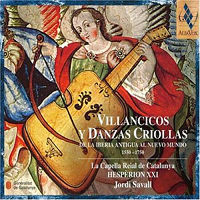 Across the 1550-1750 span of Villancicos y Danzas Criollas, you hear vivid examples of instrumental dances and madrigal-like songs from Spain, Portugal, Mexico, Peru, and Guatemala. Spiced with Afro-Indian rhythms and textures, complex European polyphony takes on a new flavor, the sonic gumbo conveyed by viola da gamba, harp, guitars, fiddles, an exotic battery of percussion, and occasional brass and organ, as well as by solo and ensemble voices.
The business of the Iberians in the New World wasn't just colonialism but conversion; one strategy for converting the Indians was diverting them, so missionaries incorporated aspects of indigenous language and ritual into Christian ceremonies to lend high spirits to the rites that the natives would appreciate. The frequent humor and call-and-response elements of the sacred polyphonic songs, or villancicos, were looked down on by stuffier Europeans as threatening to "turn the church into a theater" (as quoted in scholar Rui Vieira Nery's excellent, erudite booklet essay). Yet what was censure then sounds like praise to 21st-century ears.
Uncommonly gracious, Savall takes care in his booklet note to credit the 1970s musicologists who collated various anthologies of this mostly forgotten music. Yet it is his long experience and expertise in re-creating age-old sounds—often from under-notated medieval and Baroque scores—that imbue these colorful obscurities with contemporary vibrance. Moreover, the players of Savall's Hespèrian XXI and the voices of his La Capella Reial de Catalunya have the ideal Latin accent and authentic improvisational flair—although you can bet that the original performances never sounded this accomplished.
An ideal entry point into Villancicos y Danzas Criollas is the instrumental "Jota"—three minutes of bittersweet theme and improvised variations, starring harpist Arianna Savall (daughter of Jordi and his wife, soprano Montserrat Figueras). After she invokes the tear-stained tune—taken from an 18th-century guitar tablature found in Mexico—the harpist is joined by a drum and castanets, which help lead the piece on a more joyous path.
A more formal highlight is Ritual Formulario: Hanacpachap Cussicuinin (heaven-sent joy), a beseeching processional hymn. Written to a Quechua text by one Juan Perez Bocanegra in early 17th-century Peru, the doleful, dark-hued polyphony has a silver lining that glints with hope like moonlight through the tops of trees.
Figueras' lyrical if one-dimensional voice has sounded wonderfully right in many recordings and rather out of place in others. Her soprano has audibly aged, even here in her Mediterranean element. Still, her sweetly ironic manner and folk-like phrasing reveal the beguiling quality of a secular song from Baroque Madrid, "Ay Que Me Río de Amor" (Oh, How I Laugh at Love).
One interesting connection between early Latin American and later North American music made apparent by this disc stems from the European view of Africans and their culture. As in the American minstrel songs of the late 19th and early 20th centuries, Africans in the texts of many early New World songs were objects of light parody—even as their traditions offered an undeniably hypnotic inspiration for the music. In the words to "Negro a 5," a pilgrimage to Bethlehem to see the Christ child becomes comically arduous as three African women complain about their wine-induced hangovers.
Pre-echoes of more modern culture can also be heard here, as in a high-energy instrumental version of "Cachua," a Peruvian Christmas song of the late 18th century in which the colors of Amerindian music are bent through a European prism. You can hear hints of modern Latin American music (salsa, etc.) and Spanish flamenco in "Cachua," as well as in the intros to "Juguete a 4" and "Guaracha."
Gorgeously packaged and beautifully recorded, Villancicos y Danzas Criollas is a characteristic product of Savall's burgeoning, Barcelona-based indie label, Alia Vox (artist's voice). Alia Vox discs are marked by the sonic vision of recording director Nicolas Bartolomée, a veteran of many Savall productions over the years and one of the best producers in the business. The warm, natural recording for this disc—captured in a Catalunyan castle—is typical of Bartolomée's soundprint. The acoustic has been made to seem richly resonant without being too reverberant; and the sound has the air of performance, with plenty of (but not too much) realistic presence from the musicians.
It's a testament to the taste and vitality of Savall and his associates that this disc isn't an archeological exercise but an essay in living, breathing musicality.—Bradley Bambarger