Recording of February 1993: Standing in the Safety Zone
FAIRFIELD FOUR: Standing in the Safety Zone
The Fairfield Four: Isaac Freeman, bass, musical director; James Hill, baritone, group manager; W. L. Richardson, lead, chaplain; Walter Settler, utility lead; Wilson Waters, tenor, treasurer
Warner Bros. 26945-2 (CD only). Lee Olsen, prod. ADD. TT: 38:13
Here's the deal: I tell you that this is not only a fantastic feel-good gospel disc, but one of the best-sounding CDs I've ever heard from any label including the Audiophile-Approved littlies; you rush out and get it, hurry home to cue it up, then curse my name in big scary capitals when you hear the cruddy mono sound crackling out of your speakers!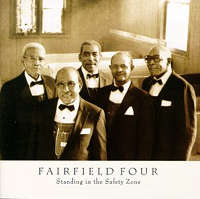 That's just what's going to happen if, like the audionut you pretend you aren't, you only listen to the first track. Skip this 48-second snippet from an early '50s Fairfield Four single and go right to track 2. Ah-HA! Ever hear recorded male vocals sound so real, so fleshed-out, so unbelievably there? Me neither. Lucky for both of us, the music's just as cool.
The Fairfield Four are six older gentlemen who wear tuxedo jackets over Osh Kosh B'Gosh farmer overalls and sing some of the smoothest, clearest, most stirring unaccompanied modern gospel I've ever heard. Standing in the Safety Zone is all standards—"Swing Low, Sweet Chariot," "Roll Jordan Roll" (footnote 1)—without even a low warbling Hammond B-3 in the background to underpin the churchified vibe. No, the six members of the Fairfield Four just stand shoulder to shoulder across the soundstage and effortlessly blend their rich, clear voices into one triumphant, stirring wall of sanctified sound.
Don't think for a second that this is slow, boring spiritual music; this stuff cooks! The Fairfield Four have been singing together since the late '40s, working the same gospel circuit as their fellow travelers The Five Blind Boys and The Soul Stirrers, and that easy, totally unforced ensemble telepathy is truly something to sit back and behold. If this disc would only replace all the Jennifer Warnes and Cosmic Hippo crap at CES demos, the world (OK, my world) would be a much better place.
No, it's not Blumlein-miked or Super Bit Mapped, and they didn't run AudioQuest Diamond for the mike cables neither. But Standing in the Safety Zone is one of the most amazing-sounding recordings I own, analog or digital; you really have to hear this disc on a good rig for yourself.
I accept your apology. Now bark like a dog for me and we'll be even-steven.—Corey Greenberg
---
Footnote 1:
Not
a song about Michael Jordan's recent gambling troubles. By the way, I challenge any
Stereophile
reader to a $58,000 game of miniature golf, winner take all, hit the windmill and you lose the whole roll, brother.—
Corey Greenberg