Joint Recording of February 1992: The Cure
KEITH JARRETT TRIO: The Cure
Keith Jarrett, piano; Gary Peacock, bass; Jack DeJohnette, drums
ECM 1440 (849 650-2, CD only). Manfred Eicher, prod.; Jan Erik Kongshaug, eng. DDD. TT: 77:36
It's almost impossible to believe that this trio could have gotten any more tight, loose, funky, or trusting of each other—in a word, better—than they were on last summer's Tribute (reviewed in Vol.14 No.8, August 1991), but when it comes to Keith Jarrett's "Standards" Trio, I've learned to expect miracles.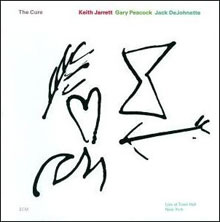 Here, in seven more standards and one Jarrett original, is yet more evidence that Jarrett, Peacock, and DeJohnette are farther than they ever were from exhausting the capabilities of the acoustic piano trio, not to mention the harmonic and emotional languages of American standards. If you haven't yet heard The Cure, I envy you. Here are just a few of the moments I'd love to be able to hear again for the first time:
1) The ever-ascending, unfurling tail of Jarrett's solo on "Old Folks"—I'm not sure I've ever heard a more relaxed, more inevitable, longer line: perfectly lazy, funny, risky, sweet, sexy—what more could you want?
2) The long solo odyssey that is Jarrett's intro to "Body and Soul." No matter how often you've heard this song, you won't have heard it like this. Jarrett never wastes a note; nothing is ever flippant, glib, or throwaway, nothing ever serves merely as a bridge to get from one interesting riff to another; ever restlessly traveling, Jarrett ever arriving in the now of each musical moment. I know of no jazz musician—except perhaps for Miles, whose only-the-notes-that-count spirit moves through this entire disc—who has been so relentlessly present.
3) The heartbreak of all of "Blame It On My Youth."
4) And the entirety of "Golden Earrings," a bluesy little tune here raised so far above its origins that it's entirely transformed. Jarrett is nowhere else in the world but inside this song, every gesture, classic or new, so fully followed through that the listener never questions that the finest way of spending the next 8 minutes and 31 seconds of his/her life is to listen to this song. The few seconds at the end of Peacock's bass solo, as he tumbles toward the tonic from an unexpected height, reaching it just as DeJohnette stomps kickdrum and highhat in a percussive "Yeah!," "Right!," "Of course!," and "Period!," constitute the coming together that's what jazz, art, life, love, sex, and music are always and ever only about. This is whole-body music.
The title cut is the single original, a more or less typical Jarrett off-the-cuff group improvisation, heavy on rhythm, light on melody. But "The Cure" is more pointed and structured than the outtakes on the disappointing Changeless (reviewed in Vol.13 No.6), with drive and punch like I've never heard from DeJohnette, who's built a career on just that.
But incredibly, the best of this very generously filled (77:36) CD is saved for last: Duke's "Things Ain't What They Used To Be," with some of the most teasing, playful, funny drumming I've ever heard. Where DeJohnette finds the holes to drop his notes in is beyond me. The delirious audience sounds as if it couldn't believe its good luck. Neither will you.
Sound is the usual ECM X-ray-in-the-round, the close-miked soundstage bearing virtually no relation to the photo from New York's Town Hall, where The Cure was recorded live in April 1990. So what? The sound is big, round, warm, and satisfying, and all that matters—the feeling—is transmitted with absolute fidelity. Why worry about anything else?
Ezra Pound once said that "Nothing counts save the quality of the affection" (Cantos LXXVII). The affection these three men have for this music, this sound, these songs, and each other counts high and deep. They're still relatively young, and there are literally hundreds of standards out there that they haven't recorded—I get white knuckles just thinking about it. Once again, their best yet; this time, by a long shot.—Richard Lehnert