Recording of January 1993: Short Man's Room
JOE HENRY: Short Man's Room
with The Jayhawks
Mammoth MR0037 (CD only). Joe Henry, prod.; Brian Paulson, eng. AAD? TT: 45:51
After reading my rave review of John Wesley Harding's Why We Fight in the October 1992 issue, John Atkinson (The Editor, The Boss) said to me: "I guess it's the words that are important to you, huh?"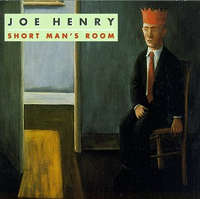 Well, yeah—especially when so many rock reviewers and musicians think of song lyrics as just something to hang a melodic hook on. Truly excellent lyrics are rare enough that the, ah, word needs to be spread. And when such lyrics are allied to music and singing as powerful as Joe Henry's, it's time to stop a press or two.
Like terminal raconteur T. R. Pearson (author of A Short History of a Small Place and many other books), Joe Henry is a born writer from North Carolina, where the oral tradition never died. I knew that the minute I read his liner note for the Jayhawks' Hollywood Town Hall (reviewed last month). What I didn't know until I asked Mammoth Records to send me Short Man's Room (which I've since found out, to my chagrin, is his fourth album), is that he's a born songwriter as well. And singer. And producer. There is absolutely no fat, no hype, no pretension, no bullshit on either this album or its predecessor, 1990's Shuffletown (A&M 75021 5315 2), which I nabbed as soon as I'd listened to Short Man once through. What there is is honesty, strength, passion, pain, integrity, hope, tough compassion, and a hell of a lot of talent.
Henry's first two albums, Talk of Heaven and Murder of Crows (footnote 1), are now out of print. If they're anything like Shuffletown or Short Man's Room, I want 'em bad. Short Man's Room can be judged lacking only if directly compared with Shuffletown, where Henry's sharply pungent lyrics were set to unclassifiable acoustic rock/folk/jazz featuring such players as Cecil McBee, Don Cherry, and producer T Bone Burnett, all recorded live to analog two-track—a moving, totally satisfying album any way you listen. Remember—you heard it here last.
Short Man's Room was also recorded live in the studio, to 8-track this time, with the Jayhawks as house band. SMR alternates a tough, gritty, on-the-road feel with a more countrified, acoustic string-band atmosphere—both very different from Shuffletown's dark, introspective, jazz-tinged intimacy. The songs themselves are less freely structured, hewing more closely to the classic rock structures of albums like, well, Hollywood Town Hall, with ample breathing space for acoustic country and bluegrass breaks. The recording itself, though straightforward and as honestly direct as only live-in-the-studio can be—yes, there is air here—lacks Shuffletown's awesome immediacy by only a hair.
But there's no diminution at all of the artless, emotionally direct power of Henry's singing, reminiscent of Bob Dylan somewhere between John Wesley Harding, New Morning, and Planet Waves, with completely digested bits of Mark Knopfler (on "Sault Sainte Marie"), Richard Fariña, John Hiatt (on "Last One Out"), Neil Young, even Paul Simon (on "Best to Believe"). Nor are SMR's lyrics any less striking; some of them can almost stand alone as—dare I say it?—actual writing.
There are enough good lines and verses on Short Man's Room to keep me humming and quoting for months; try these few on for size, and don't be worried by the metrical looseness; Henry's learned enough about phrasing from Dylan and others to make his lean and hungry blank verse sound as natural as speech.
From "Good Fortune," an uptempo song about the aching, bracing sadness—half regret, half the relief of escape—that accompanies a clean break with a lover: I climb up on the side / of the engine where I ride / it's warmer than the cars that lay behind. / I shake my collar free / And I hold myself against my knee / and I pray tonight's the peaceful, dreamless kind. // This is my good fortune now at last / This is all I never knew to ask of you / To leave me with no love I might return.
From "Reckless Child": If I never hear another word from you / I'll remember that too as something you once said. From "Stations," which starts out apocalyptically, only to fade like a lost radio signal: Bring me the head of John the Baptist / Show it round and shine / his cloudy, marble, crossed and final eyes / once more into mine.
From the nearly acoustic "Best to Believe," backed by Mike Russell's lonesome fiddle: I find a letter I'd once written / half buried in her drawer / and I wonder how I've come to know / so much less than I knew before. Or from "Diving Bell," a pair of lines that mean something different to me each time I hear them: I guess I thought that all I gave to you / was somehow mine to keep.
Most powerful are the title song and "One Shoe On," which closes the album with the tale of a grateful death: I was just thinking about old Lost John / how those who dream aloud so often disappear. "Short Man's Room" is a chiaroscuro waltz and a character sketch of astonishing concision: I once thought that I'd live forever / I pitched for the Indian Leagues / But now I guess I've learned some better / You're only as good as your needs // The better you watch your head / a guy like you / You're not near as tall as you're thinkin' / But then this is a short man's room. A simple story of a complex man...or vice versa. Can't get it out of my head.
Joe Henry is a very old young man you should spend some time getting to know. His songs of love and parting, short in time but long in haunt, will expand your idea of what's possible in a four-minute country-rock tune. They also might expand your idea of what's possible in a human being.—Richard Lehnert
---
Footnote 1: Anybody out there have copies of these they want to sell? Send an e-mail to me at
Stereophile
:
STLetters@Primediamags.com
.—
Richard Lehnert