Recording of December 2007: Miles Davis: The Complete On the Corner Sessions
MILES DAVIS: The Complete On the Corner Sessions
Miles Davis, trumpet, electric trumpet, electric organ, electric piano, synthesizer; Michael Henderson, (electric bass); Badal Roy (tablas); Dave Leibman, Carlos Garnett, Bennie Maupin, John Stubblefield, Sonny Fortune, Sam Morrison (reeds, flute); Wally Chambers (harmonica); Cornell Dupree, John McLaughlin, Dave Creamer, Reggie Lucas, Pete Cosey, Dominique Gaumont (guitar); Al Foster, Bernard Purdie, Jack DeJohnette, Billy Hart, Pete Cosey (drums); Mtume, Don Alias, Billy Hart (congas, percussion); Herbie Hancock, Chick Corea, Harold Ivory Williams, Lonnie Liston Smith, Cedric Lawson (keyboards); Colin Walcott, Khalil Balakrishna (electric sitar), Paul Buckmaster (electric cello).
Columbia/Legacy 88697 06239 2 (6 CDs). 1972–75/2007. Teo Macero, Billy Jackson, orig. prods.; Bob Belden, Michael Cuscuna, reissue prods.; Stan Tonkel, Don Pulese, Russ Payne, Doug Pomeroy, orig. engs. AAD? TT: 6:47:42
Performance ****½
Sonics *****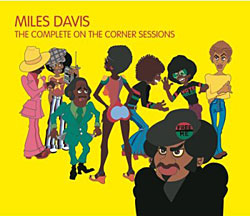 On June 1, 1972, producer Teo Macero called musicians together for a Miles Davis session. Several were already veteran Davis collaborators. One of the newcomers, Indian percussionist Badal Roy, had played with the guitarist John McLaughlin on the latter's My Goal's Beyond. The self-taught Roy had a unique style that blended Eastern and Western concepts of rhythm and tonality. His approach was one of the keys to the new kind of music Miles was envisioning, a sound as big as the world—music not just hot or cool, fusion or funk, but music beyond category: everything at once, endless, spiritual, the sound of creation itself, the primordial musical stew brewing right before your ears, beyond even the astonishing breakthrough of Bitches Brew.
Miles looked at Roy, whispered "You start," and the epic journey of On the Corner began.
"I just started playing the groove," Roy recalls. "Then Herbie Hancock started playing, then everyone started playing. We played for two hours without stopping."
Roy may have been describing "Black Satin," but in the highly edited cut-and-paste wizardry of Macero's production style, we can never be sure, because these six CDs' worth of The Complete On the Corner Sessions include takes that were obviously picked up when already in progress; the only people involved who know the truth about the final versions are Macero himself and Miles, and they obviously ain't talkin'.
Not that it matters, really. These tracks were clouded in mystery from the moment they were released as On the Corner in 1972, with no annotation. The album created outrage in a jazz world that was convinced Miles had taken the final leap into pop music. No one was able to figure out when he'd actually recorded it, or who the musicians were, but they all recognized it as Miles. Finally, much of the mystery surrounding that album is solved by the extra material and meticulous production notes assembled here.
What matters is the music, which is cutting-edge while reaching back to the earliest jazz instincts of collective improvisation: unlikely elements that work together in uncanny fashion. Roy's powerful tabla backbeat and Michael Henderson's monumental bass vamps provide the architecture for a maelstrom of sound in which rhythm and melody coalesce in a numinous ebb and flow, mesmerizing and overwhelming, seething with the solemn emotion and density of a Bach mass. Hancock, Chick Corea, and Harold Ivory Williams layer otherworldly keyboard textures through an interlacing of McLaughlin's guitar, Colin Walcott's sitar, Dave Liebman's soprano saxophone, and a percussion bed of furious beats from Don Alias on congas, Billy Hart on various beaters, and Jack DeJohnette on drums—and, of course, Miles on electric trumpet, conjuring stark, probing sounds from the deepest subconscious. So deliriously challenging at the time, this music sounds perfectly contemporary today. The sound throughout is variable: sometimes very compressed, sometimes more natural.
The Complete represents Davis's studio work from the On the Corner sessions through 1975, material that would also provide tracks for Big Fun and Get Up With It. It documents an incredibly fertile period of Miles' career, a time when he was developing a futuristic music in the studio while keeping up a grueling tour schedule and fighting the lingering pain from the 1972 car crash that broke both his legs. At the end of this run, those injuries forced him into a six-year hiatus.
Over the course of these sessions, which run roughly chronologically except for the previously released material that makes up disc 6, and which was originally included in On The Corner, Get Up With It and Big Fun, Davis moves further into the realm of funk as Michael Henderson, the only other musician who took part in every one of these sessions, assumes a more monolithic role in the mix. Roy is still on board for the 1972 and January 1973 sessions on discs 2 and 3. Roy and percussionist Mtume build the percussion bed for this more stripped-down lineup including Reggie Lucas on guitar, Al Foster on bass, Khalil Balakrishna on sitar, Cedric Lawson on keyboards, and Miles on organ for the previously unreleased "Chieftain," then with Carlos Garnett on soprano sax and Miles on trumpet for "Turnaround" and "U-Turnaround."
Through the rest of 1973 and into '74, Dave Liebman adds his soprano or tenor sax and flute to the previously unreleased tracks that make up the rest of disc 3, and the Get Up With It material that makes up disc 4. Disc 5 continues the Get Up With It material with Sonny Fortune on soprano sax and flute, and includes: the previously unreleased "Hip-Skip," its hypnagogic bass line answered by what sounds like bass clarinet but must be a synthesizer; the high-stepping funk of "What They Do," with its false ending and screaming tracer-bullet fusillades of guitar notes; and the beautiful "Minnie," a reminder of Miles' fondness for exploring a simple melodic phrase.
This completes Columbia/Legacy's series of metal-spined Miles Davis boxed sets—among the most impressive jazz archival series ever assembled. Though it's not the chronological end of Davis's career, it certainly feels like it.—John Swenson