Recording of January 2007: Endlesswire
THE WHO: Endlesswire
Universal Republic 0251709260 (CD). 2006. Pete Townshend, prod.; Myles Clarke, Bob Pridden, Sean Witt, engs. AAD. TT: 52:46
Performance ****
Sonics *****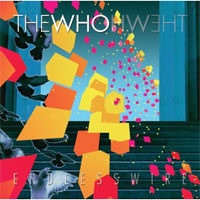 To be a staunch Who fan is to be a long-suffering fan of Pete Townshend, a man whose occasional transgressions include soldiering on with the Who following the demise of Keith Moon, and then again after John Entwistle's death. Time has proven the former strategy an artistic disaster, and nowadays you won't find too many champions of the Kenny Jones–era Who (take 1981's Face Dances or 1982's It's Hard—please).
But maybe it's too early to tell whether the Who's post-Ox incarnation is folly. The current touring ensemble—Townshend and Roger Daltrey, plus drummer Zak Starkey, bassist Pino Palladino, keyboardist Rabbit Bundrick, and guitarist Simon Townshend—passes the blindfold test for all but the most recalcitrant Who purists. And though on paper this first studio album in a quarter century to be released under the Who imprimatur may resemble a Pete Townshend record with guests, Endlesswire does, in fact, feel and sound like a Who album.
The album's backstory: After composing two new tunes for Then and Now, a 2004 collection of Who hits, Townshend felt reinvigorated enough to halt the band's slide into a touring oldies franchise. Endlesswire ultimately came together after he'd completed the titular mini-opera comprising the album's second half.
Townshend strikes gold at the outset with "Fragments," which is overtly "Baba O'Riley"–ish with its undulating keyboard loop, tumbling drums, and signature Townshend suspended-chord riffs. "Are we breathing out or breathing in / Are we leaving life or moving in," sings Daltrey, as his partner slips in an "Underture"-like lick, and while the lyric is consistent with Townshend's metaphysical navel-gazing, the rhetorical query can also be read as a manifesto: We're back.
Then Endlesswire prematurely falters with the mawkish angst-folk of "A Man in a Purple Dress" (about merchants of self-righteousness, another familiar Townshend theme) and the overblown pomp of "Mike Post Theme" (whose cumbersome lyrics deal with media-spawned alienation). Thankfully, the band shakes off the torpor with "Black Widow's Eyes," lyrically an oddity (a love story set amid a hostage crisis) but musically a powerhouse straight out of Quadrophenia territory. "It's Not Enough" is similarly anthemic, while the lovely acoustic confessional "You Stand By Me" could pass for an outtake from Townshend's Who Came First.
Then the 21-minute title suite commences. Much of it, too, smacks of vintage Who: there's the churning "Pick Up the Peace," another Quadrophenia-approved slice of sonic swagger; the strummy "Unholy Trinity," whose banjo riff marks it a descendent of Who By Numbers; and "Mirror Door," a literal celebration of music that name-checks Elvis, Link Wray, Howlin' Wolf, and even Beethoven, and, powered by Daltrey's brawny, emotional vocal, supplies a climax worthy of Tommy.
Thematically, the mini-opera is complex. It roughly concerns some childhood friends who form a band (shades of the Who) and encounter the means to musical transcendence via a Matrix-like device. To grasp the storyline you need to read Townshend's "weblog novella," The Boy Who Heard Music (published online at www.petetownshend.co.uk), and be familiar with the utopian and technological themes Townshend explored on the abandoned Who project Lifehouse and his 1993 solo album, Psychoderelict. Ultimately, though, as an album, Endlesswire—while not the equal of the classic records it occasionally references—is a very satisfying addition to the Who canon.
Endlesswire was recorded in analog, with subsequent digital tweaking and deployment of computer software. In Townshend's "Recording Notes," he recounts the entire recording process, down to a painstakingly detailed list of every last piece of equipment and why he used it. Regardless of all the digitalia, the results have a natural, warm, nondigital feel. Though the sound is not as primal as Who's Next, the wide soundstage of Endlesswire makes it a middle sibling between Quadrophenia and Who Are You.
Endlesswire is available in a confusing array of configurations. There's the 19-song Endlesswire proper; a 21-track version containing extended versions of two songs ("We Got a Hit," "Endlesswire") as well as a five-song bonus DVD, Live at Lyon; and a Best Buy–only edition that adds a third disc, a seven-song live CD also titled Live at Lyon. Rest easy, punters: the Who's complete July 17, 2006 concert at Lyon, France, from which the CD and DVD live tracks have been culled, is available separately as part of the band's mail-order-only Encore Series of concert recordings.
Speaking of which, the live material offers a potent reminder of the mighty 'oo's performing prowess, from the warhorses "Won't Get Fooled Again" and "Baba O'Riley" to the often overlooked "Naked Eye" and Endlesswire's "Mike Post Theme," the last substantially more convincing than its studio incarnation. This further suggests that as the Who unveil more and more of Endlesswire in concert, those tunes, too, will evolve and come into their own. Townshend himself told Mojo that not only was he looking to make a good record, he wanted a collection of songs that would be gratifying to play live. Indeed, Endlesswire, already a solid record, brims with the kind of adrenalin-fueled potential that has always marked the Who at its most vital. Start queuing up for tickets now.—Fred Mills