The 2010 CEDIA Show: Day 2
I start my second report from the 2010 CEDIA Exposition by returning to
MartinLogan
. As well as their $2000/pair ElectroMotion electrostatic hybrid that I described in my first report from CEDIA, the Kansas company showed the appealing new 2-way Theos. This hand-built floorstander combines a 9.2"-wide by 44"-tall XStat electrostatic transducer with a 8" aluminum-cone woofer in a bass reflex enclosure. Its large electrostatic radiator and passive woofer can be bi-wired or not with a unique tool-less binding-post design. At $5000/pair, the Theos will be the most affordable speaker in the Reserve Series of floorstanders.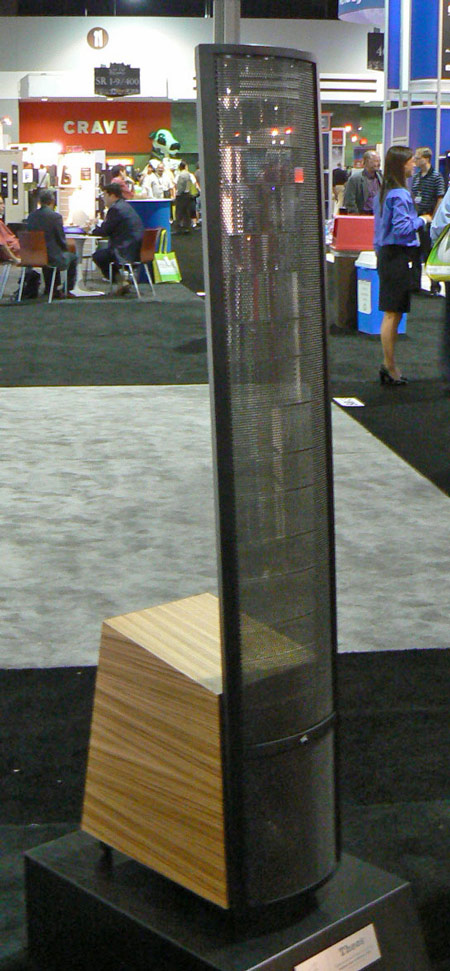 ADAM Audio, a German company with roots in studio loudspeakers, showed multiple ranges of active, partly active, and passive speakers. While I browsed among the exotic studio designs, the small but fully powered Artist 3 and Artist 5 Series 3 speakers caught my imagination with their ribbon tweeters and they conjured thoughts of a neat but compact system that combines a pair of these little lovelies with a Squeezebox Touch. It could go anywhere.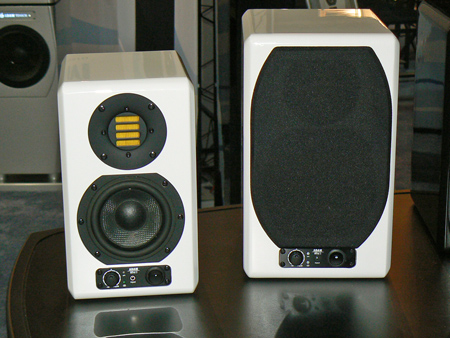 Monitor Audio updated its bread-and-butter Bronze line to the BX series. Utilizing all C-CAM (Ceramic-Coated Aluminum/Magnesium) drivers, single through-bolt driver mounting and magnetically attached grilles, this high-value line looked and sounded superb, even under the stressful conditions of an open Show-floor demo. The biggest one, the BX6, at only $1000/pair, particularly intrigued me. It's the on the left in the picture.
Of course, there were other items to investigate other than speakers and a big appearance of audio server hardware was notable. Wadia has teamed up with qsonics on the $8000 Q2 server with a 14" touchscreen, 2TB hard-drive, qsonics' software and Wadia's expertise in digital audio hardware.
Cary Audio displayed its trim MS-1 server that relies on your iPhone or iPad for display and control. Even with the included CD drive for ripping up to 24/192 files and Shoutcast streaming, this no-nonsense server costs just $2500.
Finally, Cambridge Audio showed their simply dandy NP-30 server ($649) that can stream hi-rez audio (up to 24/96) from almost anything you can hang on to a WiFi or Ethernet connection. With a bright and useful 4-line display, it doesn't require an additional device but, again, there is an app for the iDevices. Despite these modern conveniences, it still looks like an audio component and I found operation completely intuitive.