CEDIA 2009 Day Two
Continuing from
Day One
's loudspeaker theme, there were several new speakers of some note to be seen and heard at the 2009 CEDIA Expo in Atlanta.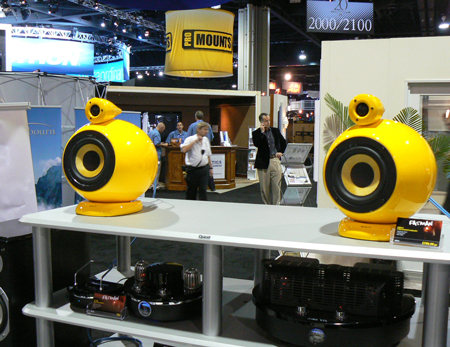 The bright yellow Fat Boy Mk.II globes ($799/pair), from the company that brought us the neat series of Fat Man tubed iPod docks and power amps, caught my gaze and would not release it. With its Kevlar-cone woofer and silk-dome tweeter, it comes standard in piano black but almost any color can be ordered up. I like this pair because they'd match my Meridian F80.
I first became acquainted with Berlin-based Adam Audio at the 2008 CEDIA Expo and they have returned with a full line of professional monitoring and home loudspeakers that feature midrange and HF drivers based on the old Heil AMT design. Adam Audio has redesigned these for linearity and wider dispersion and calls them X-ART driver. The top line Tensor models also features Hexacone woofers and sand-filled cabinet panels; they range in price from $6700/pair for Tensor Epsilon semi-active speakers to $50,000/pair for the fully active Tensor Alpha speakers.
PSB showed production samples of the new Image series that utilizes technology developed for the more expensive Synchrony and Imagine speakers so well received by John Atkinson, Sam Tellig, and yours truly. However, the Image speakers look more expensive than they are and, on a brief demo, sounded so too. The T6 3-way towers ($1199/pair) tickled my interest and a pair is supposed to be on their way for a forthcoming review.
Totally new to me was the Procella speaker line, derived from work originally done at DTS for in-house monitoring. Featuring high sensitivity as well as high power handling, the Procella speakers are 2-way designs with a wave-guide HF. These can be combined with complementary active woofers and sub-woofers. The pictured P6 ($2800/pair) is the smallest in the line but it is capable of 110dB continuous (116dB peak) spl from 80Hz upward.